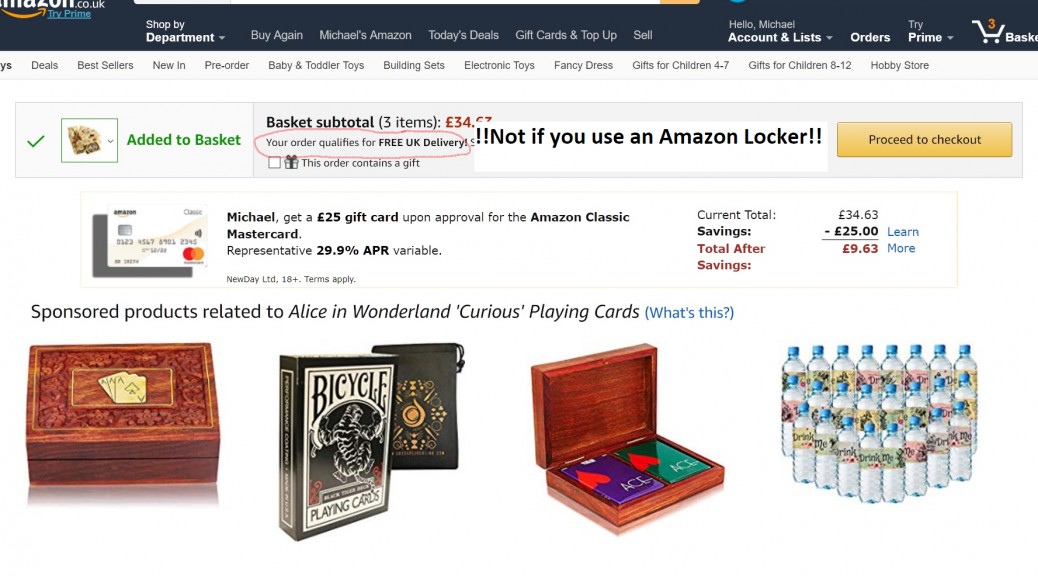 Amazon introduces delivery charges for Pick-up Locker Locations
Amazon introduces delivery charges for Pick-up Locker Locations
Was doing some shopping this morning. As I was checking out, I noticed that Amazon was adding delivery charges to my purchase.
£2.99 to be exact.
This was despite the fact my purchase was £34.63 , and above the Amazon Free delivery threshold.
Here's a look at the shopping process:
Delivery charges to an Amazon Locker pick up location
Delivery charges for a residential address
As you can see.
Amazon now charges £2.99 for 'one-day' delivery for the same order to an Amazon Locker pick-up location.
It does this by making one of the items a compulsory 'one-day' delivery option. Even though it's perfectly feasible for the item to arrive within any later timeframe, and those options are given for the residential address delivery.
Charges for delivery to Local Pick-up location (Post Office)
Using my local Post Office, Amazon gives me the Standard Delivery option, applies a £1.99 charge, the knocks it off as a 'Promotion'.
In Summary
By hook or by crook, it now seems that Amazon is charging for the use of it's Amazon Lockers.
That's not surprising, as apparently, they're not proving too popular amongst UK shoppers, who don't have time to fit the things into their busy schedules, and like everything else on the high-street, the ground rent has to be paid.
The way round it if you, like me, live on a barge, is to get them to deliver to your local Post Office where the fees are still waived.