Startup Analyser – Improve your boot times
Startup Analyser – Improve your boot times
Ever wondered what is making your boot times so slow?
Why so slow?
When you start up there's a number of programs that run in the background.
Depending on how much junk you download and install on your machine, there may be a few of these or there may be many.
Maybe it's a recent program you may have installed that you suspect is slowing your machine down…
Speeding up your start-up
Either way, I found this handy software which can list the programs and their respective contributions to the start-up time of your machine.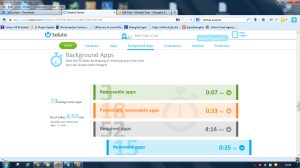 This hasn't cut a lot of time of my machine, but it is quite handy and well designed.
If you want to reduce the time you spend waiting for your machine and potentially improve it's operating speeds and lesson it's carbon footprint, then this might be a fun software for you.