Stop multiple spam tabs opening in Chrome browser
Stop multiple spam tabs opening in Chrome browser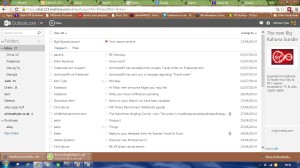 When you open your Chrome browser, you get 5 spam tabs open at the same time.
I got it from Snapdo, an add-on that set itself up as my homepage, then opened a load of tabs to things like AVG, Yahoo etc. SPam tabs they call these.
The problem was with Chrome, when I opened the browser, the 5 tabs continued to open, even when I un-installed the software.
Step by step guide to removing spam tabs from Chrome browser
So here are the steps that you take in order to stop this spam tabs problem on the chrome browser:-
Uninstall:

Uninstall Snapdo

– > First step is you want to get rid of the PROGRAM itself.
From Control Panel, navigate to the Programs and Features and UNINSTALL the offending program. In my case, SNAPDO.

Extensions:

Remove the Snapdo extension from Chrome browser

– > Take away the parts that are installed into your browser software.
Go into your browser settings. For Google Chrome, top right, scroll down to SETTINGS > EXTENSIONS.
Should look like this. Chances are the offending add-on will be grayed out, so make sure you scan through them all thoroughly.
If you're not sure whether it's spam or not, there's usually a learn more button, which will tell you exactly who makes the extension and what it does.

CC Clean:

Run CC registry cleaner

– > Cleaning leftover files is probably where most people fall down.
These programs leave all kinds of junk in your REGISTRY FILES. Without you knowing, this can remain and cause the programs to continue running even after the PROGRAM AND EXTENSIONS have been removed.
Because not many people have the specialist knowledge to read and change REGISTRY ENTRIES you will never know they're there, and SNAPDO will continue opening spam pages quite happily, even after you've removed everything.
For this you need specialist software.
It's called CC Cleaner. It gets very good reviews.
Download it. Install it. Run it.
Delete EVERYTHING it finds…

So here are the steps that you take in order to stop this spam tabs problem on the chrome browser:-
That's the process. If you like me, please share this on social medias.
Related articles