Taking a narrowboat on the Thames
Taking a narrowboat on the Thames
The Thames is regulated by locks right up to London.
It's pondlike for the duration.
These are the major considerations for taking a narrowboat on the Thames.
Mooring: Despite what people tell you or you may have read elsewhere, mooring is going to be your

number 1 consideration

.
Your boat's draft, (the amount of the boat underwater), is going to restrict your access and ability to moor ad-hoc. Most of Thames bankside being private property is also a restricting factor. The lack of free mooring except at selected towns or locks all adds up to the fact that this is something you want to be planning, or if you're planning on travelling in high season, booking ahead.
If you don't, you may find yourself not having a mooring at all, and travelling along the Thames at night is not permitted.
Licence: You are going to need an environment agency licence. These come in 2 day, 7 day and one month chunks.
You can break it down further, but you'll pay the same price as one of these chunk increments.
You can pick up a licence at any manned lock on the Thames.
You can pick them up sooner, but if you're not displaying one at a manned lock, of which there are plenty, it's the lock keepers job to issue you with one.
Additional gear: By definition, you're obliged to have buoyancy aids and an anchor. This is a requirement for travelling in all river and tidal waters in the UK in a narrowboat.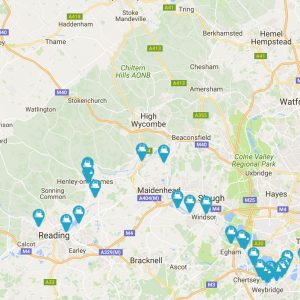 Map of moorings on the Thames
This is a map of moorings you're going to find along the length of the Thames.
Most of the major towns have public moorings, which are free for the first night, then incur an expense for each additional night. Usually £5.
The website specifically helps you find moorings on the Thames, including free moorings, which are issued on a first come, first serve basis through the website.
The website is called 'Thames Visitor Moorings'. It's run in conjunction with the Environment Agency, who issue navigation licences.
If you don't register with Thames Visitor Moorings upon, or prior to your arrival, you won't be eligible for free mooring.
So if you want to get free moorings on the Thames, and ensure a well planned and safe journey, Thames Visitor Moorings should be one of your first points of contact.
Also, if you want to book your mooring, you can do so using this website.
There are also private marinas who offer mooring on the Thames.
There's a list of them here in the Visit Thames Cruising Guide, which is out of date and not entirely accurate.
To a certain extent, it becomes easier to find moorings as the river becomes larger further down.
Mooring at locks on the Thames
Also available are lock moorings, these are on the bollarded non-layby sections of the lock. They are free to stop during the day.
An overnight stay costs £7.
These are on a first come first serve basis.
Mooring to the banks along the Thames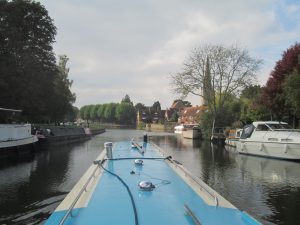 Is possible. People do do it.
It's at your own discretion.
It costs nothing, and you may get a better, or more pleasant spot than at a locks or designated mooring area.
That's up to you.
The natural mooring spots on the Thames occur less often than a lock mooring.
There's a thread here on Canalworld that has a limited list of moorings suitable for narrowboats on the Thames.
Some people suggest that it's possible to throw in your stern anchor and set a gangplank, which you're entitled to do for 24 hours, if it doesn't affect the flow of traffic on the Thames.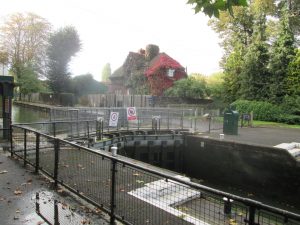 Locks on the Thames
You're not going to need your windlass!
All locks on the Thames are electronic, hydrologically operated either manned or self-service.
The process is fairly simple.
Moor your boat in the 'lay-by area'.
Set the lock: The sluices are operated automatically from the electronic console. Once the order is given, the sluices open in four stages, either emptying or filing the locks.
Some locks this may take a couple of minutes, some, like Clifton, take upwards of 20 minutes.
Drive your boat in: Then climb up the ladder and operate the console to close the gates.
Lock up/down.
Drive boat out.
Close the gates after you finish.
Here's a map of the locks on the River Thames.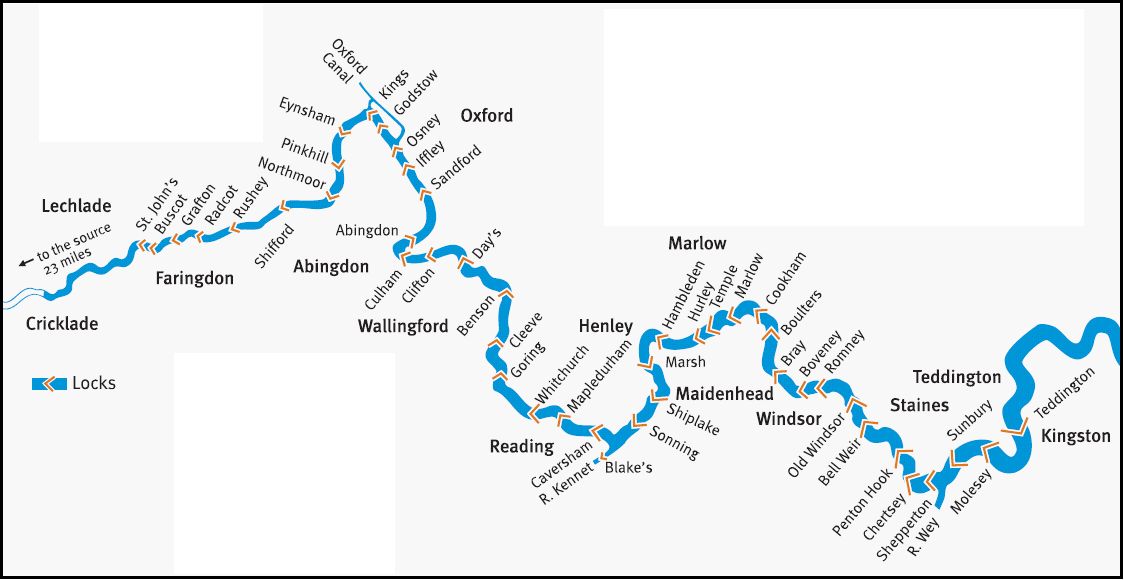 | | | | |
| --- | --- | --- | --- |
| Lock name | Distance to next lock (km) | Distance to next lock (mi) | Time to next lock |
| Cricklade Bridge | 18.88km | 11.73mi | 142mins |
| St. John's Lock | 1.85km | 1.15mi | 15mins |
| Buscot Lock | 5.37km | 3.34mi | 41mins |
| Grafton Lock | 2.98km | 1.85mi | 23mins |
| Radcot Lock | 4.23km | 2.63mi | 32mins |
| Rushey Lock | 6.92km | 4.30mi | 52mins |
| Shifford | 7.63km | 4.74mi | 58mins |
| Northmoor | 6.21km | 3.86mi | 47mins |
| Pinkhill | 2.38km | 1.48mi | 18mins |
| Eynsham | 4.37km | 2.71mi | 33mins |
| King's | 1.81km | 1.13mi | 14mins |
| Godstow | 3.87km | 2.40mi | 30mins |
| Osney | 3.73km | 2.32mi | 28mins |
| Iffley | 2.70km | 1.68mi | 21mins |
| Sandford | 7.38km | 4.58mi | 56mins |
| Abingdon | 4.15km | 2.58mi | 32mins |
| Culham | 4.52km | 2.72mi | 34mins |
| Clifton | 4.80km | 3.07mi | 36mins |
| Day's | 6.37km | 3.96mi | 48mins |
| Benson | 10.46km | 6.50mi | 79mins |
| Cleeve | 1km | 0.62mi | 8mins |
| Goring | 6.55km | 4.07mi | 50mins |
| Whitchurch | 3.67km | 2.28mi | 28mins |
| Mapledurham | 7.08km | 4.40mi | 54mins |
| Caversham | 4.23km | 2.63mi | 32mins |
| Sonning | 4.68km | 2.91mi | 36mins |
| Shiplake | 4.80km | 2.59mi | 36mins |
| Marsh | 4.59km | 3.24mi | 35mins |
| Hambleden | 5.86km | 3.66mi | 45mins |
| Hurley | 1.03km | 0.64mi | 8mins |
| Temple | 3.13km | 1.95mi | 24mins |
| Marlow | 6.44km | 4.00mi | 49mins |
| Cookham | 3.35km | 2.08mi | 26mins |
| Boulter's | 3.43km | 2.13mi | 26mins |
| Bray | 5.10km | 3.17mi | 39mins |
| Boveney | 3.75km | 2.33mi | 29mins |
| Romney | 4.83km | 3.00mi | 37mins |
| Old Windsor | 4.94km | 2.92mi | 36mins |
| Bell Weir | 4.33km | 2.84mi | 35mins |
| Penton Hook | 3.13km | 1.95mi | 24mins |
| Chertsey | 3.32km | 2.06mi | 25mins |
| Shepperton | 4.75km | 2.95mi | 36mins |
| Sunbury | 4.79km | 2.98mi | 36mins |
| Molesey | 7.74km | 4.81mi | 59mins |
| Teddington | 0.39km | 0.24mi | 3 mins |
Ettiquette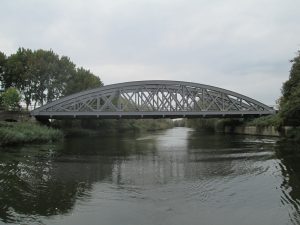 The Thames has a 5mph speed limit. Providing your boat has the power, you'll find this adequate to get a good speed up and not upset anyone.
Like the canal, it's your wake which causes the problem, and where necessary, you should reduce your speed to lessen it's impact on other users.
Boats approach bridges from upstream have priority.
Upshot
That's it in essence, it's not a strong or dangerous river like you see in London. Much more a tamed and deep canal, winding through the British countryside.
I found my experience on the Thames allowed me to enjoy big river wildlife.
The properties backing on to the Thames are often quite expensive, and the countryside the river runs through reflects the environment of the privileged classes.
The traffic on the Thames is also varied. You'll find different styles of boats, sun-cruisers through to kayaks and rowing boats joining you in the locks.
It all makes it a unique experience.
Compared with the lower stretches of the Kennet, it's pretty tame and as I say earlier, the main thing threatening a good time is nowhere to tie your boat up overnight.
Fill your boots.