Taking a narrowboat on the Thames
The Thames is regulated by locks right up to London.
It's pondlike for the duration.
These are the major considerations for taking a narrowboat on the Thames.
Mooring: Despite what people tell you or you may have read elsewhere, mooring is going to be your

number 1 consideration

.
Your boat's draft, (the amount of the boat underwater), is going to restrict your access and ability to moor ad-hoc. Most of Thames bankside being private property is also a restricting factor. The lack of free mooring except at selected towns or locks all adds up to the fact that this is something you want to be planning, or if you're planning on travelling in high season, booking ahead.
If you don't, you may find yourself not having a mooring at all, and travelling along the Thames at night is not permitted.
Licence: You are going to need an environment agency licence. These come in 2 day, 7 day and one month chunks.
You can break it down further, but you'll pay the same price as one of these chunk increments.
You can pick up a licence at any manned lock on the Thames.
You can pick them up sooner, but if you're not displaying one at a manned lock, of which there are plenty, it's the lock keepers job to issue you with one.
Additional gear: By definition, you're obliged to have buoyancy aids and an anchor. This is a requirement for travelling in all river and tidal waters in the UK in a narrowboat.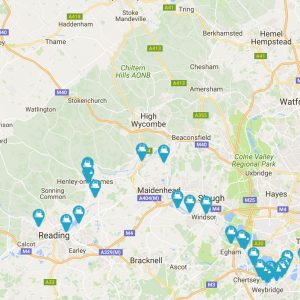 Map of moorings on the Thames
This is a map of moorings you're going to find along the length of the Thames.
Most of the major towns have public moorings, which are free for the first night, then incur an expense for each additional night. Usually £5.
The website specifically helps you find moorings on the Thames, including free moorings, which are issued on a first come, first serve basis through the website. …