Trip to Thailand's Best Islands
Trip to Thailand's Best Islands
Have these islands in mind. **Update** (ps. If you have anything to add, pls comment).
I'll be there for the holidays.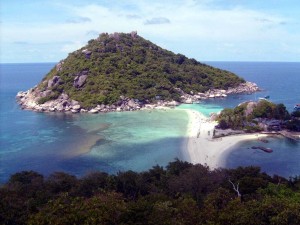 Koh Samui
Apparently one of the better islands for an 'all-round' experience.
"Back in the days when backpackers to Southeast Asia were first discovering Ko Samui in the 1970s, a basic thatched hut with running water and electricity was considered luxury. Now Ko Samui is home to some of Thailand's best luxury resorts and in the popularity stakes is surpassed only by Phuket.
With an international airport, a mass of ferry connections and close to 500 hotels and guesthouses, this is not somewhere to come to glimpse a corner of the Thai kingdom untouched by tourism development. One good thing about tourism development on the island is the written law that no building may be taller than the nearest coconut palm; this means that, unlike Phuket, tall apartment blocks and hotels do not ruin the skyline. The highest building is about four storeys high, and bungalow-type accommodation is still the style that is most abundant." – Travelfish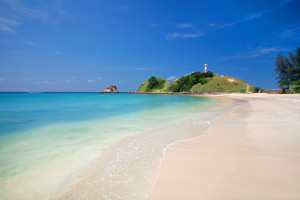 I want to do some diving. I've got my PADI Open Water License, which allows me to dive to 20m if I remember right.
It's pretty close to Koh Tao, which has some of the more popular diving in the area and likes to compare itself to Cairns in terms of licenses issued.
Should be fun way to spend the days.
Nights
Nights? Maybe bars or other entertainments. There's not going to be a shortage of this on Samui. You've got various grades of beach to apply to your level late night requirements. I can't say how I'll feel when I arrive, but I generally like to be out of the way so I can sleep at night.
I'd like somewhere calm where I can relax and nurse a hangover, and maybe knock out a blog or two. Enjoy a decent meal and be close to the beach.
Koh Lanta –
Of all Thailand's islands, Koh Lanta is one of the best all-rounders. Less than an hour's boat ride from Krabi, Koh Lanta is actually made up of several little islands, the most-visited of which is Koh Lanta Yai. It has got nature reserves and beaches where you won't see another soul; it's got accommodation that runs the gamut from spare to super-swanky, which attract more 30-, 40- and 50-something travellers than backpackers. Bringing the children? The waters are calm and the island safe.
If you want to have it all on holiday – suntanning on beautiful beaches, a bit of world-class diving, a great massage, fun beach bars, kayaking through a mangrove forest, eating seafoodtom yumwith the locals in a friendly fishing villages – then Koh Lanta is where you get it.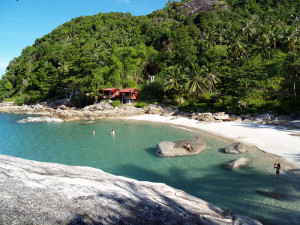 Koh Pha Ngan –
If your idea of the perfect holiday involves three-day beach parties, Koh Pha Ngan is the place to be. Famous for its full moon parties at Haad Rin's Sunrise Beach (pictured), this island is for hardcore partygoers and dreadlocked travellers. During peak season, the island can see 20,000 visitors dancing, drinking and cavorting on the white sands under the full moon. If you can't make it at the right time of month, don't worry – there are half-moon and black-moon parties in intervening weeks, and there's action every night of the week at the island's beach and cocktail bars.
The morning after, sleep it off in the shade of a palm tree while a Thai masseuse kneads you back into shape. There are secluded beaches far from the crowds (like hippie favourite Bottle Beach, arguably one of the best beaches in Thailand), and plenty of spas where you can check yourself in for an afternoon of recovery, from the basic to the deluxe (such as the Ayurvana Spa at Santhiya Resort on Thong Nai Pan Noi Beach in the north of the island).
But if you just want to party, it's unlikely you'll spend much time anywhere but Haad Rin. The island is due to get its own airport in 2013, making full-moon fever more accessible.
Koh Samet –
An island idyll, Ko Samet bobs in the sea with a whole lot of scenery: small sandy coves bathed by clear aquamarine water. You'll have to share all this prettiness with other beach lovers as it's an easy weekend escape from Bangkok as well as a major package-tour destination.
But considering its proximity and popularity, Ko Samet is surprisingly underdeveloped with a thick jungle interior crouching beside the low-rise hotels. Most beachfront buildings adhere to the government set-back regulations and are discreetly tucked behind the tree line. There are no high-rises or traffic jams (the interior road still isn't paved) and most beach-hopping is done the old-fashioned way, by foot along wooded trails skirting the coastline.
Phuket –
Glitzy Phuket offers every Western convenience you can think of, and probably several you can't. Celebrity-chef restaurants? Check. Six-star resorts with private butlers? Check. World-class plastic surgery? No problem. If you're the highest of high-maintenance, Phuket is the island for you.
Phuket is the biggest, busiest island in Thailand, and although it has been infiltrated by package holidays and cheap sleaze in a few places (avoid Bangla Road in Patong), it also has cosmopolitan diversions in the form of designer boutiques and world-class restaurants – one of the best of which is Acqua.
Phuket still has some of the most glorious beaches in the islands. Many have been taken over by uber-groomed international resorts and laid with stylish sunloungers and deluxe beach bars; but if you're seeking somewhere more laid-back, head to stunning little Kata Noi.
Summary
Did a little research this morning on the CN traveller website.
Turns out Phuket is full of sex bars . May go there.
Also, Koh Lanta! Maybe something for everyone. It sounds nice, but I'm not everyone.
Samet and Ngan yan are also in the running.
I know a lot of weddings go off on Koh Samet. My driver was suggesting I get married the other day. "Why you no get married?". I may be a Christian, but I think marriage is an outdated concept.
I explained to him, that if I were to get married. I never think about it… Men that walk round wanting to get married may as well get SUCK tattooed on their head.
Marriage is for people in relationships I said. I don't have one of those. So, off we go to the islands.