Cetinje – Montenegro – Monastery
Cetinje – Montenegro – Monastery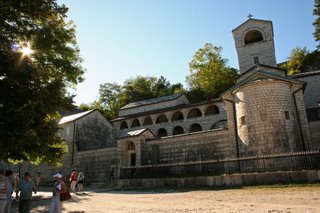 Cetinje Monastery
KML:
lat – 42.38774 lon – 18.92215
Again, the orthodox. People are invited to prostrate themselves at glass boxes.
Each box houses a different worthy god. Kissing is obligatory.
Candles are lit.
There is also a shop selling honey, postcards and different touristic nic-nacs.
Some parts of the monastery are out of bounds.