Shocking new study shows 75% drop in fish population in past 40 years
Shocking new study shows 75% drop in fish population in past 40 years
Some eye watering figures here about the state of the planet's most valuable ecosystem.
---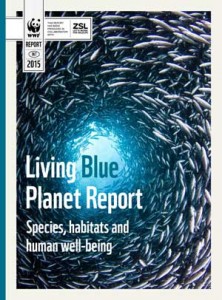 Climate change and human interference has taken its devastating toll on ocean life as 49% of marine populations have been wiped out in the past 42 years, according to a new report. The World Wildlife Fund (WWF) and Zoological Society of London study revealed that as global warming worsens and "over-exploiting fisheries" continues, the situation will only be exacerbated.
Additionally, the rate at which populations are diminishing is 10% worse than conservationists had predicted and is regarded as a "catastrophe". Dr Louise Heaps, chief adviser on marine policy at WWF-UK, said: "As well as being a source of extraordinary natural beauty and wonder, healthy seas are the bedrock of a functioning global economy. By over-exploiting fisheries, degrading coastal habitats and not addressing global warming, we are sowing the seeds of ecological and economic catastrophe."

The study looked at a total of 1,234 marine species, which included the likes of sharks and birds. Furthermore, it adds that species typically eaten by humans are suffering the most, with a 74% drop in the populations of tuna and mackerel between 1970 and 2010. There was also a 98% decline in sea cucumbers in the Galapagos between 1993 and 2004, and 94% in the Red Sea between 1998 and 2001.
Marco Lambertini, director general of WWF International, said: "In the space of a single generation, human activity has severely damaged the ocean by catching fish faster than they can reproduce while also destroying their nurseries. Profound changes are needed to ensure abundant ocean life for future generations.
"We are in a race to catch fish that could end with people starved of a vital food source and an essential economic engine. Overfishing, destruction of marine habitats and climate change have dire consequences for the entire human population, with the poorest communities that rely on the sea getting hit fastest and hardest. The collapse of ocean ecosystems could trigger serious economic decline – and undermine our fight to eradicate poverty and malnutrition."
Taken from WWF Living Blue Sea Report
Related articles