Te Papa Museum – Wellington
Te Papa Museum – Wellington
Here on recommendation from old Kezza.
Had a late lunch in Intercontinental and spent the afternoon in this, New Zealand's national museum.
Natural History, Arts, Settlers, Maori, Geology.
There are 5 floors. It is modern. I didn't like some of the plastic displays which were on the lower floors which were full of kids.
As you went up though the kids diminished. There were a couple of good displays. And it was generally a good place to wander round for a few hours.
Here's a couple of displays.
NZ Arrivals, Te Papa Museum, New Zealand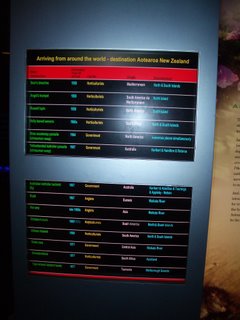 Shows imported species.
You can look at this whilst it scrolls through species introduced from 1796 up until 2006.
Acclimatisation is the technical phrase for it.
When the settlers first arrived the sheep refused to eat the grass, didn't like the taste.
Other interesting introductions include trout and salmon in 1897.
Corn Beef Cow, Te Papa Museum, New Zealand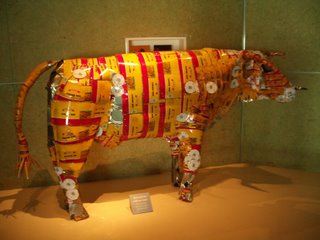 Corn Beef Cow.
Weblinks: Te Papa Museum