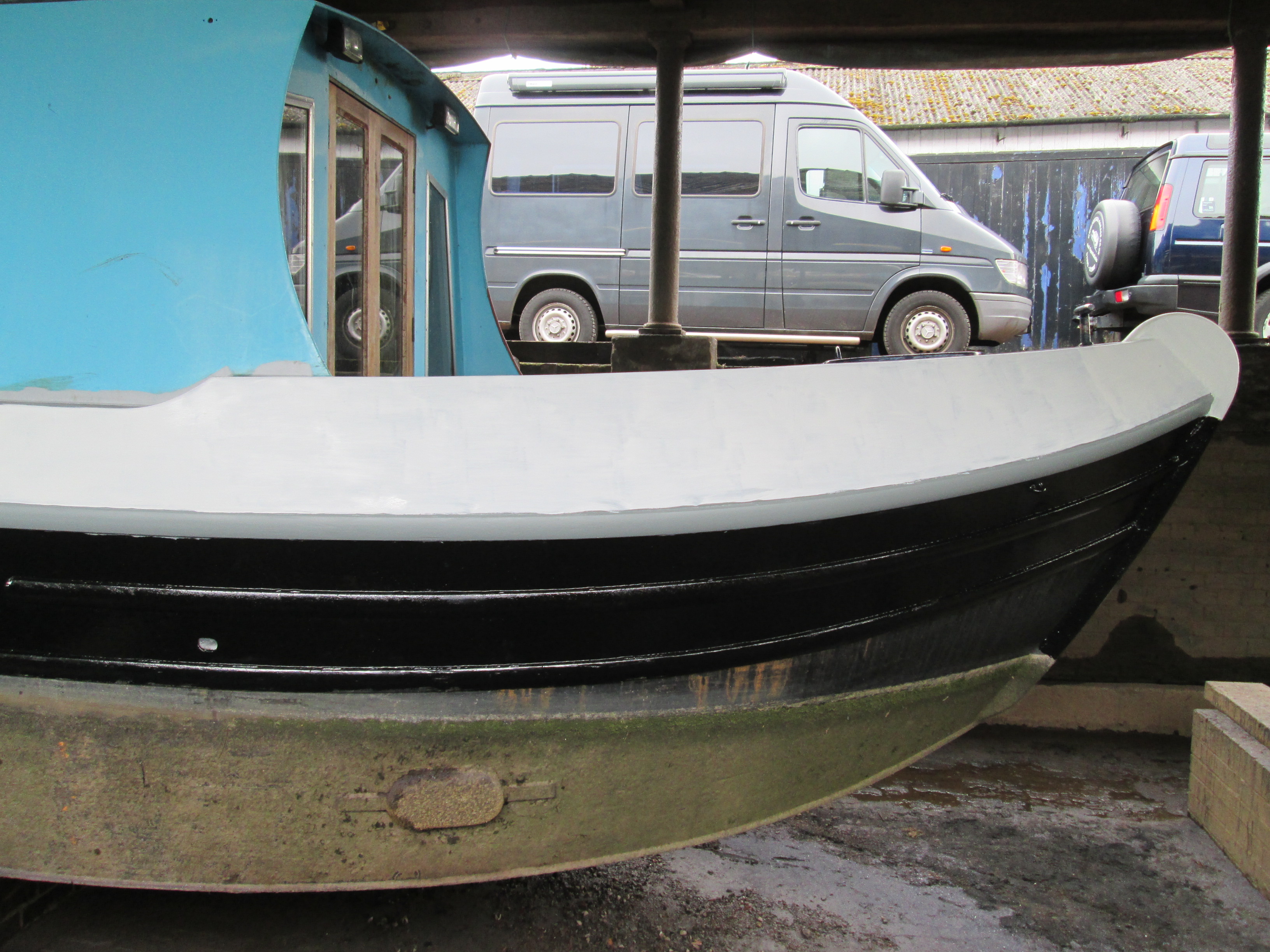 Boat painting – Day 2
Boat painting – Day 2
Dry docked.
2nd day spent painting with primer and undercoat.
These are the paints:-
Jotunmastic 87
It's an epoxy and a coating mixed together, in what is known as a '2 pack' then applied to bare metal.
It requires 1 coat. We're giving it 2 with 24 hours between each coat.
Each preparation lasts for 2 hours. If you coat it any later than this, the preparation has already started to react and will become less and less effective as time goes on.
Depending on time constrains, and the size of your boat, you may need to make a number of smaller preparations to get the job done.
We have 5 people painting for about 40 mins each for half the tumblehome of a 45ft boat.
Drying time: 24hrs.
Cost: 4.7litres £42.95
Primer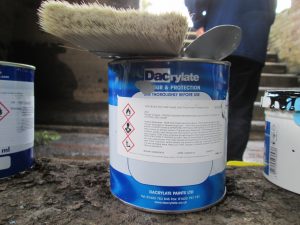 We got a litre of primer, as we were only priming the other top section of the tumblehome.
1L of primer is what we expected based on calculations of the hull surface area and primer coverage per meter.
This is Dacrylate High Build Polyurethane Zinc Phosphate Primer, which I've found to be particularly difficult to get out of paint brushes :).
3 people working on 1/2 the tumblehome of a 45ft boat took about 1 hour and 20 minutes.
Drying time: Overnight
Cost: ?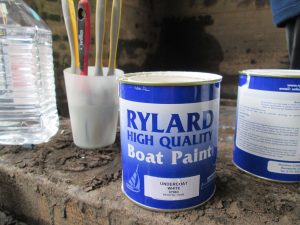 Undercoat
Different to the primer, it acts as the layer providing the highest level of micrometers per coat.
It's the padding behind the paint-job and we'll be adding 2 coats.
This is a Rylard associated white undercoat, it's actually made by 'Spencer coatings', but it seems to have Rylards branding on the tin.
I'm not sure what the deal is there, but you can read the datasheet here.
Drying time: 16hrs
Cost: £18.35 per 750ml
Half finished boat…
These are the paints we used, and this is the finish we've got so far.
Half finished is a little optimistic.
We've only just started, but as you can see it's an improvement.