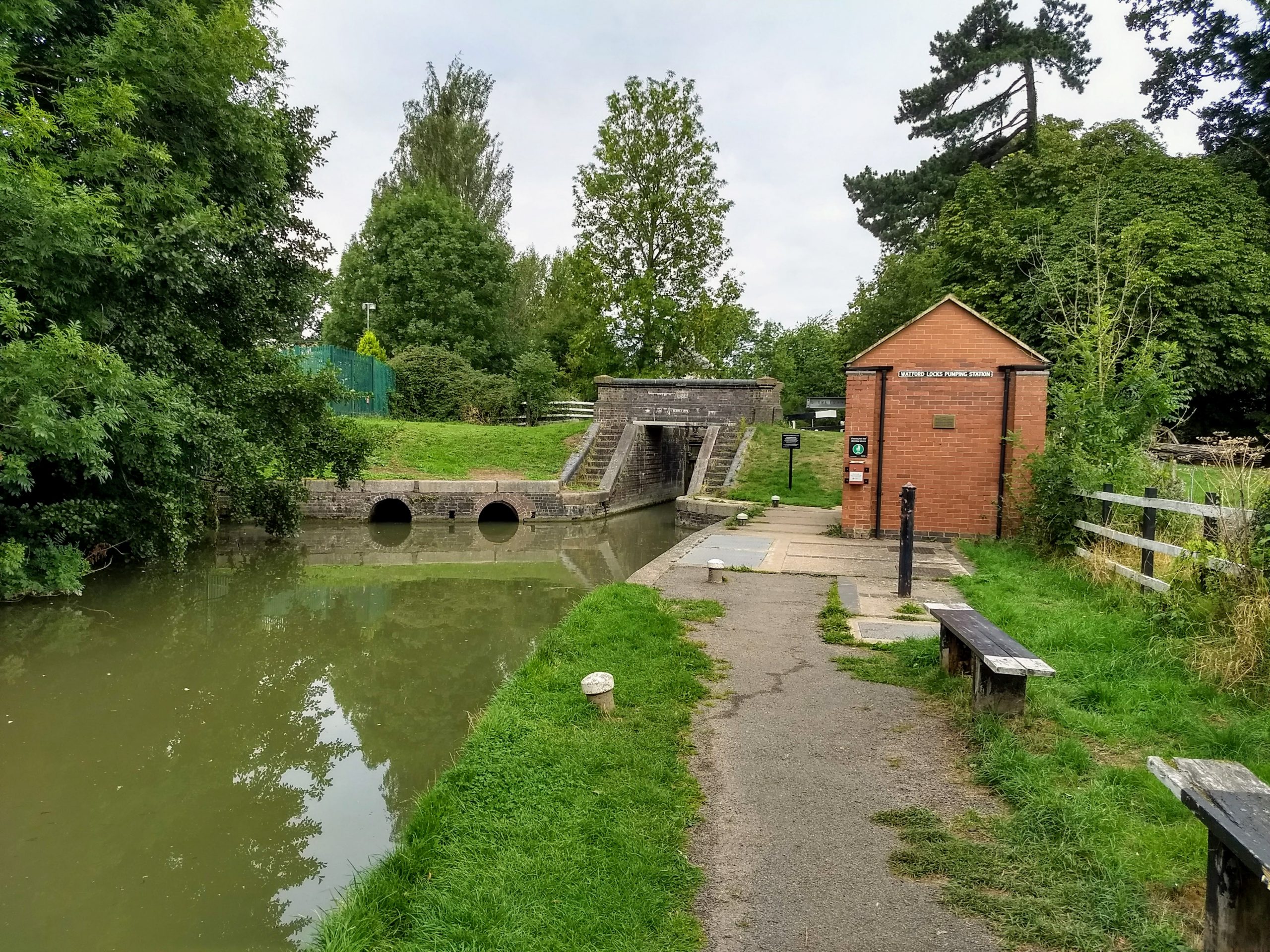 Braunston -> Yelvertoft
Braunston -> Yelvertoft
Step 1: Braunston to Watford Locks
Two flights of locks. One of them staircase locks at Watford.The other Braunston Locks. One that I've done a few times now.
Braunston Locks are very tiring. And I was kind of happy when I found that due to water shortages, the Watford flight closed at night when the volunteers went home.
Being staircase locks, only one boat can go through at a time. And the CRT like you to book ahead, (which I didn't).
During the day, the CRT prefer to keep it manned. Previously, at night, they let the public traverse the locks as they wished. Due to water shortages, this practice stopped, and passing through the flight is only possible with the aid of the lock-keeper.
I woke up around eight, and got going just before nine. Entering the first lock at 8.50am. Luckily, they are good and fast and I made it through the whole flight in around an hour. Apart from my button getting stuck under the gates at the top lock, all went without event, and I set off on my way again.
Here's a picture of the locks at Watford.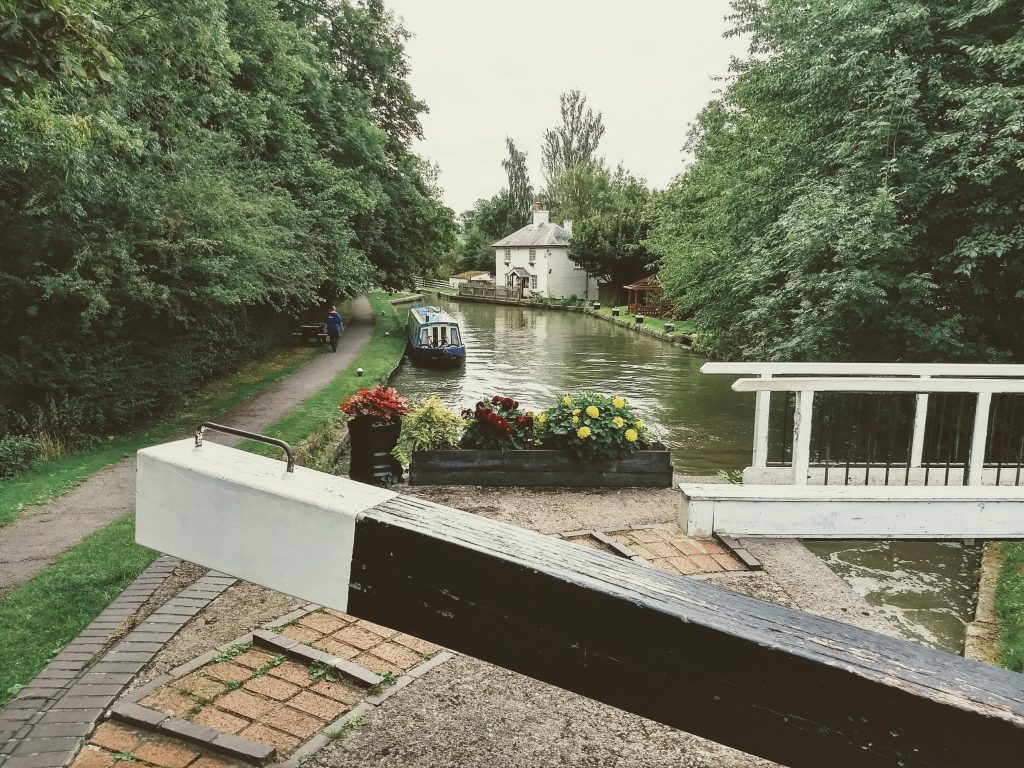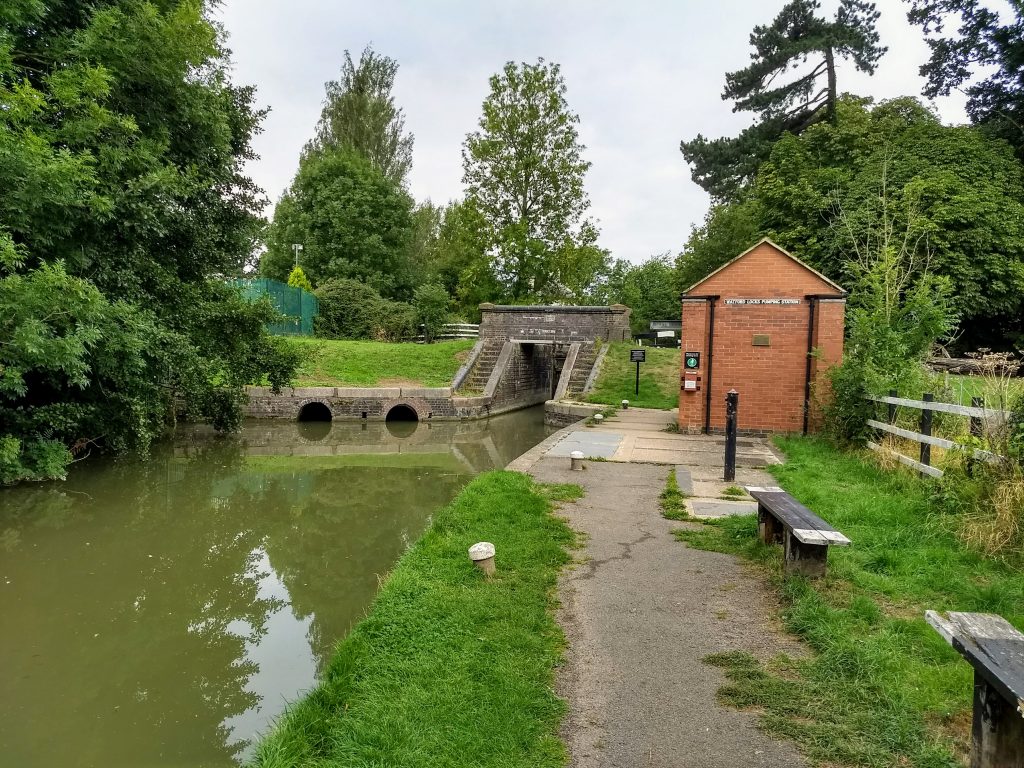 Step 2: Watford to Yelvertoft
Through Crick, which somehow has the reputation of being boater central.
Apart from 200 yards of visitor moorings, there isn't really anything to recommend it to a live-aboard boater.
That 200 yards of mooring represents the only mooring you'll do around the Crick area.
The rest of the bank is reclaimed and shallow and useless for mooring. That's the same both sides of Crick.
To add to that mobile coverage is non-existant.
I think it's just the show that people make the money on…. Otherwise. Not a lot to see….
Moved on, through the countryside to Yelvertoft, the next village down.
Here, the mobile coverage is very good, (once you come out of the village), there's parking and a waterpoint and bins.
Yelvertoft village has a pub and post office, which I visited yesterday.
Grand Union Leicester Arm
The first things you going to notice are
It's single gauge; those 'man locks' that I've been dealing with for the past 18 months are a thing of the past. We're back onto the tiddly locks here.
It's very shallow; you can notice the bow wave is high and the progress is slow. Accelerating beyond 2-3 miles per hour doesn't speed the boat up, just wastes diesel.
There ain't many boats; At Braunston, you used to get 2/3 boats an hour passed on your average day. More on busy days. Boats passing each other alongside me etc. Here, I think I've seen less than 10 passing boats in the three days I've been here. Not a busy place.
The fishing looks good alongside these willow trees and I've got a few days off work until my next assignment comes through, so I think I'm going to kick back, relax and do some fishing and enjoy what remains of the summer.
Curtain update
Washing my curtains at the end of winter destroyed them.
I'm having to had some new ones made up, and unfortunately, I had to go into town and do some shopping for materials.
Also, I tore my jeans on the way through the locks. This is the second time this has happened. I've decided to buy some tracksuit pants, to prevent this happening in the future.
I visited Dunelm in Rugby,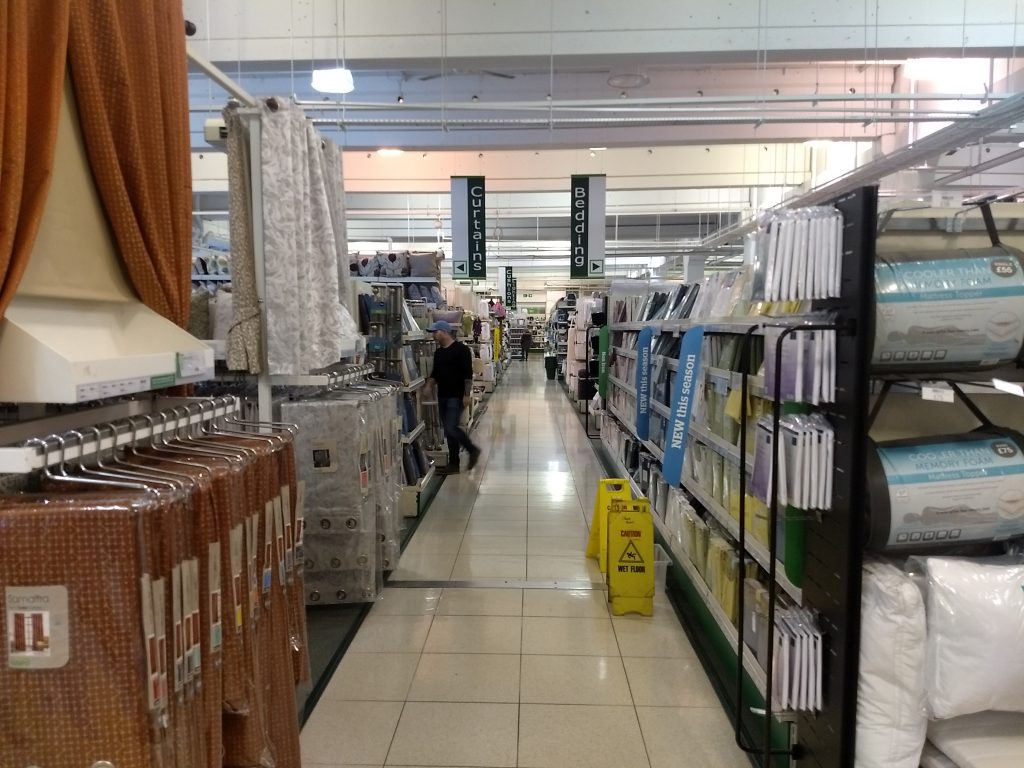 and this place in Northampton https://www.the-millshop-online.co.uk/.
The stuff you see there on the poles was all £1 per metre.
Was pretty happy I made the journey down there, the range and price of fabrics, service, all much better than Dunelm.
What I was looking at in Dunelm for £75, I came away here for £34 and a free cushion. Yes, a free cushion! Can't go wrong.
This stuff is quite thick in in a minimalist blue style I think will add an air of regality to the boat.
Also, had a wonder around the High Street in Northampton.
It's remarkable how this has died off in the last few years. So many shops now closed.
I visited an two story arcade off the main shopping square to get through to the car-park, and so many of the units were vacant.
It seems that the consumerist dream of limitless spending and unbridled demand lies dead in these empty city centre 'prime' shopping units.