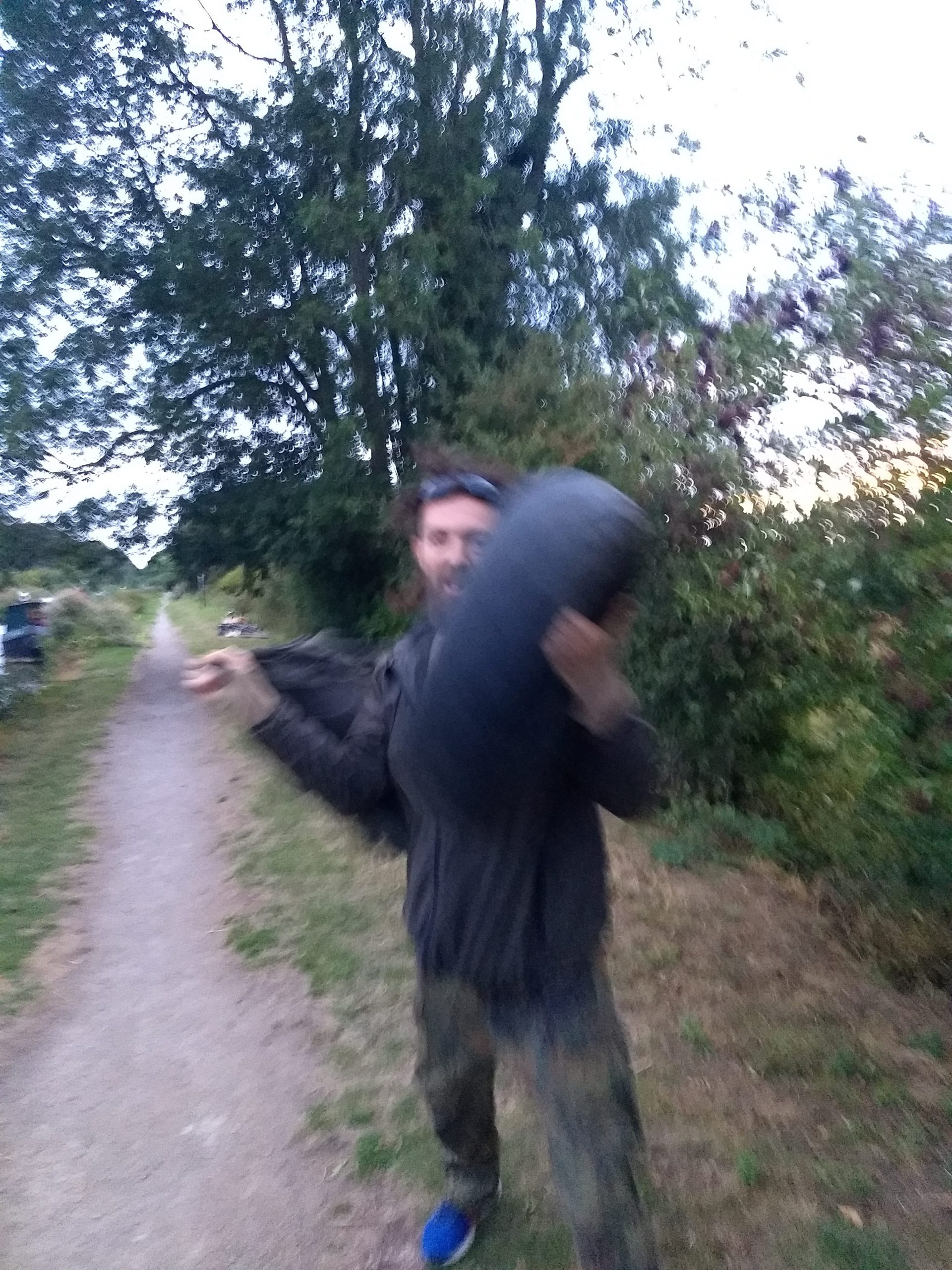 Flecknoe -> Braunston
Flecknoe -> Braunston
People do moor in-between, but there's no road access, so it's useless to me.
Fairly picturesque and popular.
Old Braunston
At the moment, I'm at Braunston, ancient Bargee village.
All things barge are here, chandlers x 3. Marina x 1. Canalside pubs x2. And some other shops and services connected to the trade.
I was moored here for the winter on the Rugby arm.
This time I'm on Oxford arm.
There's no piling and I'm moored up on pins but it's a much better mooring for a number of reasons.
Not least because:
The towpath isn't overgrow. On the Rugby arm, the trees hang down and you have to crouch to pass them. This is for about 20-25 yards.
The trees don't overhang. They stand up straight, not grow up over my solar and cast shade over the boat.
Parking is better. Not on the A45 which you have to cross daily.
Quicker into town. Not by much, but a shorter walk into Braunston.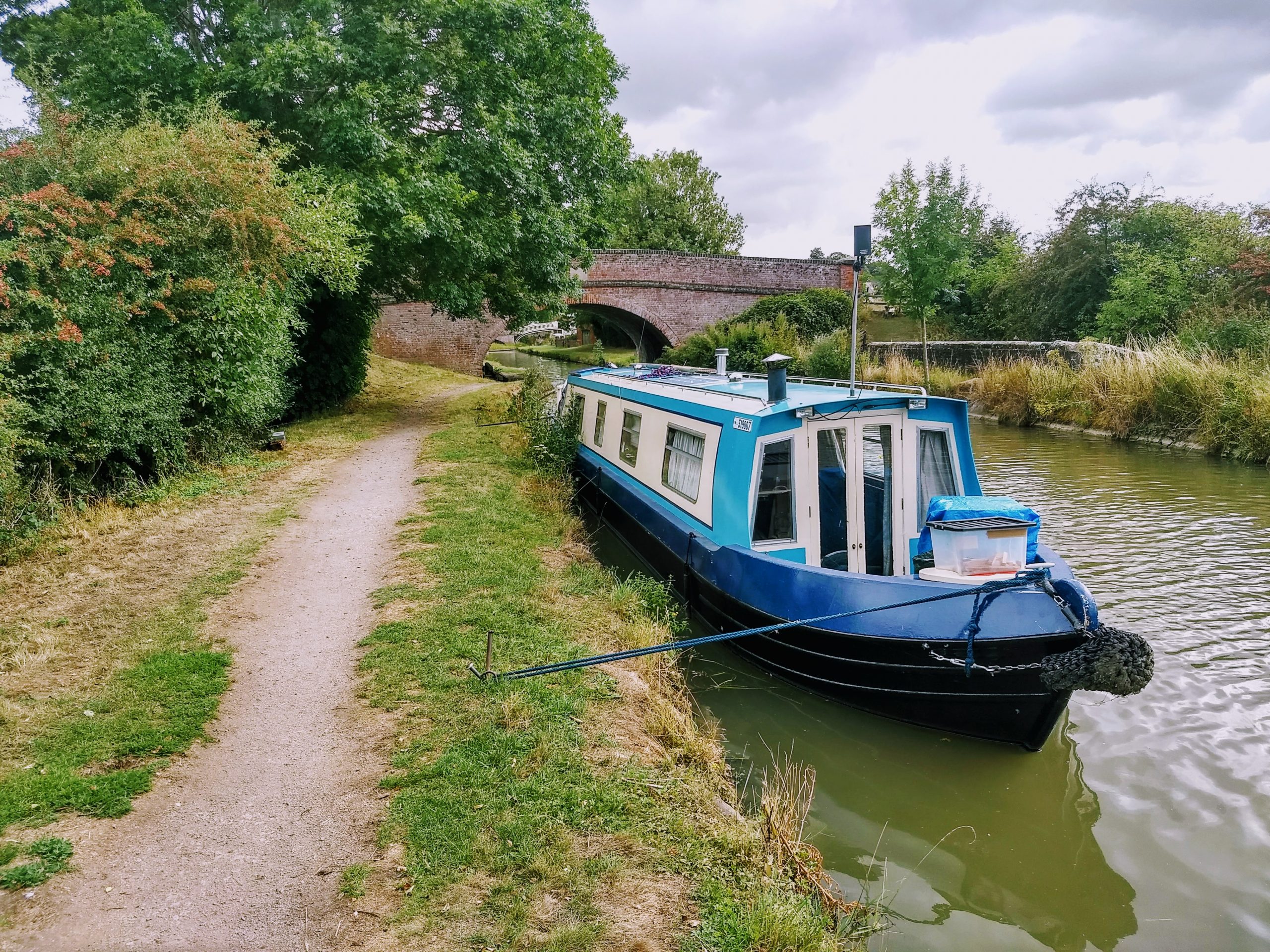 Views are better.
Got a better all over ambiance certainly compared to mooring on the Rugby arm, but also in toward the village. It's nicer here because you're out in the country.
Will have to turn Bonnie round in due course, as she's pointing in the wrong direction.
Toll house
Here's a view down the path to the main road.
The toll-house is located here on the convergence of the canals.
It's only accessible along this grassy track, which you need to walk down to get to the road.
Assaulted by boater
This guy's been moored up near me since Flecknoe. I've said hello to him a few times.
The last time I saw him, I said something about his dog not savaging me, (it was only a very small dog).
He said something like, "in 2018? You're not allowed those dogs anymore… It's a strange world we're living in".
Last night, he was beating the bushes outside the boat when I went out to eat tea.
He brought up this dog comment that I made, probably about 3-4 days ago, and I knew the conversation was going to get weird. And it did. Suffice to say that the guy called me a jerk and came round to the side of my boat and asked me to step off. Which I did.
After some, (meaningless), discussion with the guy I told him I was going to take his picture because I found his behaviour threatening and abusive.
He was high on a mixture of drugs guessing by the pungent odour he was putting out.
At that point, he tried to hit me with the tyre and sack he'd been fishing out of the canal.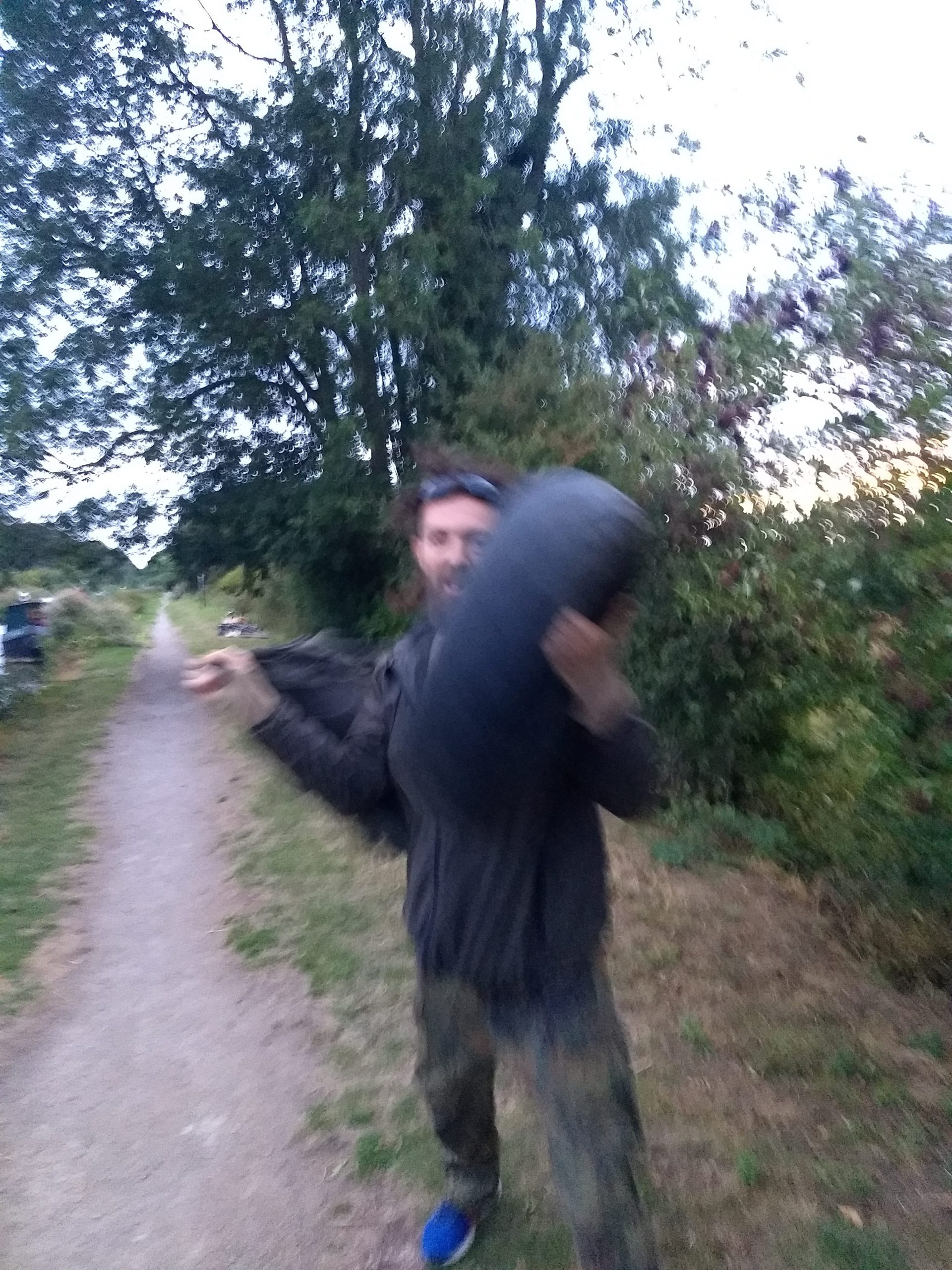 The guy's obviously mad, and I told him so.
Makes me wonder how his gear came to be floating down the canal in the first place.
Weirdo.
I've no doubt I'll see him again.
'Till then…..