In and around Cropredy
In and around Cropredy
It's taken a while to get to this point….
Sailing from Napton to Claydon
After being stuck in Flecknoe for so long with the bad weather, things eventually improved and I managed to move the boat down from the Grand Union canal onto the Oxford canal via Napton Junction.
Once I'd issued my crew with badges, they set about their businesses…
Sailing took from 11am to 7pm, so about 8 hours in total including a little stop-off for lunch.
The weather was mostly fine. Some rain, some sun, sometimes both at the same time, which was better than the forecast, which had pictures of rain clouds?
Managed to take some pictures on the way down.
Here's a picture of my crew…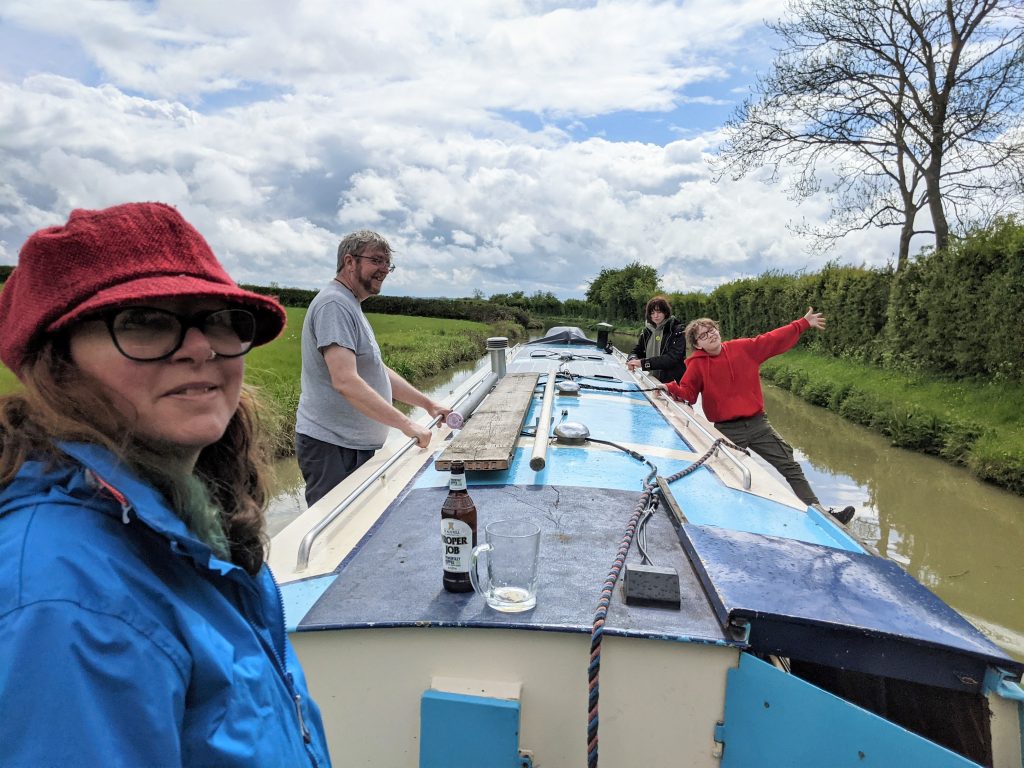 For those who haven't been introduced; Aurelia is Craig's daughter and Finn is Kerri's son. Kerri and Craig got married about 5 years ago, and fairly obviously, but in case you missed it, Kerri is my sister!
Lunch
We stopped for lunch in Fenny Compton and had a game of cards called Taco, Cat, Goat, Cheese, Pizza which basically involved everyone thumping each others hands on the table, or pretending to be gorilla, (thump chest), or narwhal's, (make triangle above head), thumping the table or whatever, (groundhog)…. then thumping each others hands.
I wasn't very good at pretending to be the animals, otherwise, I did pretty well considering it was the first time I had played! Kids loved it though, although Aurelia seemed to think she was a Narwhal whatever animal came up.
We didn't stop for long. Had some soup and beers, then set off again as we had a long way still yet to go.
Women sailors
We had some women-folk onboard for the journey so I thought I'd test their mettle; Letting each of them have a turn at the tiller for a selected stretch of the canal!
Aurelia was very good for a 14 year old. She has that porous, learning brain that absorbs information and puts it to good use in other ways, like which way to pull on the tiller, whether to push or pull at it, or leave it alone. Too much pushing and pulling, and the boat doesn't like it. Too little pushing and pulling, and the boat doesn't like it either. It's funny like that. You have to push and pull at it just the right amount, to get it to perform, or do, or go.
The tiller is just the rudimentary stuff. You also have to use the throttle, but neither of them, Kerri or Aurelia got that far.
In fact, when I'd gone in to use the toilet, Kerri managed to crash into the bank on the far side of the canal. 😀 😀 😀
When I came out, there was a large piece of hedge sticking out of the front cratch cover and we were wedged into the bank. 😀
Kerri said I hadn't told her which was to turn the tiller to make the boat go in which direction… So. An oversight on my part…. 😂
After some pushing and pulling by the crew members, we managed to free poor Bonnie from the canal bank. As we set about once more on our journey,
Apart from a few bent poles, everything was as good as gold! 😎
Here's some more pictures from the journey.
Not Cropredy but Claydon
By journey's end, we had made it down as far as Claydon. The following day, I moved the boat the additional 2 miles to Cropredy on my own.
It had been an eventful day, as a special treat for my crew, I took them to the Lebanese restaurant in Banbury, which due to lockdown conditions we weren't allowed to go inside.
We sat shivering and huddled outside on the takeaway terrace eating our baba ganoush, stuffed vines and shawarma in the 7℃ night air.
By the time we had finished it was nearly 9 o'clock, pretty late for a school night, Kerri and her family needed to get on their way back to Stroud.
So ended a fun day.
In Cropredy
That's right.
Home of the famous festival. 'not a folk festival' it says on the website. I stand corrected….
Still. The weather is dire as I journey down here. The rain is relentless, only easing off as I decide to cut my losses and moor up for a couple of nights in the marina until I get my bearings.
This is the village. Well, some of it….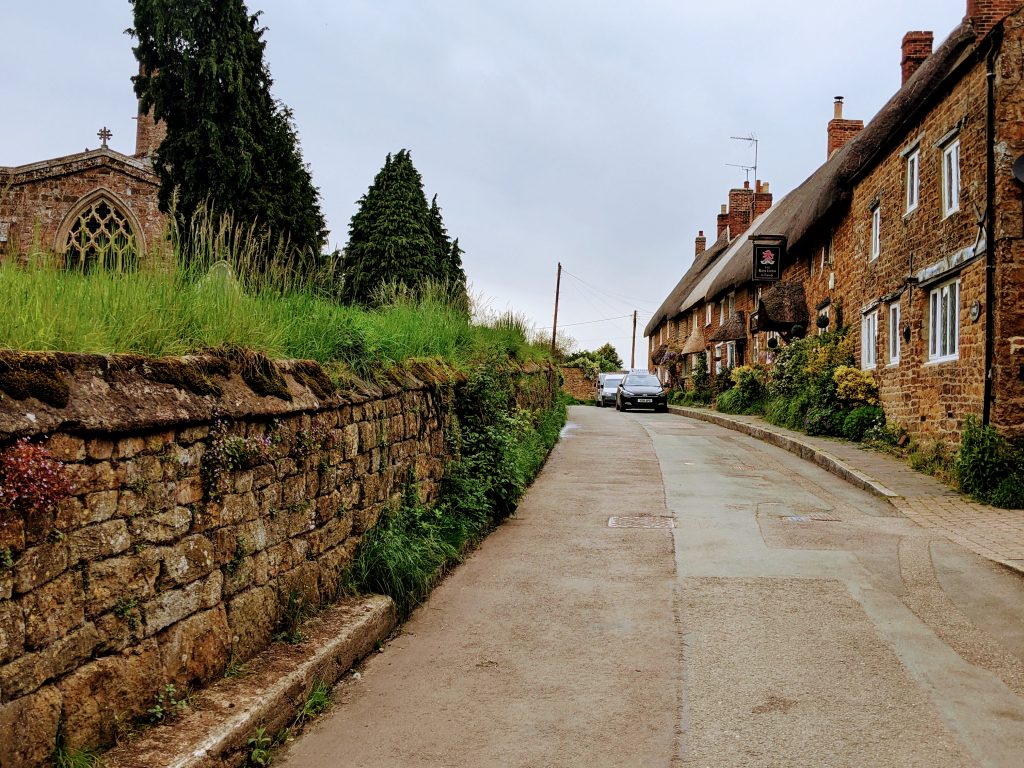 Marina vs Cut
I'm no great fan of marinas, as many of you will know. Why you'd want to pay vast sums of money to look at the sides of someone else's boat remains a mystery to me…
Still, in single figure temperatures at night. Torrential rain, daily, they do have a certain appeal… That appeal being most manifest in;
Electric hook up: No need to light the fire. Simply turn the heater on. The boat is warm 24 hours not a coal or a log in sight.
Water-supply: When, you're painting your watertank, as I was, you're going to find that washing and cooking are going to become impossible, unless you have a tap located 5 meters from the front of the boat, or you fancy using canal water. In which case you're going to die…
No mud: Greatest thing about rain on the cut, is what it does to the towpath; parts of it are impassible without wellies. Seeing as I've never been here before, I didn't know which parts these would be. The only thing certain, that every time I went outside, I'd get covered in mud. Not the case in the marina.
No thinking: Yeah. The best bit. Whilst you're in the marina, you don't have to consider any of the above. You can just relax, and in my case, not have to think, because the weather had made all the decisions for me.
The fact remains: I was in the marina to do work on the boat in the way of getting the watertank painted.
Cropredy marina
Eventually, 10 days later the clouds lifted. My tank was painted. It's a ballacher of a job. Everyone in boat-world seems to know it. There's a gentle sympathy for those trying to do it, and I managed to get a reduction from £16 per night to £12 per night at the marina due to that, (and the fact the showers didn't work when I got there!), so it was a winner.
This is where I stayed.
Back on the cut
So here I am, back in the wilds of Oxfordshire.
The weather has improved, (vastly).
The Amazon flex is still going on, but I'm going to have to think about finding myself another job…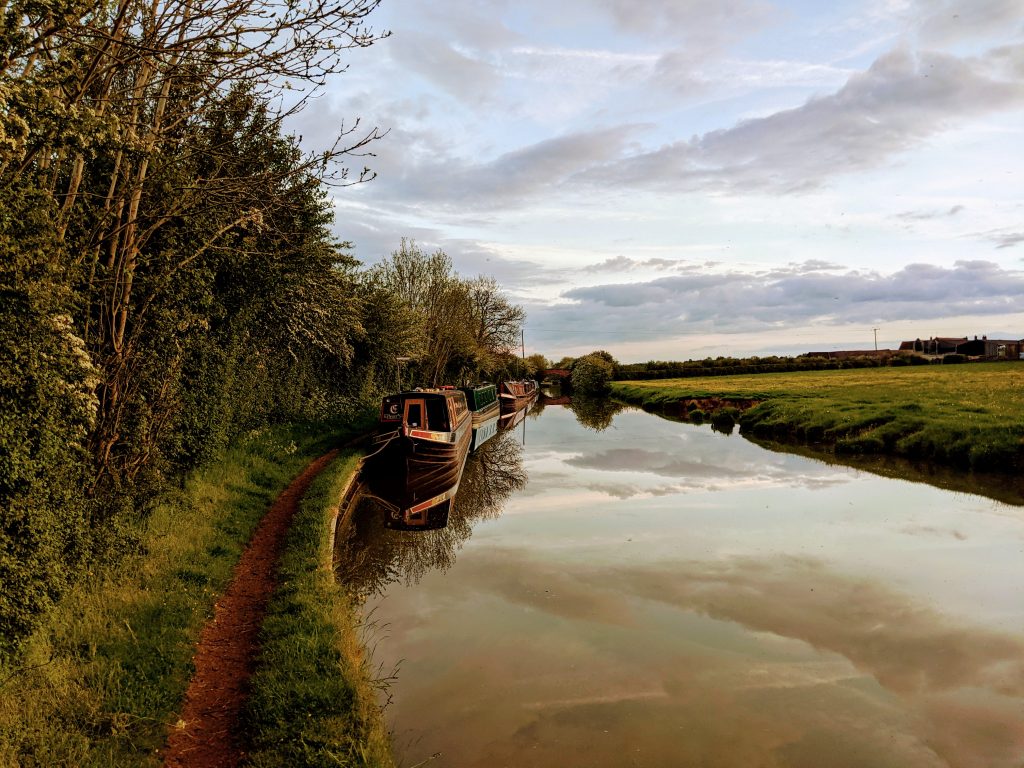 'Till next time….