Jacobite Steam Train – Harry Potters Hogwarts Express

Jacobite steam train to some – Harry Potters Hogwarts Express to others, this is the legendary train which takes Potter above the Scottish Highlands to the mystical Hogwarts Magical Academy.
The railway is run by West Coast Railway Company and is not part of the services offered by Scotrail, tickets are sold separately.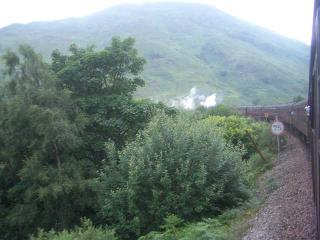 The train takes you to Mallaig and back via Copach and Glenfinnan, the Glenfinnan viaduct is featured in the Harry Potter film. Past Loch Shiel and the statue of Bonnie Prince Charlie then Arisaig and Morar to stop in Mallaig.
You can get all the way there and back for £22.00 per person (1st class).


It was funny the way the journey reduced grown men to little children all jostling and excited, crowding around windows with their video cameras, needless to say I did not partake in this childish behavior.
REAL Hogwarts Express! – !!!***The Movie ***!!!!!