Chinese Hot Water
Chinese Hot Water
The Chinese firmly believe in hot water, or at least warm water. I'm not a great fan. I prefer mine chilled. Thankfully.
Visa for travel?
Looks like the woman at the Chinese embassy didn't know what she was talking about and I actually DON'T have a valid visa for China.
Luckily, I'm one of those people that doesn't believe what he's told, and rather than chance it at the border, I decided to call it a day in SE Asia.
Leaving of Hanoi
Had a good look around this city. Seems a cool place – in many ways, not least because the weather was about 11 °C.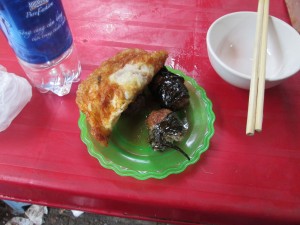 I took some photo's and mooched the streets.
On many days it was raining, at least in the afternoon.
There are many places to eat in Hanoi. Perhaps too many.
Shopping is also good. There are many nick-nacks to be had. Prices are cheap, bargains can be struck and there is an abundance of other shops to try if the price doesn't suit.
My hotel
I stayed in the Old Quarter. There are maps of this place, but they are never accurate. It's a very difficult place to navigate.
My room had cable. I could watch CNN when it was raining.
During the day, I went on some little day trips to museums. I also watched to water puppets at the water theatre, and took a walking tour, as prescribed by my Lonely Planet, which managed to fit in the pocket of my raincoat.
The evening consisted of finding places to eat. And because of my continuing kidney condition, no drink or drinking.
Border control
I took a flight from Hanoi to Guangzhou or CAN, as the airport code states. Here I was accosted by Chinese border officials.
My flight with China Southern airways had a short stop-over here. From 2pm to 11pm and one of the flight attendants offered to put me up at a hotel, so I could rest and put my feet up.
I said, of course, this is a brilliant idea. And they set to providing me with the details and necessary paperwork so I could make my way out onto the streets of Old Canton, eventually to the luxury of my prescribed hotel.
Duly I waited, and duly they provided.
I then joined the queues of people waiting to get entry into China.
Chinese border official
Once it was my turn, I approached the desk. The official inspected my documents – stating 'oh, you already have a Chinese Visa' – to which I replied 'yes'.
He then put a little ruler in on the page, and pressed a buzzer calling the police to the desk.
When the police arrived, they took me to another desk and had a look at my passport and boarding card. He then began stating that I had lost my passport. Obviously not the case, given he had my passport in his hand, with two photographs of me in it.
I reminded him of that fact.
He then asked if I had lost my other passport, my previous passport.
'I've never lost a passport'. – I stated.
To which he replied – 'In that case we will be keeping hold of your passport'.
I replied in the negative. I said if he wanted to detain me or my passport, I would contact the embassy.
He gave me my passport back – and asked me to sit down and wait.
Again, I replied in the negative. I asked why I was being asked to sit down, and why couldn't I go to my hotel along with the other passengers from China Southern airlines.
He said that I couldn't join the other guests and that I would have to sit and wait. I wasn't terribly happy. I wanted to know for how long and why I couldn't just go back into the airport, why I was being detained.
Eventually, the truth emerged, 'it appears' your current Visa is not valid, you cannot enter China'. 'But all the other guests are entering China, and they don't have Visa's either'.
This was of little concern.
I was however, kept company by an employee of China Southern, who came out and consoled me.
As I suspected all along, the School had cancelled the Visa. They said they had. It was not valid. And the border staff were getting all uppity because they thought I was going to abscond into China.
Perhaps I would have been the first person to do this. Maybe not. Certainly not by their attitude.
So a waited around, and was later booted out into the greater airport, where I whiled away the few hours I had to my connecting flight.
Visa – NO
Every time you check into a hotel in China, they pass your Visa details on to the local police.
When you come to apply for a job, they find you've been staying illegally.
Catching trains.
Anywhere really.
So glad I didn't try and cross the border with it.
UK
Now in the UK enjoying the beautiful weather and ambiance.
Related articles