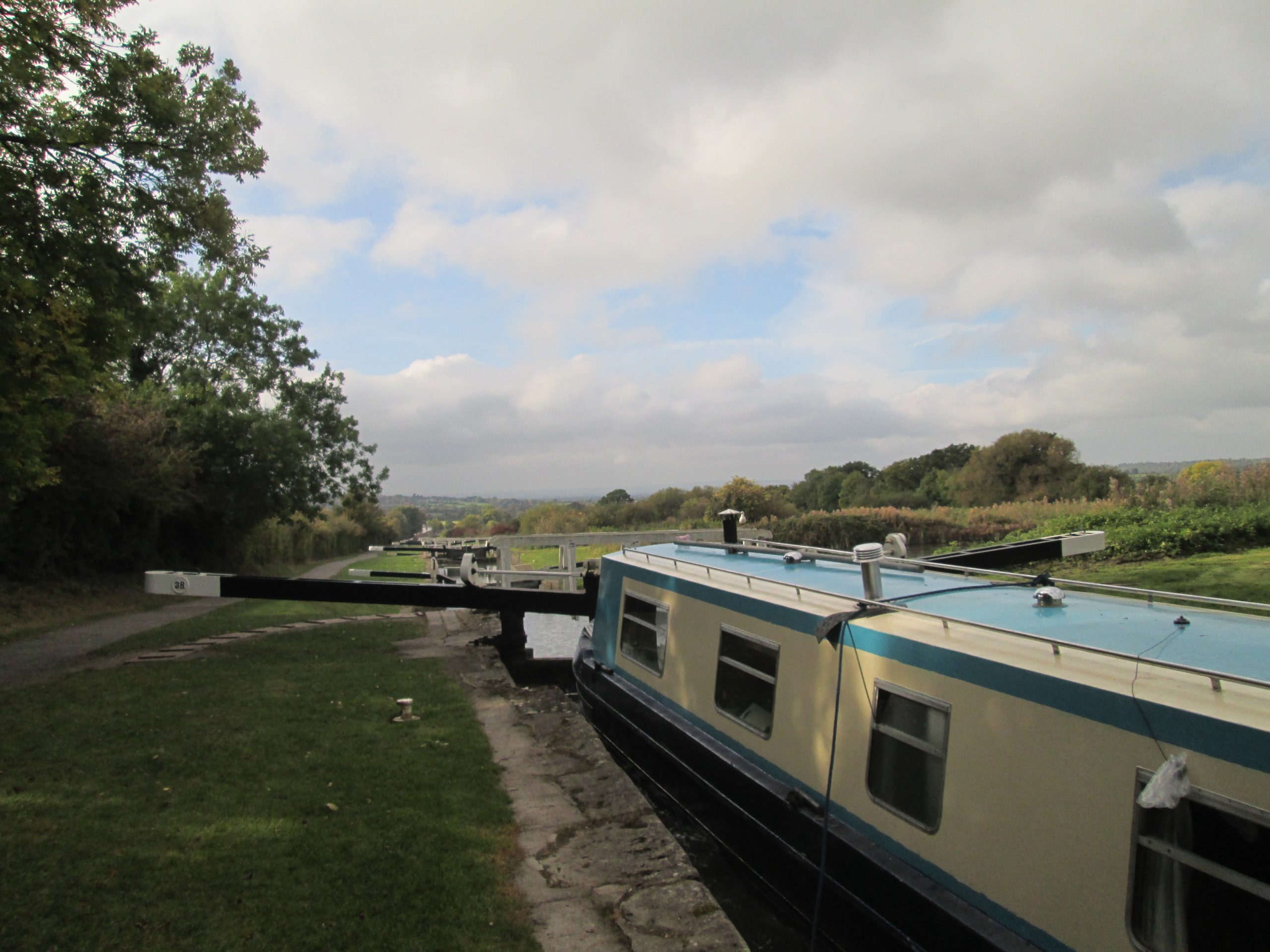 Day 47 – Devizes – Caen Hill Locks
Day 47 – Devizes – Caen Hill Locks
The biggest set of 'staircase' locks I've encountered.
29 Locks in 2 miles.
I believe, we got to lock 23, with anther 6 to go…
Ran out of fuel
I dipped the tank at the top, the day before I set out and there seemed to be a good 2 inches in the tank, which I thought would easily power me down to Trowbridge.
Turned out not to be the case.
Today, after running out of fuel; dipping the tank still gives around 2 inches of fuel, so I'm guessing the fuel supply pipes don't come from the very bottom of the tank, rather 2 inches or so above.
Problems
This has caused some problems today, in that, not only have I run out of fuel, I've run out of water.
The water is impossible to sort out without moving the boat, which isn't possible.
Luckily, I met an engineer when I visited Caen Hill Marina, just down the road. He was working on a BMC marine engine, similar to mine as I went into the marina.
Explained my problem, and got his details off him. Thinks it will be around £35 to sort it out. 'BMC engines are sometimes a pig to bleed' he said.
I await his call….
The locks
Otherwise a fun journey, with help this time.
Smashed into the back of someone's boat :O
I blame that on Dan.
As someone said to me today, or yesterday, 'boating is a contact sport…'.
I could only have a certain amount of sympathy for the guy, and didn't really take his verbal abuse to heart….
At the end of the locks, I said "sorry for crashing into your boat", and he shook my hand.
These things happen you know.
His Boat: There was a launch, and an aluminium frame on the back.
I took the frame out, but missed the launch, (one of the 2 ain't bad!).
It's tricky locking with someone in that situation, because the probability of you hitting each other is high, especially if there's wind.
We hit them early on, and spared their launch…..
Can't feel bad about that.
Pub Time
Run out of electricity and supplies.
This means it's Pub-Time.
Once it gets dark,  I can go back to the boat and go to sleep.
Day 47 – Map
Not many photos to show for today, at least not decent ones.