Mooring in Flecknoe
Mooring in Flecknoe
Now in Rugby district of Warwickshire.
Initially tried staying in a previous location close to the Flecknoe station road. There were so many boaters there, and the mobile signal wasn't that great.
I decided to re-trace my steps a little, which involved turning the boat around.
Oxford Canal like the M1
Turning the boat around turned out to be no joke.
The traffic on the Oxford canal is like the M1. Just so many boats, in either direction.
Usually, I can just nip the boat around, no problems, as long as the canal is wide enough.
Unfortunately, it was slightly windy, and that, added to the sheer number of boats moving made it difficult to do anything that wouldn't involve blocking the canal for the moving traffic.
In the end, I had to go right the way down to Lower Shuckborough, which is about 2 miles away. Then come back.
The mobile signal is better here. It doesn't drop out.
There are fewer other boaters. It's closer walk to the car.
A bit more out in the wilds. Which suits me better.
Locking restrictions
On Buckby and Braunston locks has increased the traffic significantly down this Oxford arm.
It's much busier. And the main-line is much quieter. In Buckby, nothing moves after 4pm.
It's not like that down here.
Flecknoe Village
Has a pub called the Olive Branch, which used to be 'bookings only'.
Recently, ownership has changed, and the pub is now open in a 'public house' capacity.
I walked past it last night and there was a quiz night going on… Maybe I'll drop in at some point to sample their fineries.
Set on a hill, Flecknoe village is a split between high class properties and housing association and grannie bungalows, depending on what side of the Vicarage Road you live.
It's kind of a village of two halves. It still has a village pond and used to have stocks, which are long gone.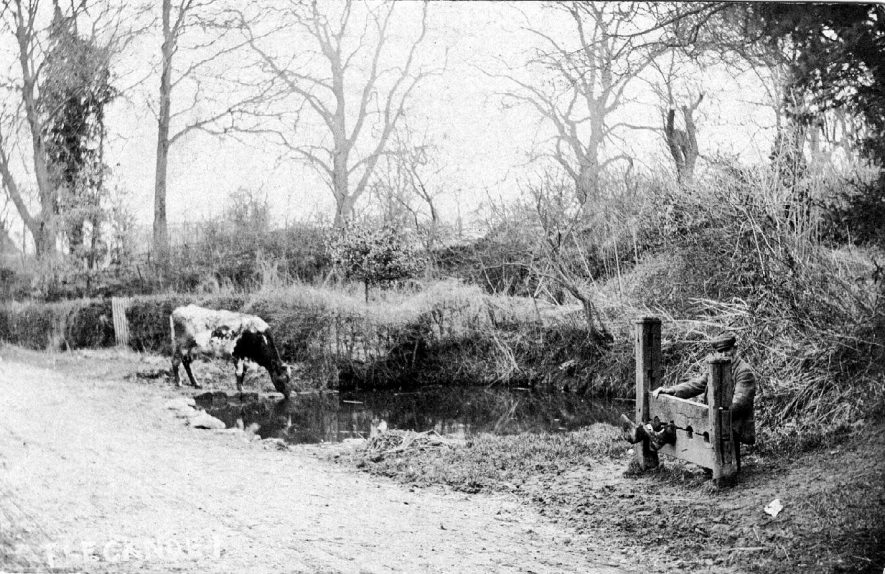 Perhaps they should re-introduce stocks…. Maybe they would solve a lot of the social issues we encounter in the UK at the moment.
This one even has a captive in them.
Flecknoe used to be served by a station, roughly 1 mile from the village on the Weedon – Lemington Spa line which closed in 1963. It's mentioned in the Doomsday book.
I live down a bridleway pictured above with the view across the vale.
It's quite picturesque, but it is a pain in the arse to get to.
I'll be heading back to Braunston after this, as moving further down this branch, things get even more remote. The costs outweigh the benefits.
Low mobile coverage and long drives down windey single track lanes.
Not ideal.
Here's some more pictures from around Flecknoe.