Shotover Jet – Queenstown
Shotover Jet – Queenstown
Took this afternoon, a bright and sunny one, to do the shotover Jet.
The guide told us it was only the third time this summer he has been able to wear a t-shirt.
The summer has been a complete wash out.
Minibus
The deal is you take a bus down from downtown Queenstown over to the upper reaches of the shotover river. From here you recieve a little training on safety and what not to do, then you're off.
Boat
The jet boats look pretty cool.
500 horsepower Buick v-twins each with about 15 passengers each.
In you get then for about 1/2 an hour you career down the shotover through some dramatic canyons in the lush green mountain terain.
The river is light blue, so clear you can see the fish swimming at the bottom of it.
All of this is lost on you as most of your concentration is on keeping from going overboard.
Don't eat heavily before boarding this ride. The steady series of shocks and turns will see your food making a second appearance.
The driver gives you a little commentary as you rush along.
There's a couple of things to be pointed out and learned, most specifically that the Shotover is the reason that Queenstown was populated in the first place due to $50,000,000 dollars worth of gold attributed to being found along its length.
Here's a couple of pictures of the Jet Boats.
Shotover Jet, Queenstown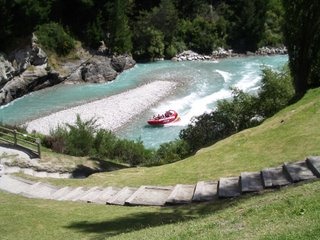 Shotover Jet, Jetboat, Queenstown
Meet the oldest rider, George.