Stoke Bruerne -> Blisworth
Stoke Bruerne -> Blisworth
Arrived on Sunday. Moved through the tunnel, across the snow covered wastelands of Northampton.
Most of the journey is underground, through the Blisworth tunnel, which is if I remember rightly, a little over a mile.
Now located in Blisworth, where I will stay for the next couple of weeks.
Blisworth is OK. It's got a pub and a Post Office, which acts as a shop for the odd loaf of bread etc.
There are many friendly ducks and wild foul here.
Doctors
I registered with the doctors here the other day to look at my ear.
She said I should get some ear drops. The problem's kind of gone now. Got to get some inhalers though after smashing mine up.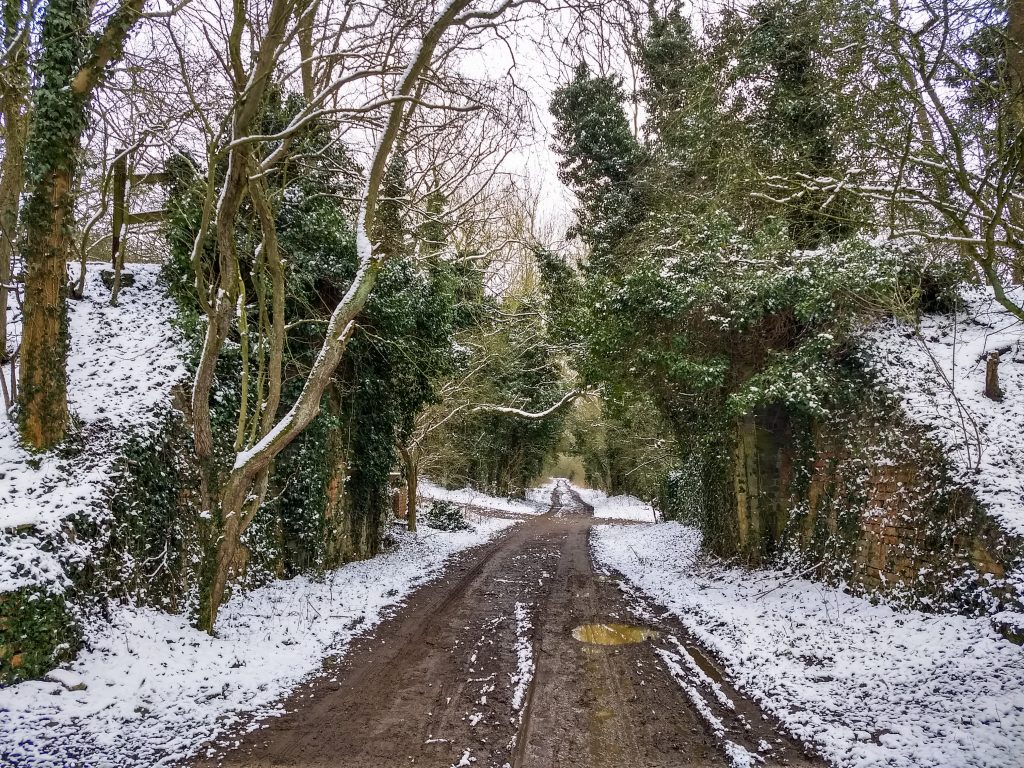 The weather
Is cold.
'Beast from the East 2.0' they are terming it.
There's a little snow and a cold wind.
I walked up to get the car from Stoke Bruerne. These are the pictures I took from the walk.
Stoke Bruerne overstay
Received an email from CRT enforcement officer today.
Our Ref: BONNIE LADY
Your Ref: ****

Dear *****,

RE: BONNIE LADY (519001)

Let's keep our waterways flowing                   

Using our previous working day's sightings, it looks like your boat has been moored in the same general area for more than 14 days. If you have moved since the sighting was taken (e.g. moved over the weekend if you received a reminder on Monday), then thank you and you do not need to take any further action. 

Please remember that when you're cruising you should be on the move every 14 days.   Please feel free to contact me if there are any issues which are making it difficult for you to regularly move; we may be able to help you.

We appreciate weather conditions are not favourable at present but please do move on as soon as conditions allow.

We're here to help

If you're not able to move your boat right now for whatever reason, I'm just a phone call away. You can reach me by calling the number below. Just make sure you have your boat index number and your current location to hand. For a refresher on the terms and conditions of your boat licence, please view the PDF at https://canalrivertrust.org.uk/media/library/5962.pdf  

If you're looking for inspiration for your next destination, take a look at our waterways map at https://canalrivertrust.org.uk/enjoy-the-waterways/canal-and-river-network

Boaters make our waterways what they are. Together we can keep our canals and rivers flowing and open to all.

Thank you – and happy boating.

Yours sincerely

Rachel Hayward
Process Lead, Boat Licence Customer Support
[email protected]
01452 318044
The only problem is, I haven't overstayed.
After winter mooring finished, I moved off after the two days which you are allowed to stay in Stoke Bruerne mooring area.
A total of 12 days. Not 14 days as it states on this email.
I wrote them back an email to that effect. I await their reply.
Blisworth
Walked down to the doctors today to get my inhalers.
Here's some pictures of the village.