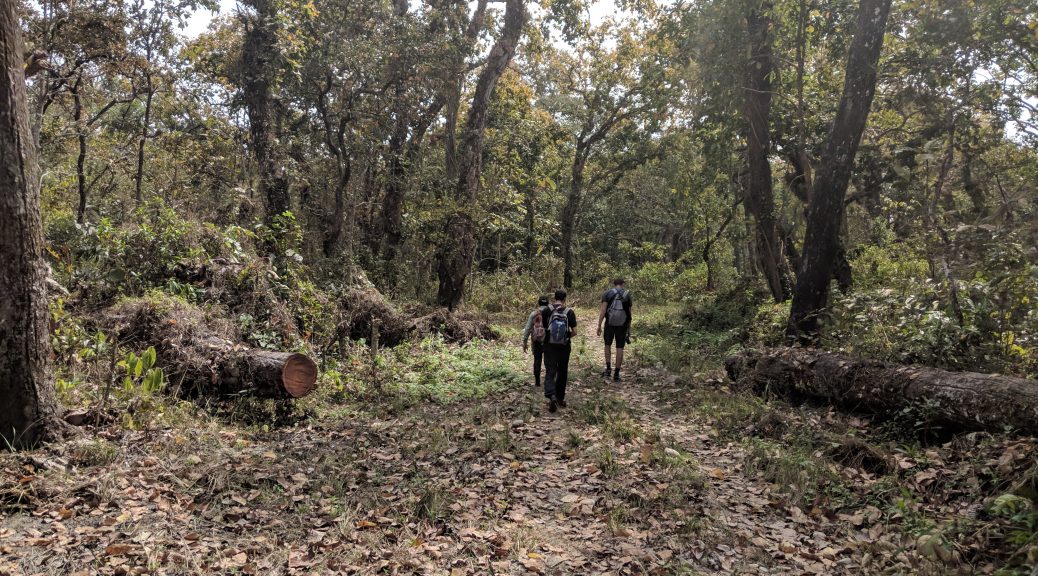 Day 8: Chitwan National Park – Walking tour
With two guides; it's not safe enough to walk around on your own.
There's a video below of us nearly being chased by a large jungle beastie which is testament to that.
After yesterday's hotel drama, got settled. Woke by the mosquito's at about 6am. Had to be at the tour centre for 7.
Got some rolls, bread, crisps and water, binoculars and a kit-kat from the shops around the village. Cost about £2.50 in all, (not including the binoculars). Waited around a bit for the two other tourists, a pair of Ukrainian 'journalists'.
Once they arrived, we all set off on our merry journey.
Chitwan National Park – Canoe Trip
The first hour of this journey is spent on the canoe, drifting down the Rapti river and observing the various wildlife that cared to present itself.
I was one of the few people to bring binoculars, and I felt kind of smug about this. Also, they give you a much better view of what you're looking at.
The temptation to get the camera out is much less, making it that little bit more enjoyable and relaxing.
There are many birds and ducks, although I suspect not as many as there were in the past. Still, they were out there.
Egrets, Kingfishers, Starlings, Miner birds, Storks etc. Couple of swifts and martins, although, I get the impression, not as many in the past. …