Trip to yellow mountain – Huangshan Hot Springs
Trip to yellow mountain – Huangshan Hot Springs
You'll find the Huangshan Hot Springs a short ride down from the west entrance to the park.
Buy a ticket on the bus for 8 yuan. Alternatively , walk down , it's 1.5km and signposted.
I'd done enough walking for the day.°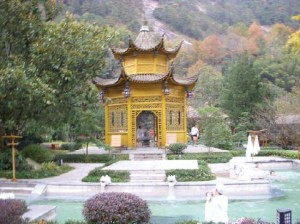 Best Western – Huangshan Hot Springs
These springs are run by Best Western. A hotel chain that Franchises residences worldwide.
They aren't the best hotels, but they do have a good general standard. Some of them are in unusual locations, like this one, and the quality is generally good.
There were a selection of 8 different pools, all fed from the natural hot springs at the foot of the mountains. Each spring had a different property introduced by the owner. There was —
Citrus Spring – Infused with lemon and other citrus. The spring was said to introduce the natural vitamin C through the skin. 38°C
Tea Spring – Infused with green tea. Didn't see any leaves. Felt like a normal spring. Said to aid the dissolution of anti-oxidants in the skin. 40°C.
Sand bath – Basically, pebbles of sand in a deep pool of hot, sulphourus spring water.
Fish Spring – Filled with tiny living fishies. The fishies come up and eat your dead skin. You have to be careful as not to stand on the little blighters when you get in. Tickles at first. This was definitely fun, and something I've not seen before. 40°C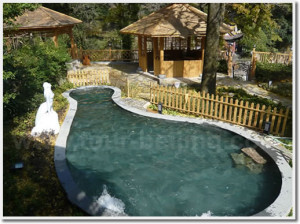 Hot Spring – Just a normal hot spring. 40°C.
Monkey Spring – Hot with a large monkey pouring out water on the Chinese below… Hot 40+°C.
Roman Spring – In a Roman style. Large and opulent. 38°C
Roman Bath – In a circular 'bath' style. 30+°C
As well as the facilities which included a steam room and sauna, (my favorite).
Came out of here feeling a lot better for my soak. Took the taxi down to town which cost another 20 yuan.
Comes well recommended if you happen to be up that way.
Nice.