Alba Hot Springs/Thuan An Beach
Alba Hot Springs/Thuan An Beach
Got another motorbike for $4 and headed to Alba Hot Springs. These are located in Thahn Tan, 20km or so outside Hue – and made an interesting distraction for the day.
The road down there is particularly nice, and un-congested by Vietnamese standards.
When you get there, you can put your feet up and soak in amongst the hot water. There some cool springs and some hot springs – 5 pools in all in the complex I visited.
I jumped from the cold to the hot, this lasted about 40 mins. They recommend you don't do any more than 45. I managed to stay in for stints of 10 minutes max.
I had an ice-cream, took a walk around the complex. There was a little park at the perimeter with pigs and deer – Vietnamese pot bellied pigs.
There are many other things to do in the park and apparently, the Vietnamese tourist board is trying to make it more attractive to tourists by reducing the prices.
It was 100,000 VND when I went or 170,000 if you wanted to pay for the luxury enclosure.
Thuan An Beach
The rest of the day, I spent looking around the beach. This was less spectacular, but I had some juice in the tank. I took this picture of a view over the bay.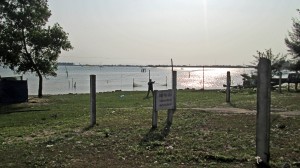 Not actually the bay, but the view back – it's a series of lagoons formed by the fisher people using the sand and the water from the rivers flowing toward the sea to create lagoons to farm fish and crustaceans.
Bus to Hanoi
Tonight I'm catching the bus to Hanoi, where I will renew my VISA and get out pronto.
Bus departs at 9.30pm so I've got some time to hang around.
Will have dinner, then go, I guess. My kidney is still dodgy. Still drinking plenty of water.
Related articles