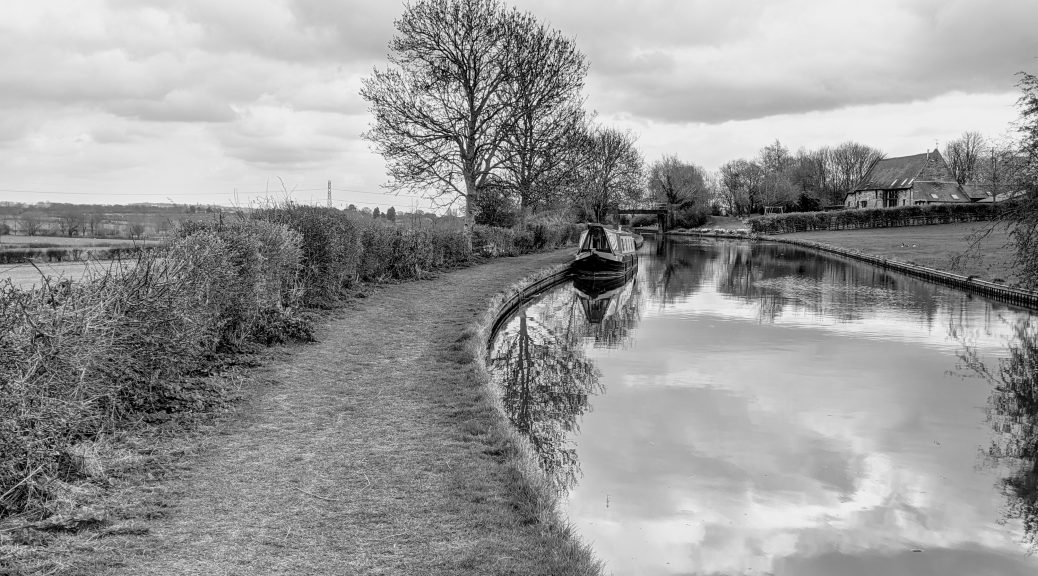 Covid on the cut – Part 2 – Moored in Flore
Covid on the cut – Part 2 – Moored in Flore
The day after I arrived at the last village, Nether Heyford, I received an email from Canal and River Trust informing me; 'due to Covid, you won't be required to move your boat until 14th April at the earliest'.
All leisure boaters have been instructed not to visit marinas, or take their boats out.
All in all, that makes for a pretty quite canal….
Moored in Flore
I moved the boat down to somewhere called Flore. With it's views across the valley, magnanimous phone and TV signals, and ample parking, it's truly a boaters delight.
When I get down there, I'm shocked to find just one other boat moored! The rest are at Weedon waterpoint 1/2 mile down the road, between the sewage farm, A5 and railway. Ideal really. Silly me…
Their loss is my gain…
Shopping and Covid quirks
As most people will have noticed by now, most of the shops have shut down.
I can't buy things from Screwfix or get any DIY gear: Except from Ebay.
Supermarkets have no rice… It used to be bog-roll and pasta. Now it's rice.
All supermarkets are one in one out: That's the new deal to shopping. The queue today at Tesco Daventry was around the block. I got Aldi 9.30am. Queued for about 10 mins.
I'm drinking more alcohol: Not like I need it, but it helps the day go faster, there's no doubt. I've been drinking single malts from Aldi. Very quaffable. I'd like to move on to other hard liquers during this time of rest and hibernation, but due to the long queue time at Tesco Daventry, I was unable to.
People on social media think it's their right to get angry: I recognise that some people on social media have seen this as the case for some time, but now it seems even more pronounced.
Painting the boat
Like painting the house…. What else would you do when you've got a bit of spare time?
I've been painting the roof in Rylards Montego Blue.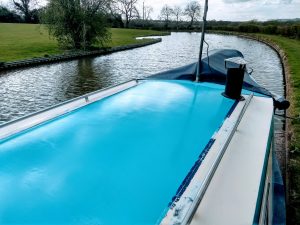 I tried to do a second coat on the roof yesterday and got caught short with the paint. Drove down to the marina to get some more. Damn place was closed. Well how's about that?
Had to resort to getting some off the internet today from these Marine Store people. May take three to four days to get here.
It's my only option at the moment.
Otherwise, life it proceeding as normal.
Towpath walkers
Have dropped off considerably.
Maybe one or two an hour. Like 15 an hour first weekend of lockdown.
That seems to have died off, even in the sunshine. I know it's not like that on the towpath in all parts of the country, I've seen the pictures on facebook.
In Newbury it was like Mardi Gras this weekend.
Now they're saying the might change the rules altogether.
I don't think the 'great British public' will go for that.
That's all for now.
Until my next installment.