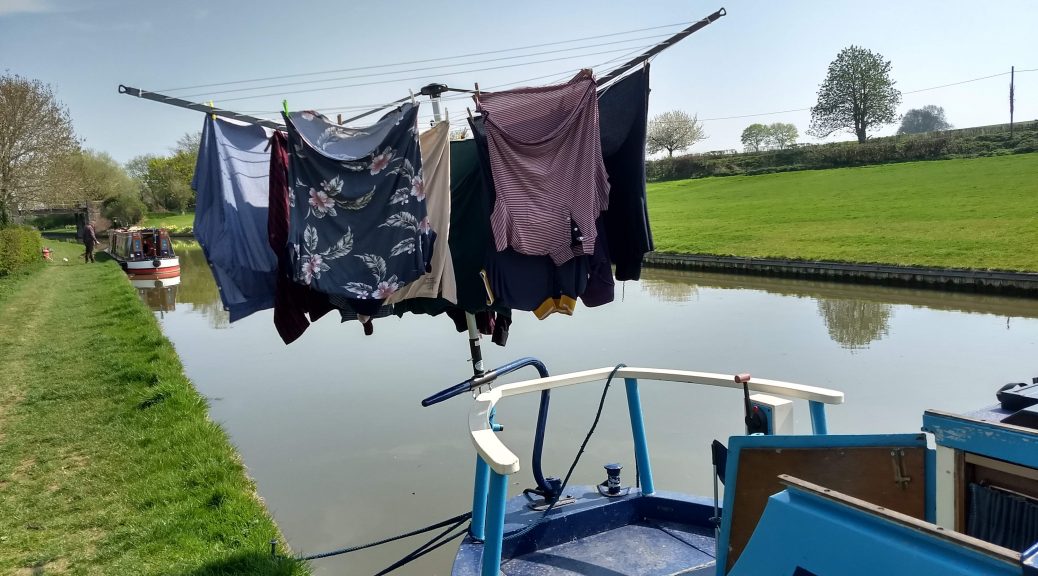 Covid on the Cut – Grade 3
Covid on the Cut – Grade 3
Now into the third fortnight, sixth week of official lockdown figures.
Whisky
I have taken up drinking whisky. Under the circumstances, it seems like the only sensible thing to do…
Over the last 3 weeks I've bought the following single malt whiskies.
Cardhu Gold Reserve – £25 (Tesco)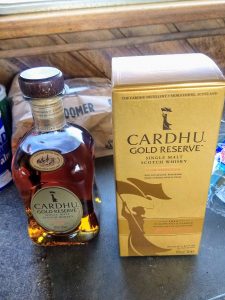 After checking online reviews, I bought this one whilst in Tesco.
It's a single malt, Speyside, 12 years matured.
The reviews seemed mostly positive at a quick scan whilst in the aisles…
Getting it home, I felt the packaging a bit bulky maybe even a bit tacky. Overstated may be a better word…
After a few sips, I found it a bit sweet, less smokey, complex flavors, a bit more up-front. Made it a bit more-ish, but I don't think I'd buy it again.
Bit of a novelty perhaps. Not sure why it got all the good reviews. Glad I got it on offer. Not something I'd pay full price for.
Marks and Spencer Speyside Single Malt – £30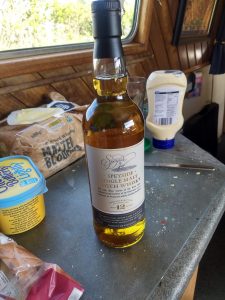 Got this one from the Independent's top 10 Single Malt Whiskys Guide.
Initially, I was quite impressed with the strong flavor. It's quite strong and heady and it does have that lingering smokiness and smoothness which seems to be the hallmark of most of the Speyside whiskies out there.
I've not finished this one yet. It is quite strong, flavor and alcohol wise, it's not something you'd drink in a rush. So it's still around.
Aldi – Glen Marnoch Highland – £17.98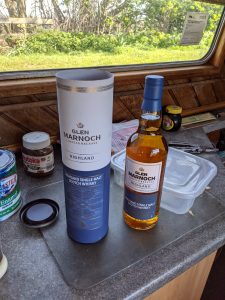 This one is one of three single malts sourced exclusively by Aldi.
Like many Aldi items, the quality is surprisingly good, better even than higher priced similar products.
In fact, having tasted all three single malts that Aldi currently sell in store, I would say that they are a better, more satisfying whisky.
In summary
Everyone has their own palate and preference, like any other tipple. But, the flavors seems to sit happier with each other in the Glen Marnoch Highland; it's more of a sum of it's parts than the other 2.
The top one could have got it's flavor from a wet rat in the barrel, it's that kind of a thing. The M&S one isn't so bad, it's light initially, but the finish is very strong. It is a definitely got a quality, but it's not entirely drinkable, as I personally find the finish a bit strong.
If you were shopping for a bit of whisky to sip on your lonely Covid nights, or days for that matter, I'd go Aldi every time. The quality is there, the taste is there, and the finish and overall offering seems to be a better product than the others for less money.
Other exciting things
Have been happening on the cut since your last visit… Since the enforced lockdown has closed many of the outlets that I would have used to pick up products and services in the course of a week or month, I'm having to make other arrangements.
Perhaps the most important of these being the.
Laundry
Due to the fact I live on a boat, I have to outsource my laundry requirements on a fortnightly or three weekly basis to the nearest and most reputable establishment in a local town.
Necessity being the mother of invention, I decided to take it upon myself to set up my own laundry operation in my bathroom.
I have no experience of what might be the best way to wash and rinse clothes with no washing machine and a limited water supply, or what kind of results to expect using just your hands, soap powder and some warm water. Not a first world problem.
I had to do about 3-4 lots.
Socks and smalls
Shirts and t-shirts
Sofa coverings (very dirty after winter)
Not being and avid viewer or authority on washing or washing machines, I was kind of shocked by the amount of FILTH in these, what I regarded as, only slightly soiled clothes of mine.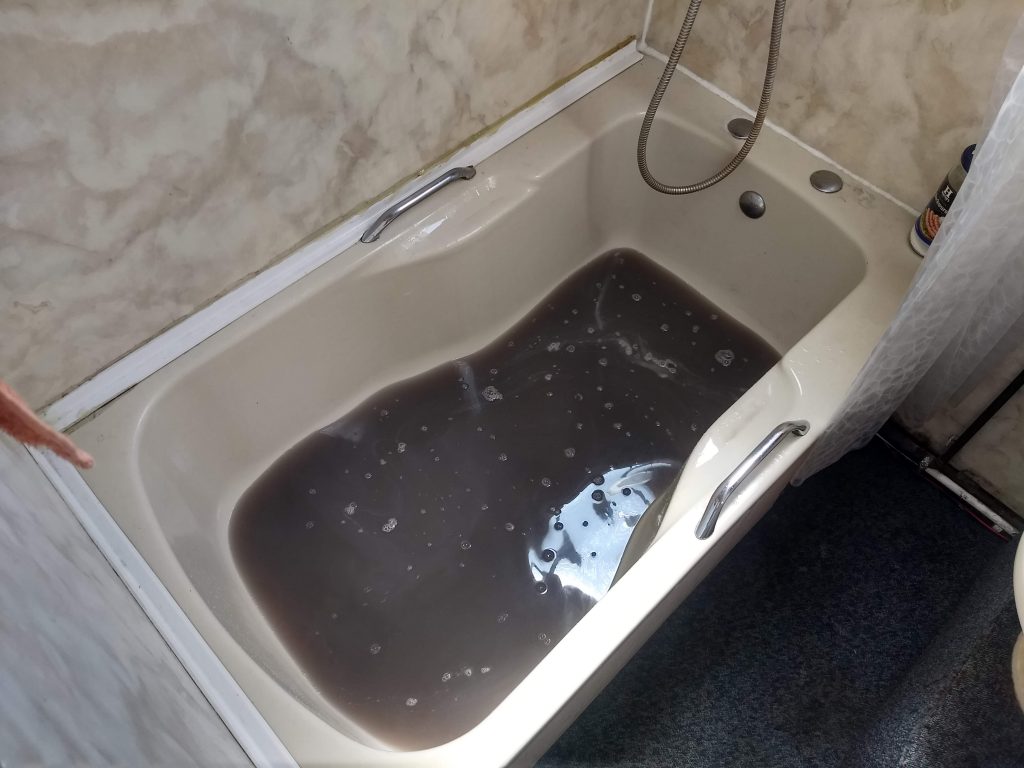 Shocking….
Still, I know you Covid people don't want to spend your days looking at pictures of FILTH like this, on your long days off…
Here's the result of me washing my hands around in this FILTH….
Rotary airer bracket for tiller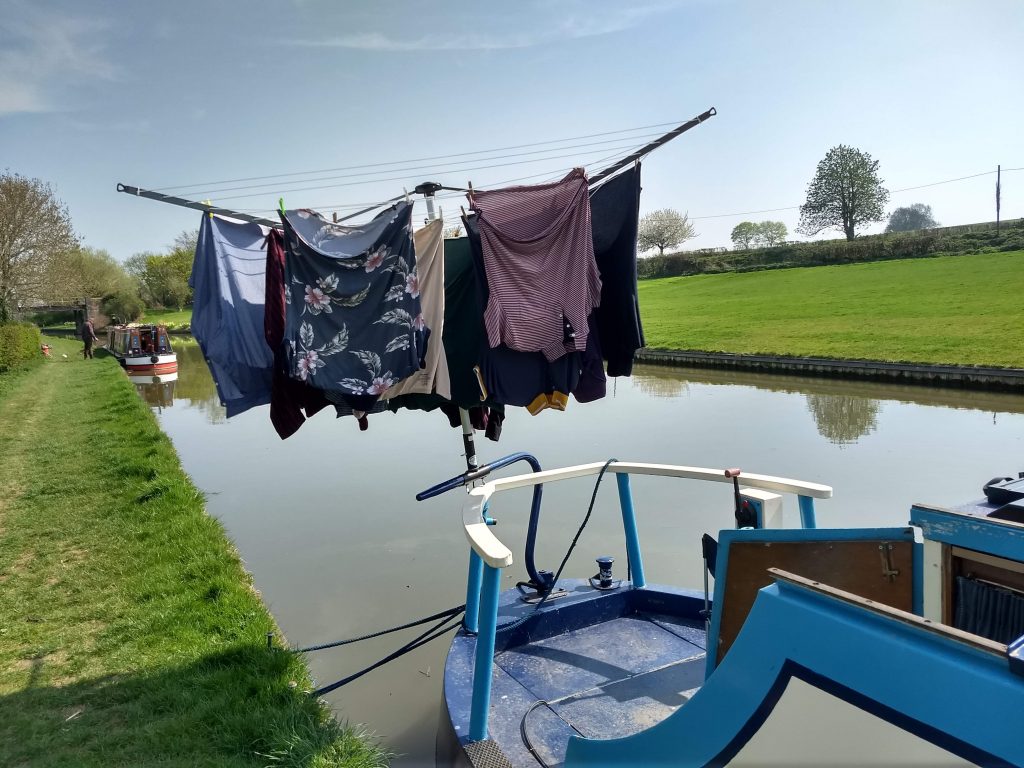 I had this handy Brolly Mate for handling umbrellas at the tiller of the boat, for those that care about such things. It has a duel purpose as a rotary airer holder or bracket.
I got the 50mm version. After some testing, it became clear it was going to need additional stablisation to prevent the bracket rotating on the tiller and dumping all my clothes into the cut along with the rotary airer.
The Brolley Mate has two holes, one on the top side and one on the opposite underside of the bracket.
After much searching around in hardware stores of the corporate variety, I found fittings that weren't really that suitable. Had to go to a proper old school hardware store. Coxs of Rugby who had many many different bolts, age-wise, no doubt many spanning generations. I picked out one and another for spare. I went about fixing the Brolley Mate.
Using a tap and die, and 5mm bolts top and bottom, it now looks like this.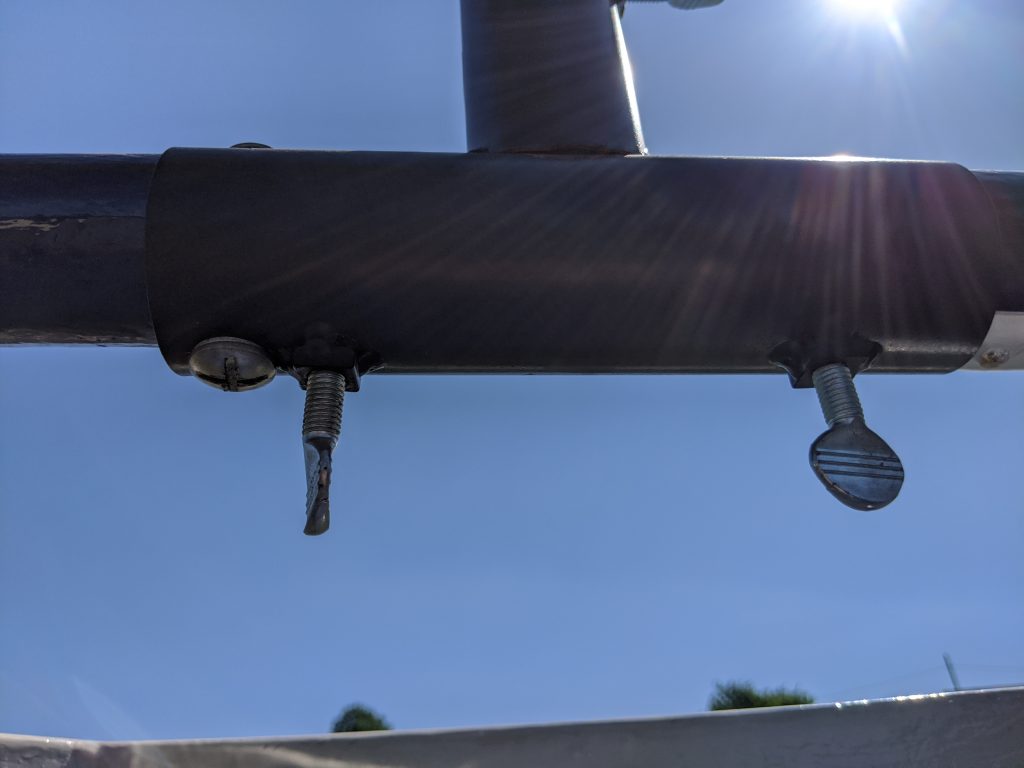 With the cross flathead bolts, it's easy to do them with your fingers or a pocket knife or coin for that matter, things that are easily to hand.
The bracket does not rotate, and holds the rotary airer upright on the tiller, even in heavy winds.
Now my laundry is done, for now, and my clothes are nice and dry, folded and in my wardrobe.
There once was a lonely duckling…
I'm going to end my tale on a happy note.
Just kidding, it's not happy at all.
It's a little story from the cut told in pictures. Click below…
Where can these chicks have gone? Bearing in mind the last one disappeared in broad daylight. Answers in the comments pls…