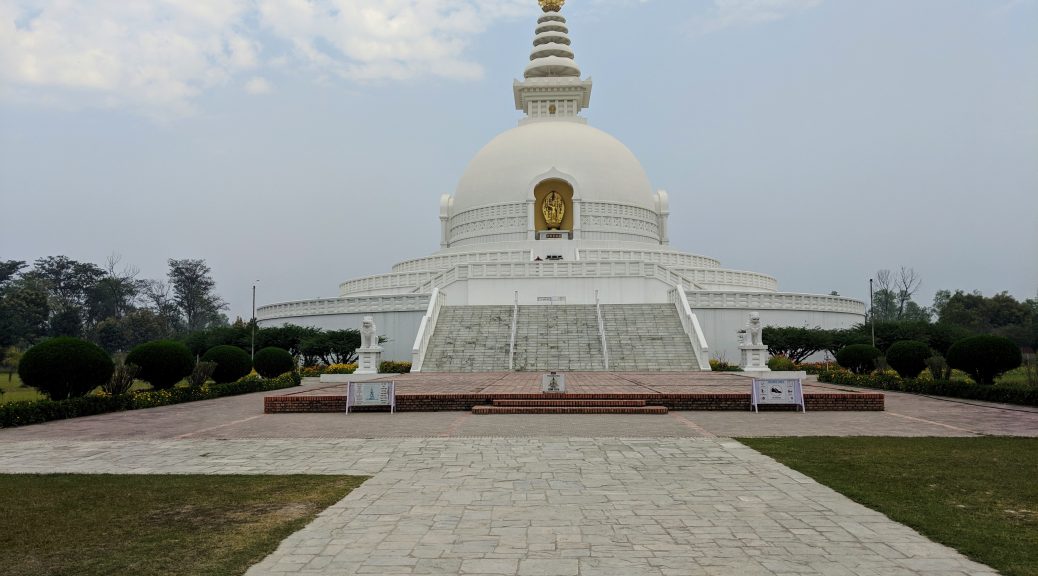 Day 10 -11: Lumbini, birthplace of Buddha
Day 10 -11: Lumbini, birthplace of Buddha
As the title says. And as you can imagine, it's kind of a Mecca for Buddhists all over the world.
Not a Buddhist personally, but am kind of interested in sites of a historical and cultural nature.
Maya Devi Temple
Is the actual birthplace of Buddha and is a designated World Heritage Site.
There are lots of tourists here, and when you're in the temples and religious areas, you've got to take your shoes off.
Sometimes its normal to light some incense, and make an offering.
The modern Devi Temple is surrounded by the ruins of the first monastery built here around 200BC.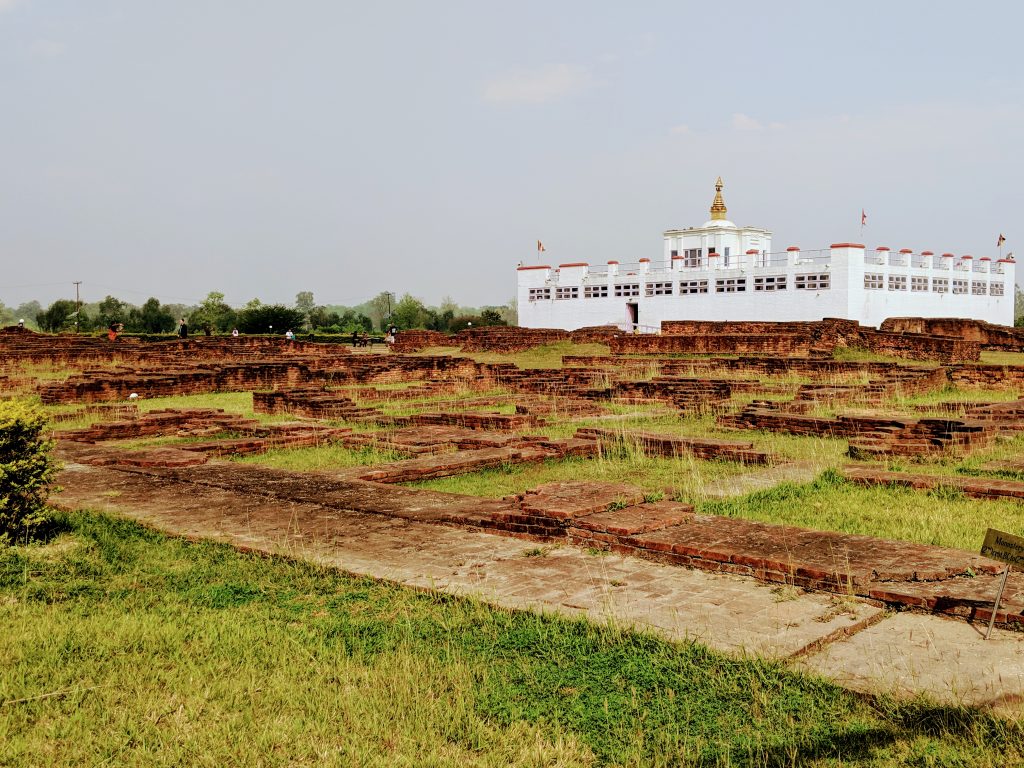 As you wander round, there's a pool and a tree at the front. The pool has large catfish, carp and turtles rolling on the surface, taking air and enjoying the sunshine.
The tree is the 'Buddha Tree' and is adorned by hanging prayer flags.
If you want, you can light some incense under the Buddha tree.
The garden extends off in various directions with lawns and flowers and walkways for the barefooted visitors.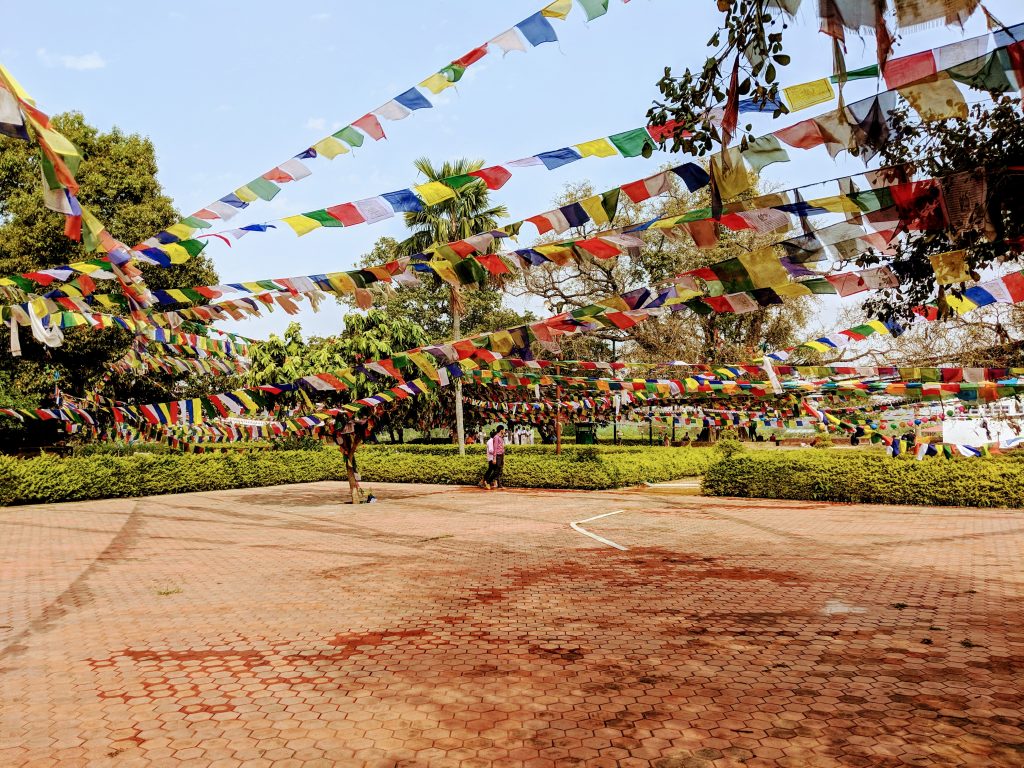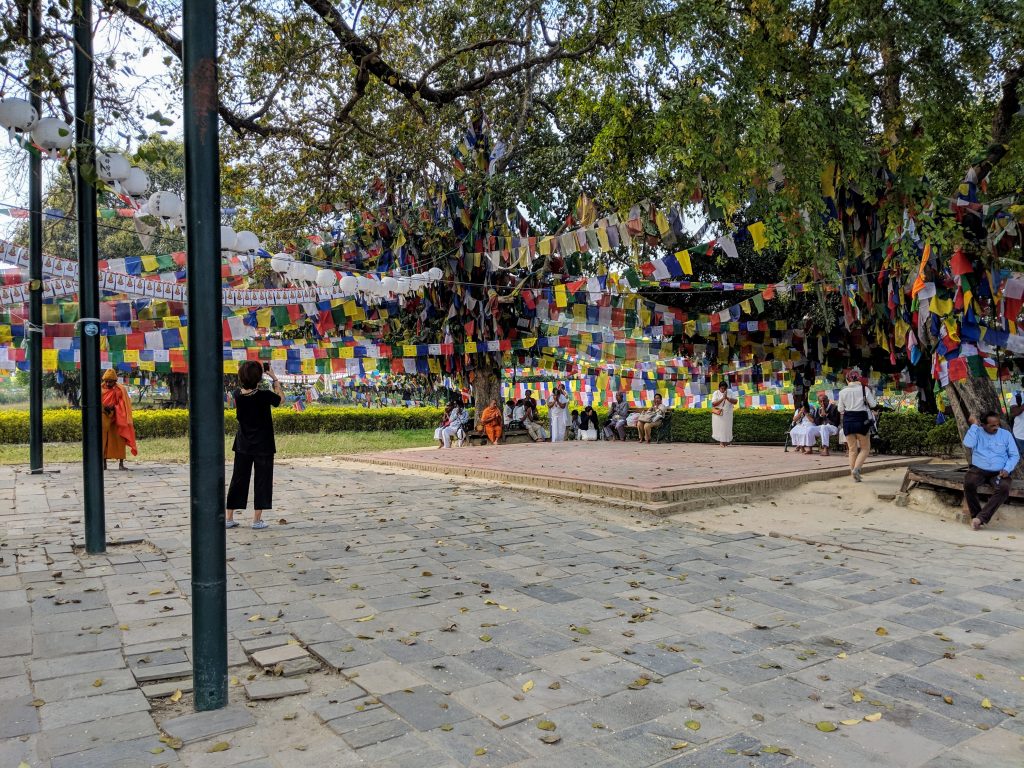 This is the main part of the complex and it costs 500rps to get in (£1.80).
I dwelt around this little area for a while, relaxing and taking in the ambience, the odd chanting session from monks. Fish and other animals appearing and disappearing in the pond, and the smell of incense drifting in the wind.
The monasteries
After that, I went into the rest of the complex to investigate the various monasteries built by other countries with large practising communities.
Here's a picture of some of the other monasteries along the way.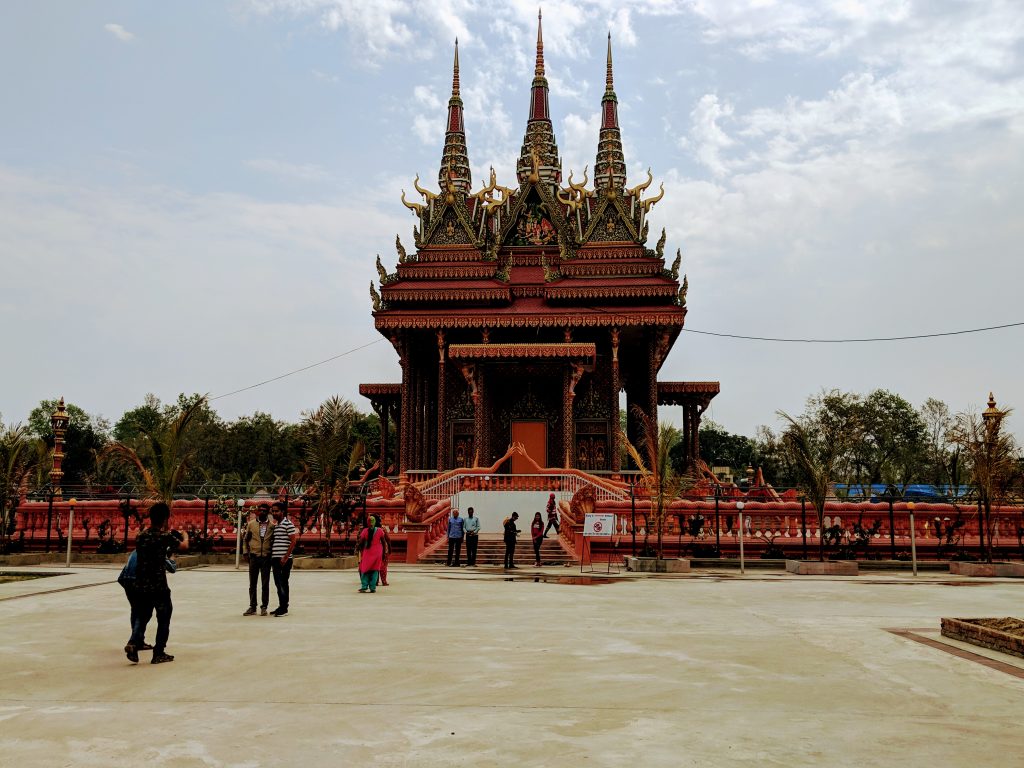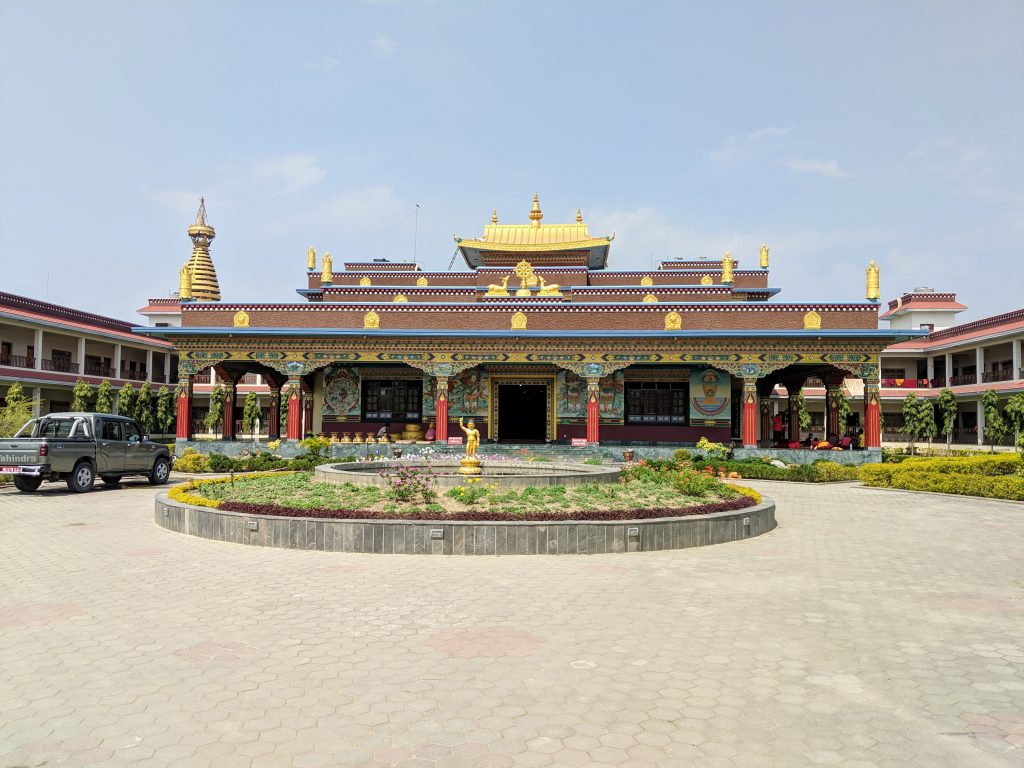 Particularly liked the last one, the Temple of the Self Enlightening Flame. They were educating some young apostates to speak English on the mezzanines as I went in.
It was being painted with gold leaf when I went in. There were gongs and drums, murals and statues outside and inside and it had kind of a good feel about it.
Museum
There's a free to enter museum of the Buddhist faith.
With artefacts and pictures and the odd bit of text, it gives a little bit of background to the religion. Although it doesn't say anything about the faith itself. It's more about the origins.
Nothing more.
Pictures are not allowed in here.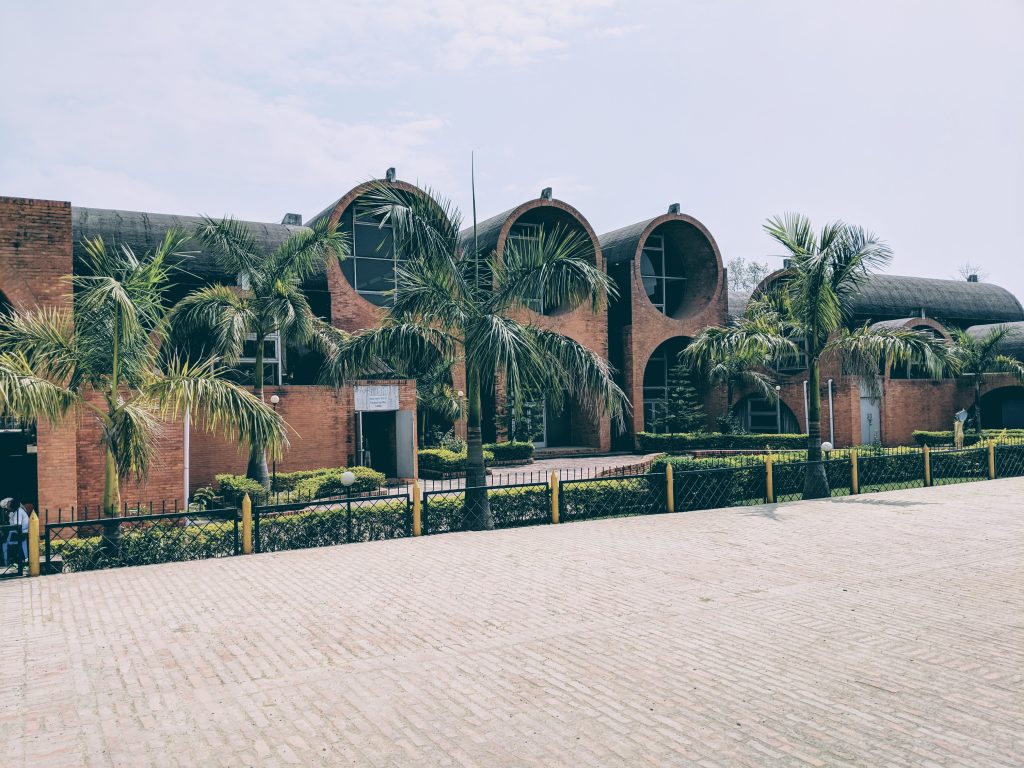 Had a bit of lunch after the museum, which consisted of various samosas, bargees and some momo.
Peace Pagoda
This is right at the North end of the complex.
Costs less than £1 to get in.
It was built by Japanese Buddhists in 2001.
You have to climb in a clockwise fashion, which takes you three times around the spire.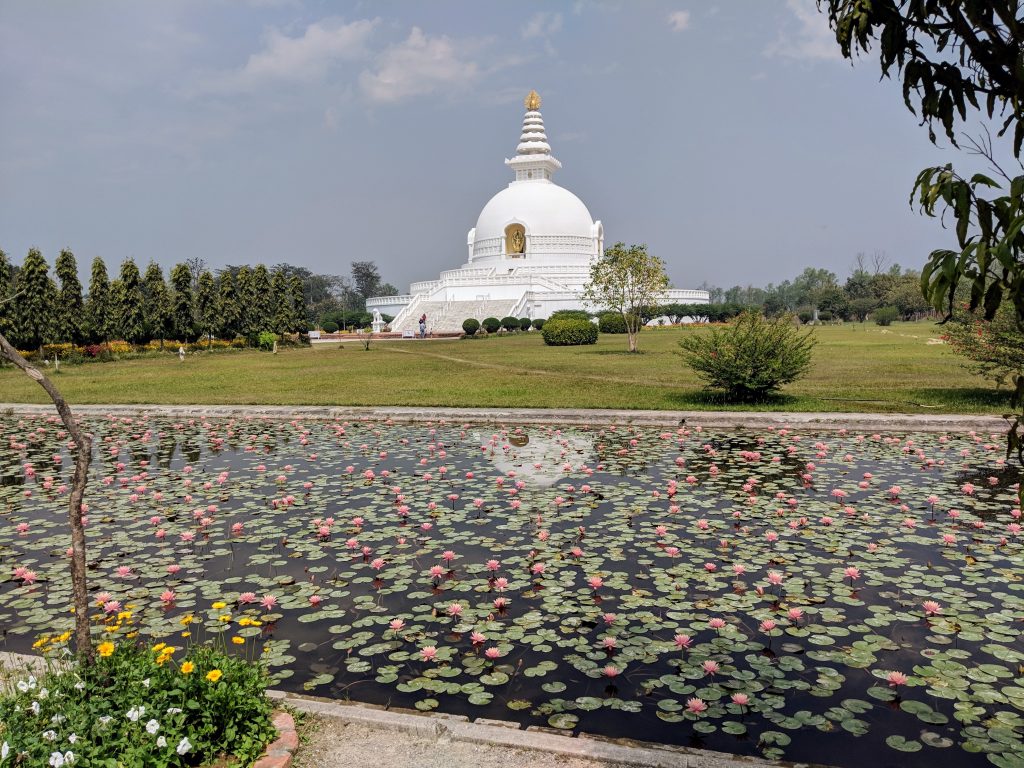 Onward to Pokara.