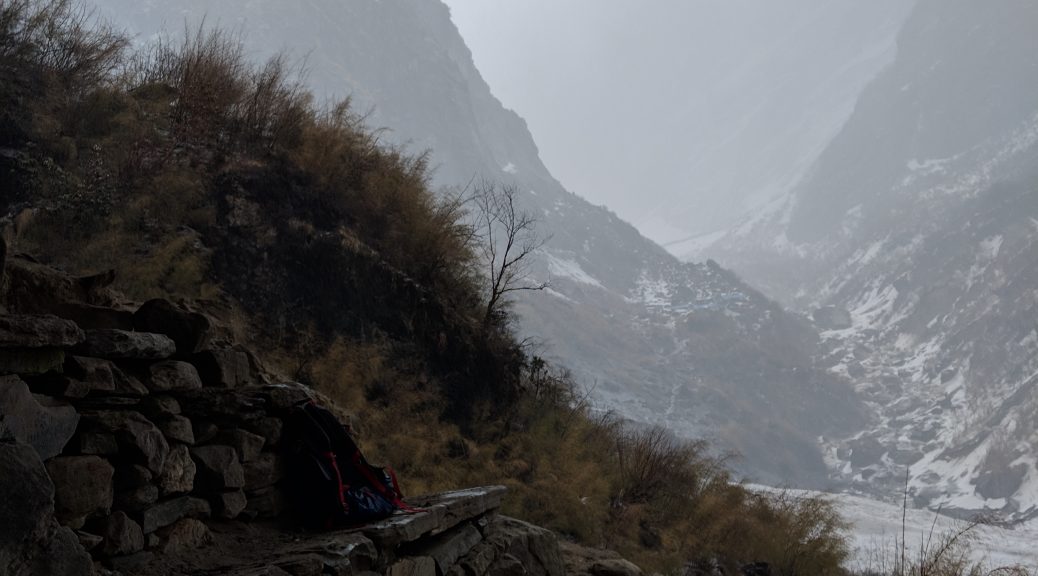 Day 19 – 21: Annapurna Base Camp trek
Day 19 – 21: Annapurna Base Camp trek
Obligatory mission up to the highest point in the park without mountaineering kit. Annapurna Base Camp, or ABC, as they call it.
What they don't tell you is that it gets pretty snowy and treacherous, cold and wet. Though there may be lodges on the way, once you get into the sanctuary, wood burning is not allowed, having the knock on effect that any heat going to be provided is either going to be a) from the sun b) from you.
When the sun disappears, it gets pretty cold.
Gave it a go. I knew it was always going to be a question of weather.
Here's a little map of where I travelled in the last 2 days.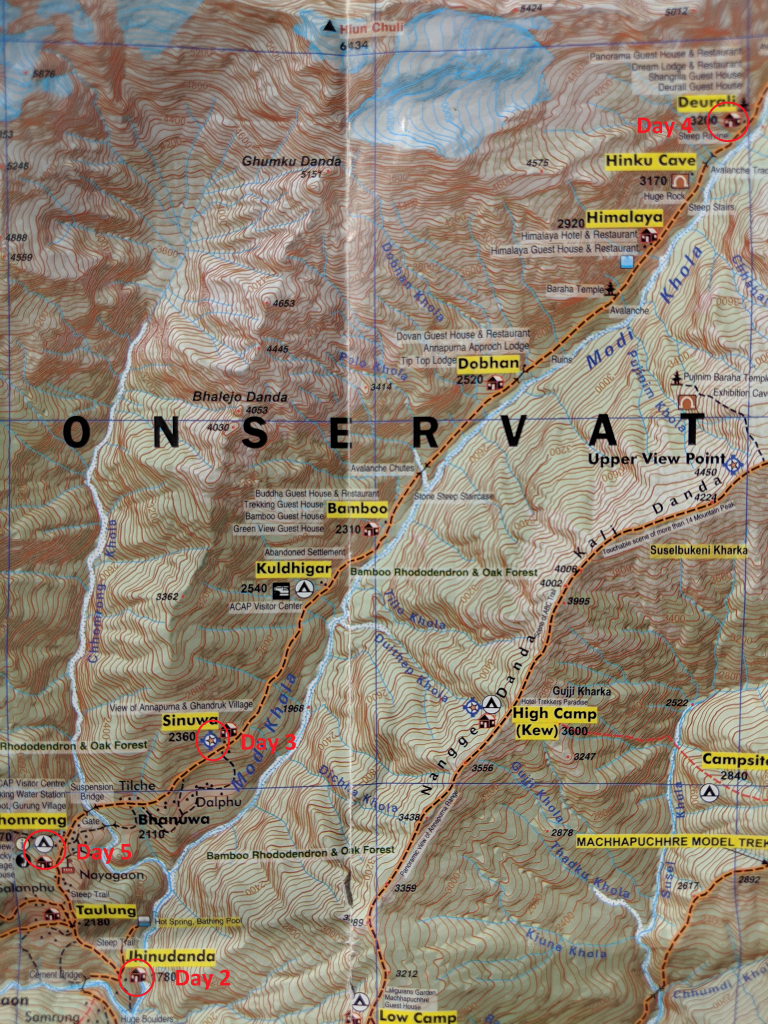 Day 3: Jihnudanda -> Sinuwa
The hot springs up to Sinuwa. A day taking you through the last permanent settlement, Chomrong and up, and down, a lot of steps.
Jihn at 1780 to Sinuwa at 2360. After reaching Sinuwa, most of the climbing had been done. Gave it some rest time.
Sinuwa is a smelly type of place. With a few lodges.
Here's some pictures from along the way.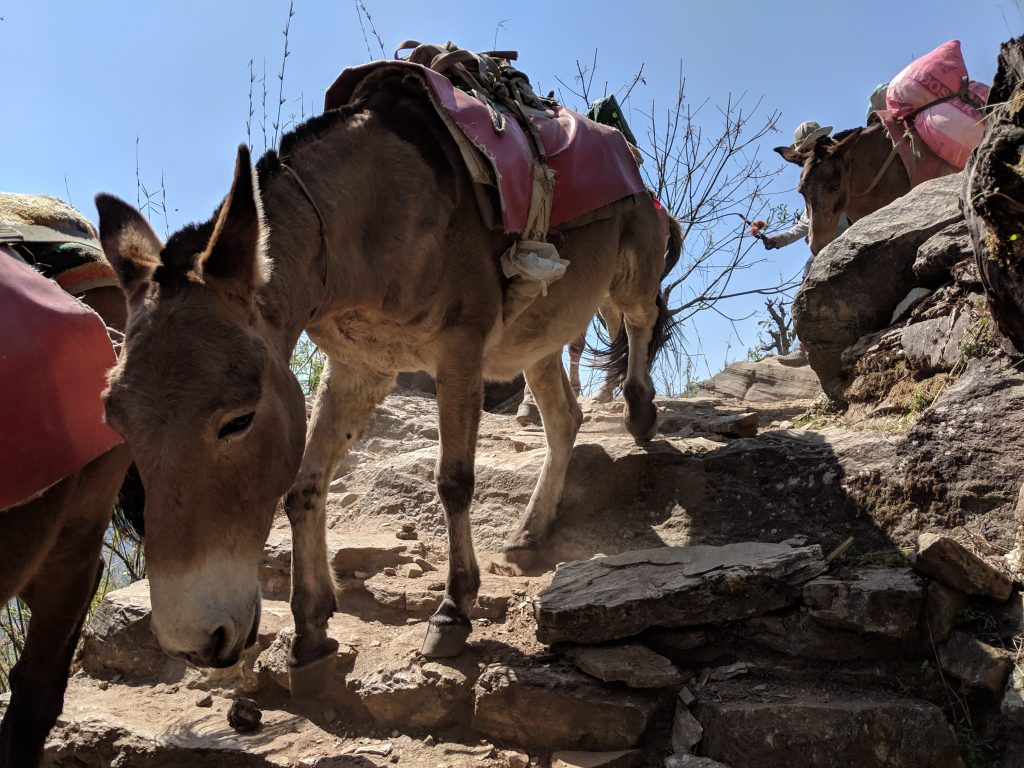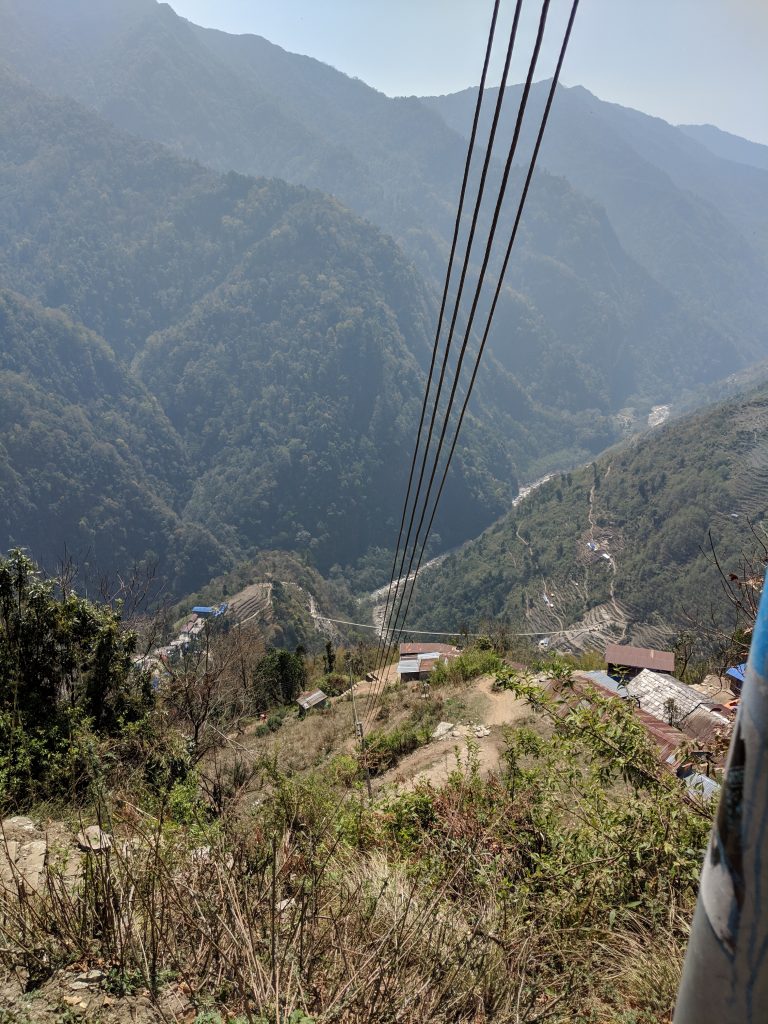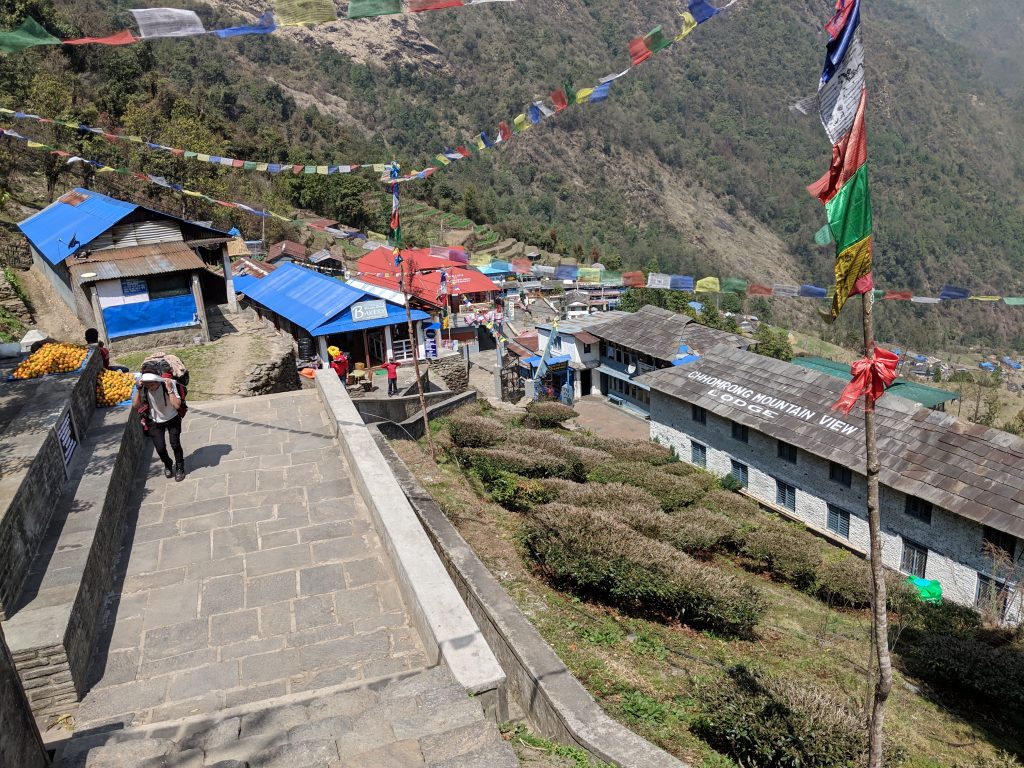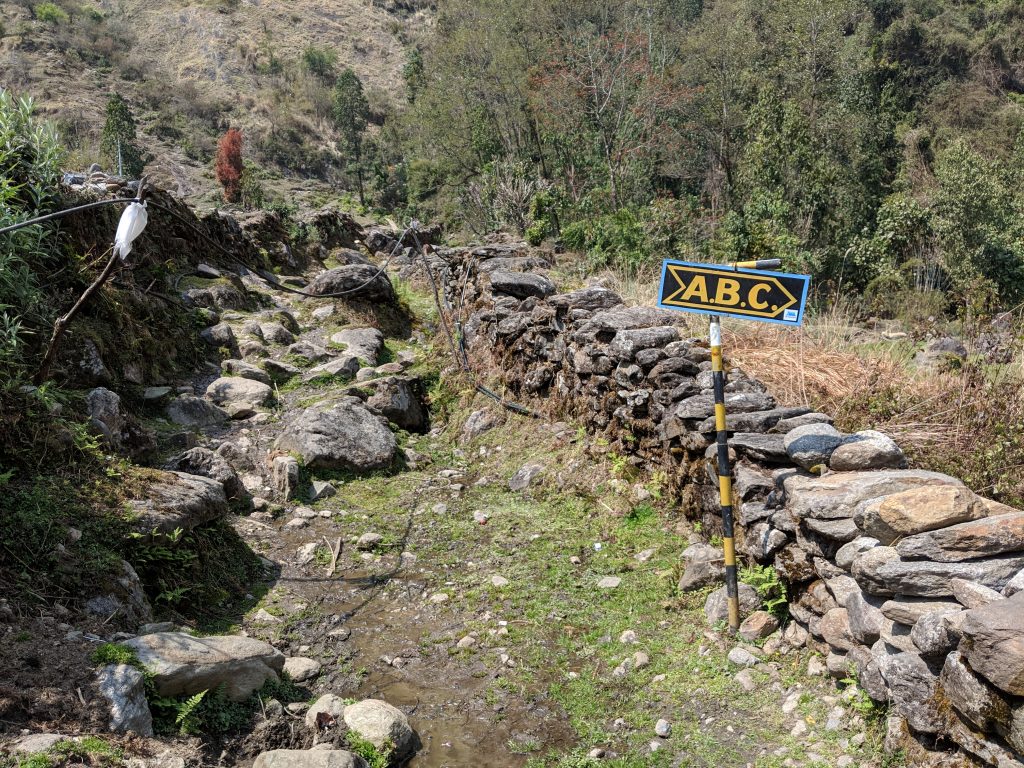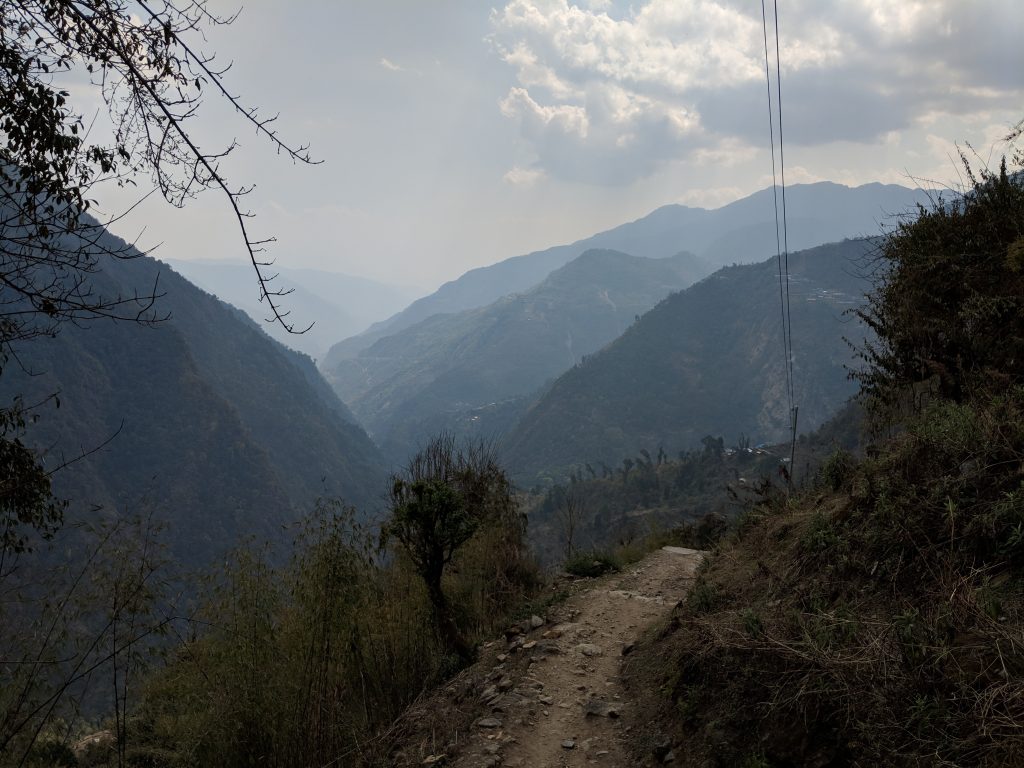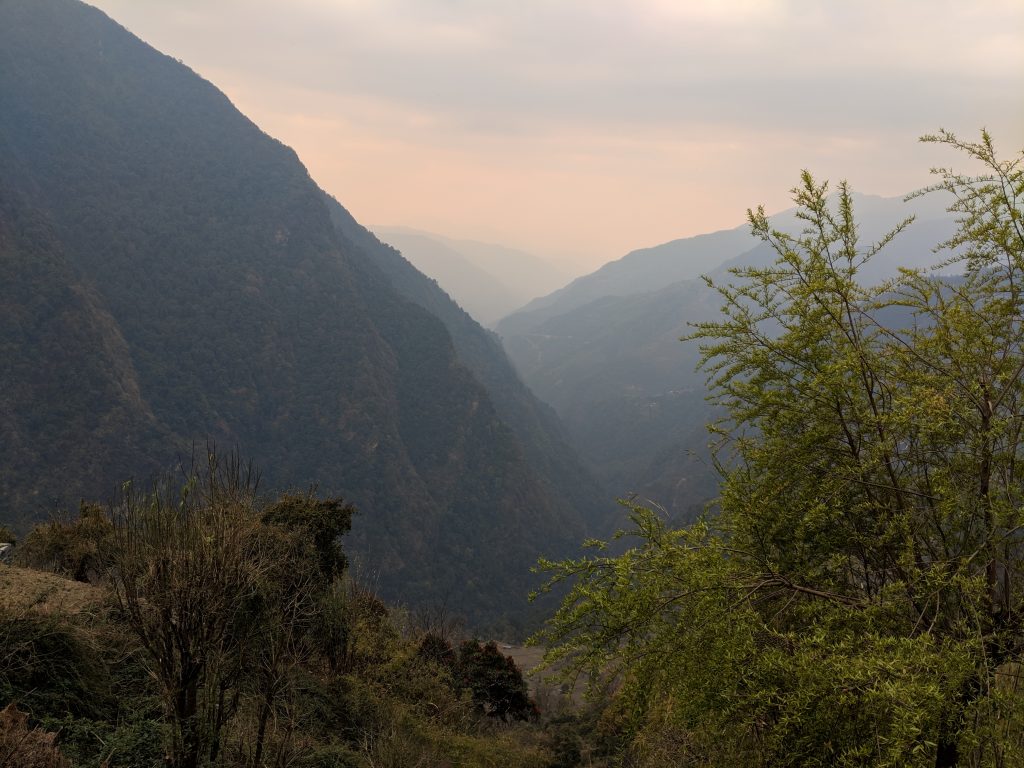 On talking to other trekkers, they seemed to think that most of the hard work had been done by the time you reached Sinuwa, and from there it was a pretty clear run up to Deurali, where the real fun starts.
Day 4: Sinuwa -> Deurali
After a bad nights sleep in Sinuwa, got going for 7am.
Basically, a whole day walking, through jungle mostly.
There are many birds, and a few monkeys up until Dobhan/Himalaya, at which point, it starts to get a lot colder and the forest starts thinning out to mountain slope, scrub and the occasional tree.
From Himalaya, things become significantly more dangerous.
The path more or less disappears, covered by either landslides or avalanches leaving the way forward open to interpretation.
By the time I reached Hinku Cave, the rain which had been intermittent in the earlier part of the day, had returned as hail.
Mobile phone signal dies at Himalaya. I made this quick video to illustrate the terrain and conditions between Hinku and Deurali.
As I approached the cave, hail became a hail-storm, covering the path ahead. Making it impossible to navigate a) because the path had turned white and was covered with hail and snow b)looking into the wind or upward meant getting hail in your eyes which is obviously pretty painful.
After some time getting lost in some snowdrifts close to Deurali, I spotted some tourists I'd been chatting to before close to Bamboo.
They had a guide with them, and they had managed to locate the path some 200ft through snow-drifts below me.
By this time, my boots were all full of snow, but at least I knew the path forward.
I dropped down a bit and followed their footsteps, within about 20 minutes, I found myself in Deurali.
I was cold. I was wet.
There were no hot showers. There was no heating.
Only blankets.
Slipped out of my wet clothes, put them outside on the freezing washing lines, and went in to take refuge beneath the blankets.
After a couple of hours wrapped up and in my sleeping bag with my hat on and rubbing my legs and feet, I'd warmed up a bit and decided to venture into the 'dining hall' for a little dinner.
Wrapped up in my blanket and with my hat on, I emerged into a room with people, like myself wrapped in hats and blankets!
Everyone thought this was funny.
Had some veg-rice and some hot chocolate. Chatted to some Americans who had access to weather conditions.
Apparently, tomorrow was going to be a much worse day than today. The chances of me getting to base camp without becoming very cold and wet were negligible.
Decided to wait until the morning, see the lie of the land, then make a decision about what to do.
Here's some photo's from the day: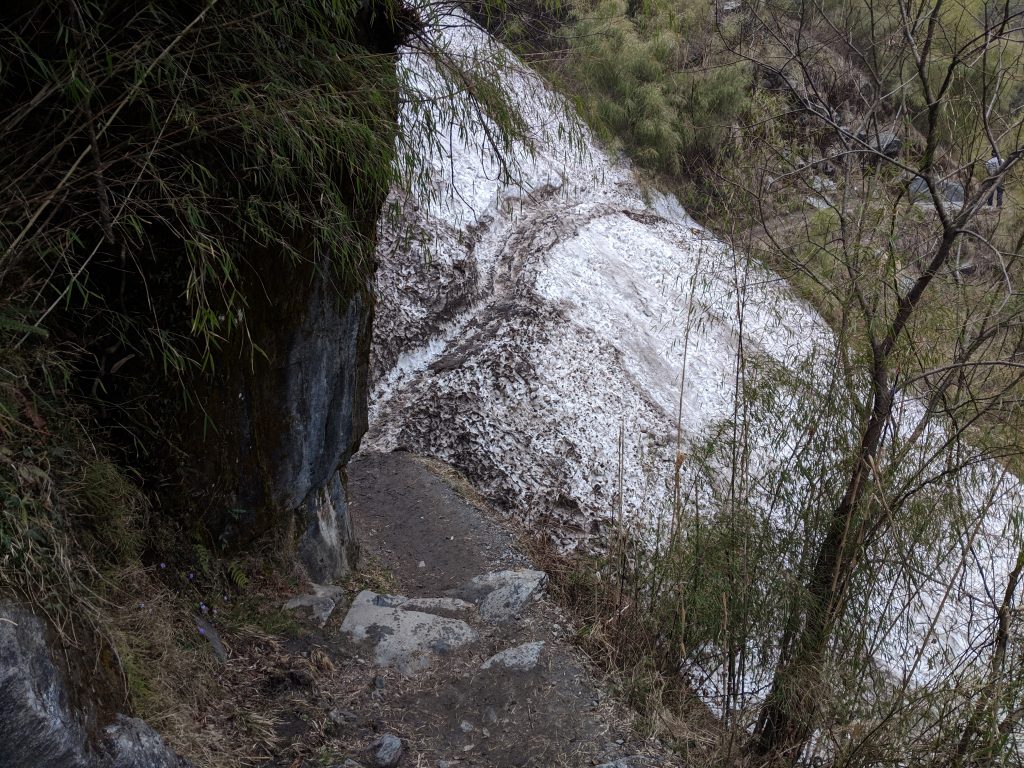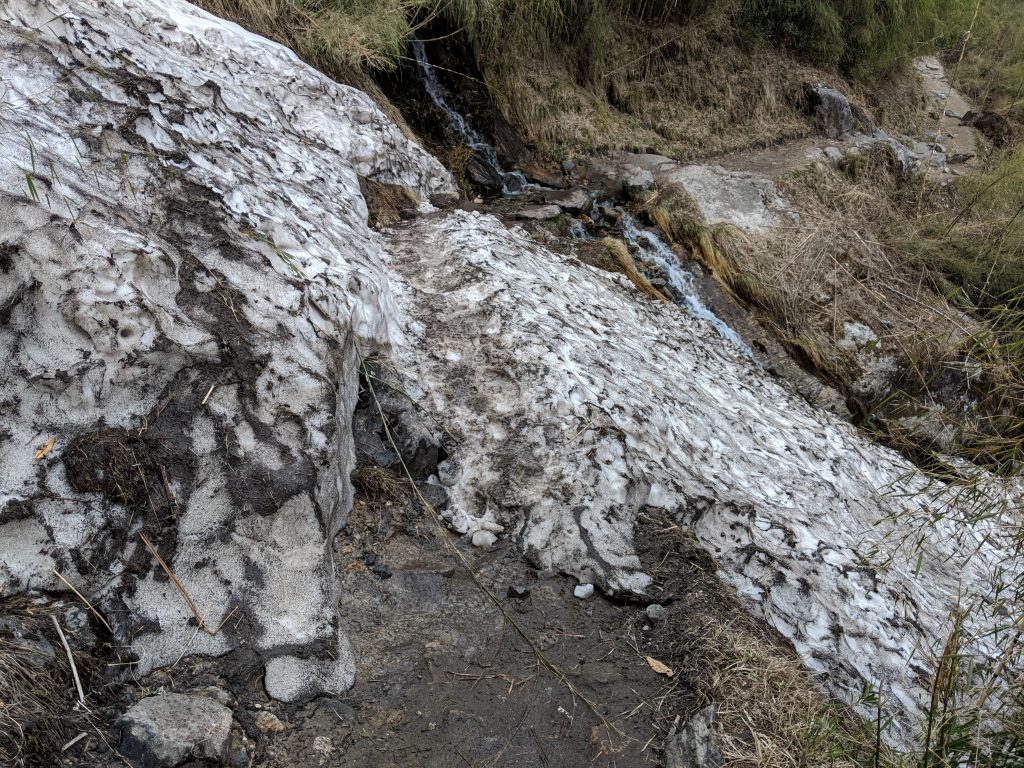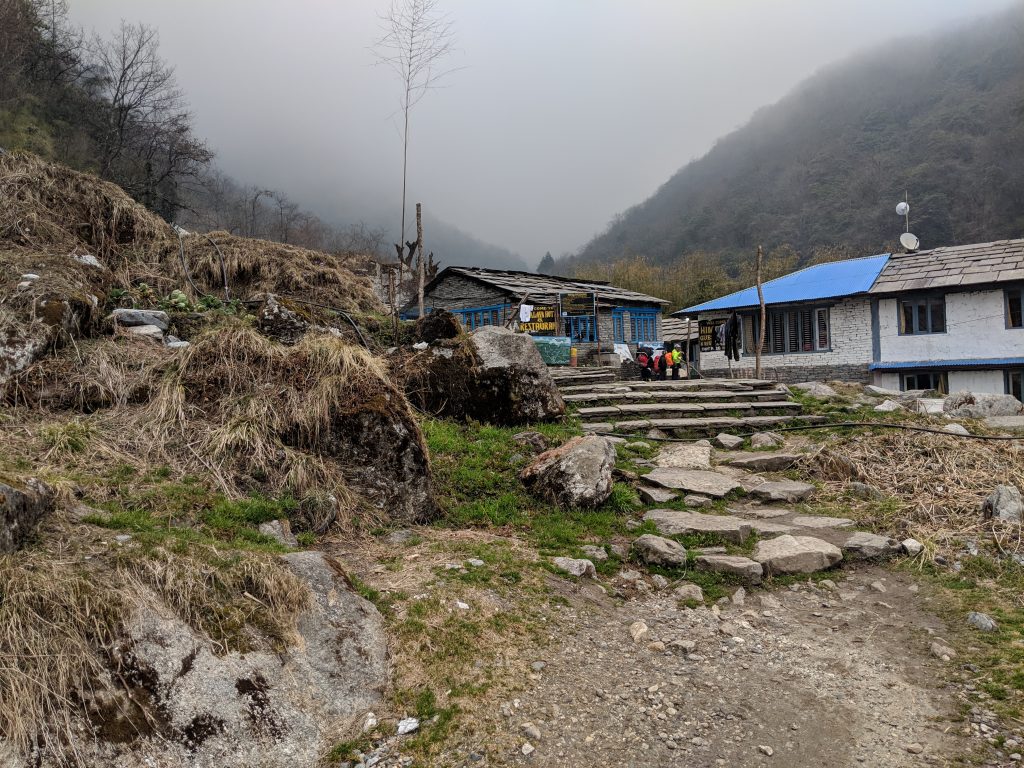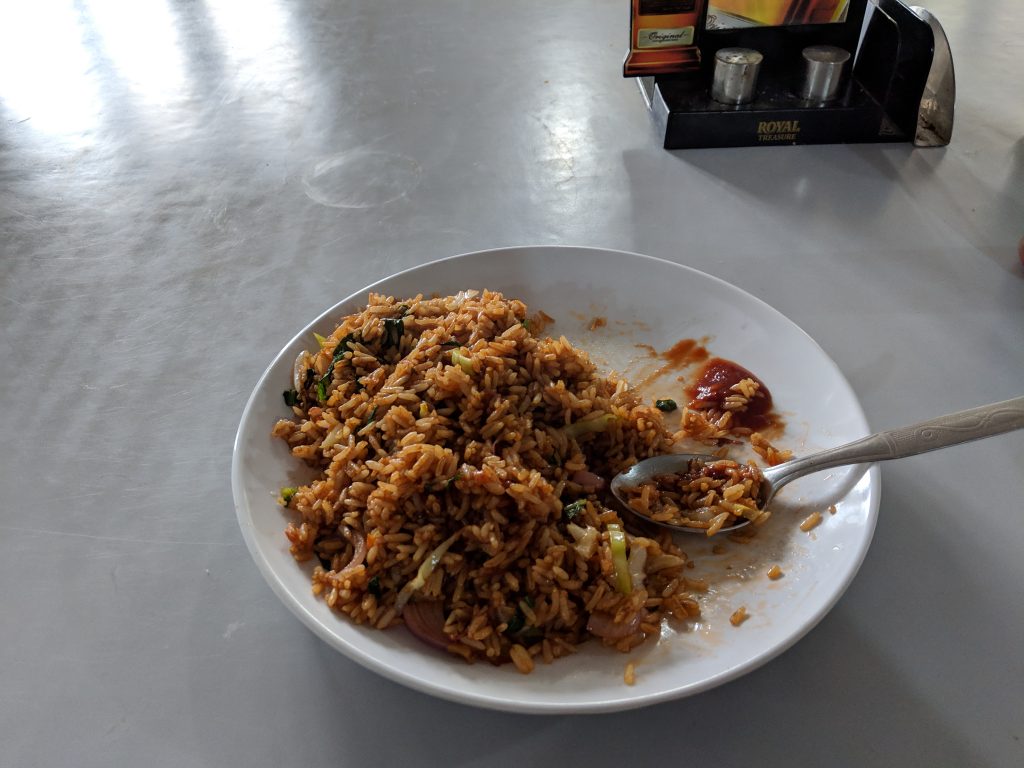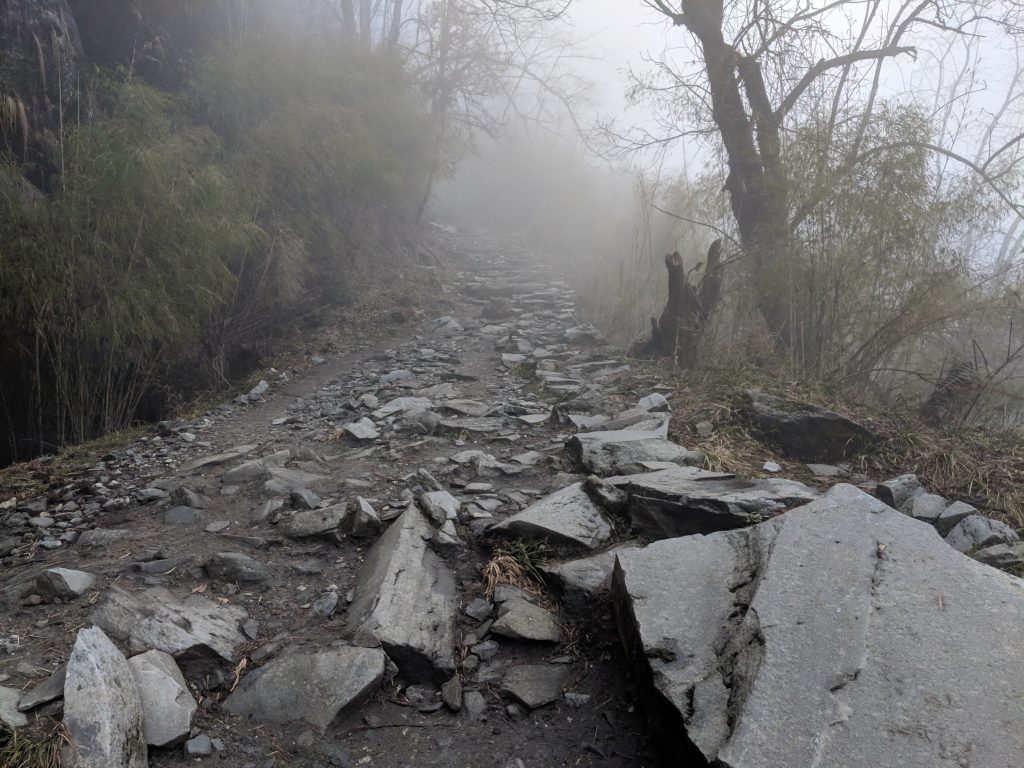 Day 5: Deurali -> Chhomrong
After waking up and having a good look around, it became apparent that proceeding up top base camp was not a good idea.
Cloud was everywhere. There was a covering of snow and hail from the previous night. More rain was expected during the day, which generally converts to snow above a certain altitude.
Decided to call it a day and head down to Chhomrong, where the sun is shining and they have the luxuries of Mastercard and other methods of spending money without digging into my cash budget, which is relatively small.
Today, I have 4% charge on my phone. It's turned off. I took pictures of Deurali in the sunshine, metaphorically, although it was obvious, today was not going to be a good day…
Like the previous day, I got going by 7am… all downhill(ish).
By the time I reached Bamboo, the rain was setting in pretty hard. I sheltered in one of the lodges and had myself a spot of Dal Baht, fell asleep under one of their blankets, and waited for the storm to pass.
Many wet Chinese came and went.. I stayed under my blanket.. Some Americans came and went.. I stayed under my blanket.
Eventually, after around an hour, the storm had passed. A momentary thing, you could tell by looking at the sky, but the wind was low and the sun was shining.
Time to make the final shove to Chhomrong.
Chhomrong in the rain
By time I got to the outskirts of Chhomrong, the storm had returned.
Heavy, heavy rain.
Chhomrong is surrounded by steps, in every direction. It was just a case of climbing these and I could check myself in for the night at one of the hotels.
Here's some photo's from the day: