Day 36: Muktinath to Kalopani
Day 36: Muktinath to Kalopani
After Muktinath, pretty much the whole of the Annapurna Circuit Trek follows the road.
This is a dusty and busy road.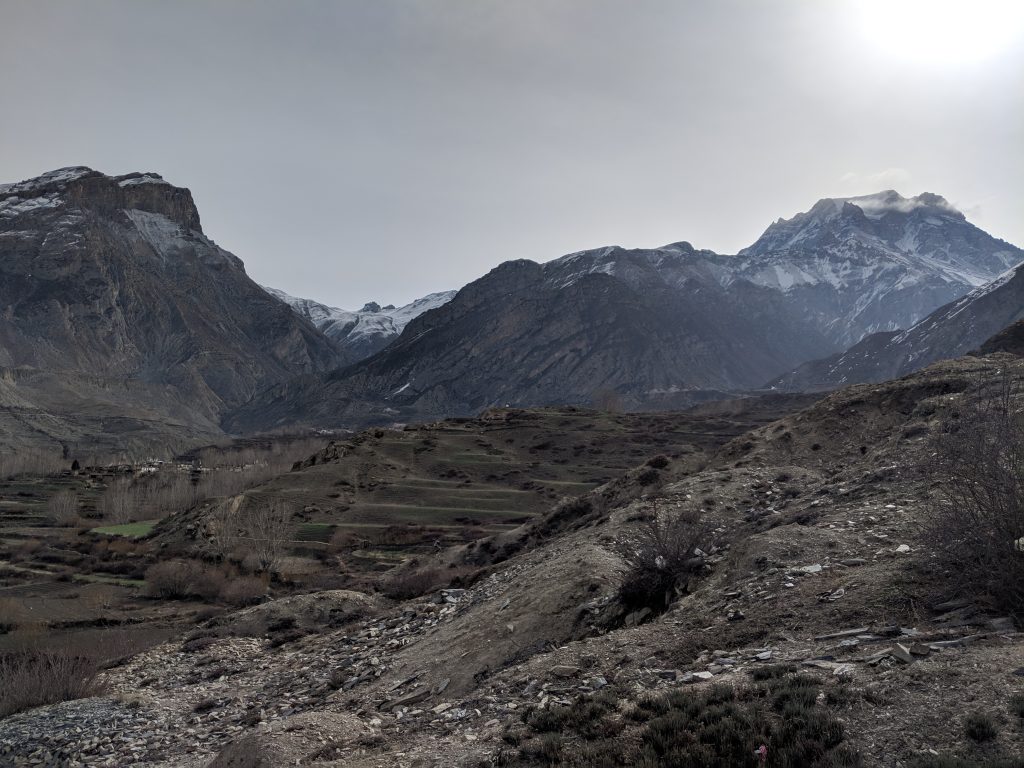 Where the trail does continue away from the road is not clearly marked.
This and the fact that the landscape was fairly sparse and boring made me decide to take a bus.
Jomsom
Firstly, this was to Jomsom, where I thought I might hole-up for the night.
On checking the accommodation, much of it seemed to be overpriced, without amenities and Jomsom itself noisy and dusty.
I got a hotel for 400rps. When I sat in the room for 1/2 hour, I started getting asthma from all the dust floating around.
Not ideal.
I paid the hotelier for 1/2 stay and got on the next bus out.
To recommend it, there are plenty of banks in Jomsom to get that extra bit of cash to help you along the way.
Jomson -> Kalopani
There isn't really much between these points of any interest.
Initially, I was going to stop 10km further up at somewhere called Kobang which was marked on the map.
When we went through it, it just seemed to be some loggers huts.
I didn't see any signs of any trail anywhere, separate to the road, and as I've said previously, this side of Thalong La, the Circuit Trek seems mainly to consist of walking down the road through boring and dusty landscape.
Kalopani was the first place where the accommodation seemed nice, and the environment looked like somewhere I wanted to walk in.
I had some difficulty alerting the driver to the fact I wished to stop, eventually managed to do so and agree a price for the additional travel from where I had told him to drop me off, about 10km up the road.
Kalopani
Stayed at the 'See you' lodge. Prices are higher for accommodation this side, you're paying 500rps. The other, you're paying no more than 200rps.
Alternatively, the food is cheaper, the rooms have chargers and there is a free shower and drinking water, in this place. Although, in Jomsom, this was not the case. The prices were just higher.
Today, I'm going to walk down to Tatopani, where there are some hot springs.
It may be about 20km.