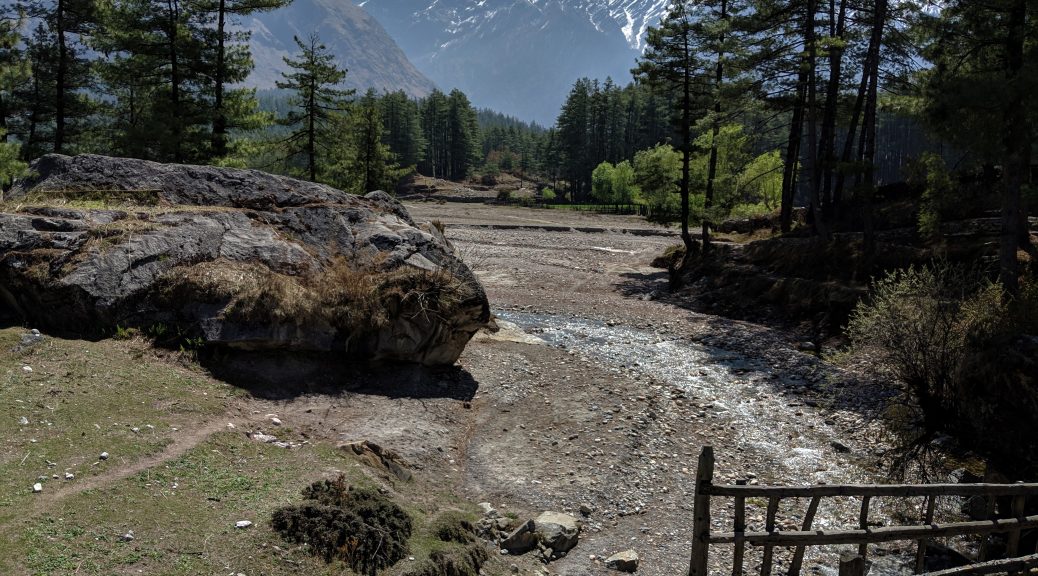 Day 37: Kalopani -> Tadopani
Day 37: Kalopani -> Tadopani
Probably my last full day of walking, and a long day it was.
Should have halved the day by stopping in Ghansa, but didn't. Didn't really want to walk backwards and uphill.
I think this was a mistake.
Walking from Kalopani to Tadopani in one day is definitely too far. Even though it was downhill, it was nearly 20 miles, and there were no villages to stop for lunch, so it was a straight through job.
By the time it got to 5 o'clock, I'd stopped enjoying the countryside, and was more concerned about my feet.
Kalopani to Tadopani
The views walking from Kalopani to Tadopani were spectacular, and although the trail had been destroyed by landslides in places it was pretty, if a slightly dangerous walk through small villages, mountain valleys, through forests and ravines.
When I got to outside Tadopani, some heavy plant and engineers were in the process in of improving the road.
All the passengers had got out of their 4×4 and buses, and were congregated around the work-site, socialising at the road-side or waiting patiently, or impatiently inside their vehicles.
I passed these folk and carried on into the town. When I arrived, it was 5pm, and the only place I managed to get accommodation was called Dhaulagiri Lodge, which actually turned out to be quite good.
The first night, I stayed in very basic, paper thin walls type room. But by the second night, when some trekkers had left, I managed to get into one of the more expensive huts, with it's own shower, toilet and charging sockets.
The internet was very poor in Tadopani. That's why I'm writing this 3 days later.
Here's some pictures from the walk that day.