Edinburgh – Grassmarket White Hart
Edinburgh – Grassmarket White Hart
Decided to go on literary pub crawl organised carried out by local thespians. The tour takes in the sites whilst supping the mead, a combination of alchohol and education not to be missed I thought.
After taking a quick pizza and a glass of wine in Grassmarket, dropped for a quick drink before embarking on the literary pub extravaganza, to The White Hart – Grassmarket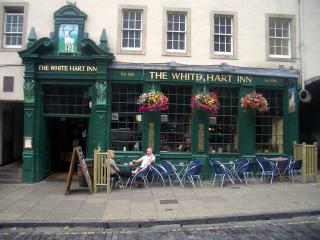 On ordering my drink, the barmaid and I exchanged low level banter, I sat back to enjoy my Guinness. Half way through this pint the barmaid says, "Is there anything wrong with your drink, you seem to be drinking it slowly", I was waiting for the pub tour to start.
Nearing the end of my drink this barmaid pops up and announces "I don't like you you're going to have to leave". Obviously I thought she was joking and told her to call the police.
Turns out she wasn't.
Anyway to cut a long story, after discussion, I agreed it would be best for me to continue drinking elsewhere and made my way out.
Outside
As we got outside the pub this bar youth escorting me announced that I had committed an offence, Not leaving a pub when requested and it was his responsibility to hold me under citizens arrest until the police arrived.
Without warning or discussion, this barman grabbed at my arms and tryed to put them behind my back into an armlock position.
Failing this he then trying to get me in a head lock.
5 other men appeared and forced me to the floor.
I ended up on the floor with these blokes sat on me like I was a garden bench, one of them took it upon himself to smash my head into the floor leaving me with a bump above my right eye.
The police arrived and took some statements and I ended up in the police cells.
I have included a picture of the pub and pavement. If you're feeling lively, perhaps you should pay a visit. If you are a solicitor looking for a new case, contact me.