Elder Scrolls Online – BETA
Elder Scrolls Online – BETA
So.
Been selected to play this very popular, (Game of the Year), the Ubiquitous and Renowned Skyrim IV – The Elder Scrolls.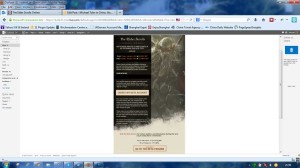 The new game I've been invited to play on BETA is The Elder Scrolls Online.
Skyrim
For those who've not played, Skyrim is a game where you wonder in a simulated environment, which looks something like this.
It's set against a backdrop of a war.
You wander round doing quests, building things, stealing things, talking to people, exploring.
Because of the graphics, you can see why the game first gained it's appeal.
There isn't anything you HAVE to do.
I like that.
Moving Online
One of the main complaints against it that grinding for additional gear, gold, levels or skills was in essence wasted due to the fact it was only you playing, on your desktop, notebook, PS4, XBOX or whatever.
It wasn't very SOCIAL.
Bethedusa, who created the game, said 'Ok. Let's make a Skyrim online." Today I was invited to test the 1st release of that online game, The Elder Scrolls Online.
Apart from the fact I've received an invitation, there's nothing more I'm allowed to discuss. It's all confidential.
MMO games
Previously, I've played a number of online games or MMORPG/MMO:
World of Warcraft: As my web-business started to slow down, I needed something to do with my time. At this point I saw a click-thru ad for the ubiquitous title.
I'd heard of it before, but knew that it would take up large chunks of my time and involving much geeky-ness.
I was not wrong on either count. I played it from 2007 to 2011.
Couldn't play it again.
DC Heros: Again, free initially, but if you want to do any of the cool things, it costs money.
This is a stylish themed based role playing game in the set of goodies vs baddies. You've got all the comic hero's spiderman, batman, joker, penguin, cat woman etc. etc.
Graphics and gameplay can be slightly laggy but it kept my attention until they swopped the servers over and lost my characters.
Anarchy Online: Played for a day or so. Terrible. Couldn't do the first quest.
Eve Online: Kind of space brigade, concept-wise it was interesting – explore space, make money, fight. Standard really. It didn't have the 'magic dust' which both DC Universe and WOW did.
Roaming round space looking to 'make money' just felt a a little geeky and pointless.
Bye-bye Warcraft
Warcraft, which is the biggest on the market, is experiencing burn-out.
If this title works out, it's likely to be the biggest on the market.