Bitcoin – Narrowboaters buying guide!
Bitcoin – Narrowboaters buying guide!
Yeah!
Just because you live on a narrowboat doesn't mean you can't buy Bitcoin!
Hell no……
Not wanting to be boring or obvious, but things are changing in the asset classes of finance.
Gold and the Dollar
An asset is something someone who has capital (money), to put their capital (money) into in the hope that the value of that asset will increase over time.
Traditional hedges have been the yellow stuff and the greenback.
Since the start of the pandemic, gold especially has seen it's once unchallenged status as 'safe haven' removed.
Berkshire Hathaway's Warren Buffet dropped his holding in Barrick Gold Corp just last week, stating, 'It's not what it used to be'.
I've witnessed this myself. Gold's disconnected entirely with risk events, like pandemics or wars, or anything else you care to mention.
The main risk event on the horizon at the moment is this one
Inflation
As the vaccine roll-out increases and punters return to everyday life as pre-pandemic. They will have large stores of cash, to spend on, whatever.
This increased spending on – whatever – will lead to a spike in inflation as shoppers hit the streets looking to spend, spend, spend.
Bitcoin is not a traditional fiat denomination.
It operates in parallel, entirely separately to any currency in a traditional sense.
As the currencies reduce in value, as more people hedge into bitcoin it's value will increase.
That goes for inflation or just about any 'risk event'.
Stocks are also seeing a rise in investment levels, but less so against events.
Stocks are still susceptible to 'events'.
A store of wealth
Let's have a look at this. The main reason to put money away and not under one's mattress is the fact that traditionally there's been a return on capital.
With interest rates at all time lows. Banks have taken this as a signal to pay savers virtually nothing for the savings they hold with them DESPITE the FACT that the banks are RAKING IT IN through their investment divisions.
Stinks really. You get pennies….
Here's my example.
From my First Direct ISA, I can get 0.01% per annum return, tax free.
Wanting to store some wealth from work. 4 Days ago, I opened a Bitcoin wallet.
I bought 0.01 Bitcoin, and put it in my virtual wallet.
16th February – £358.43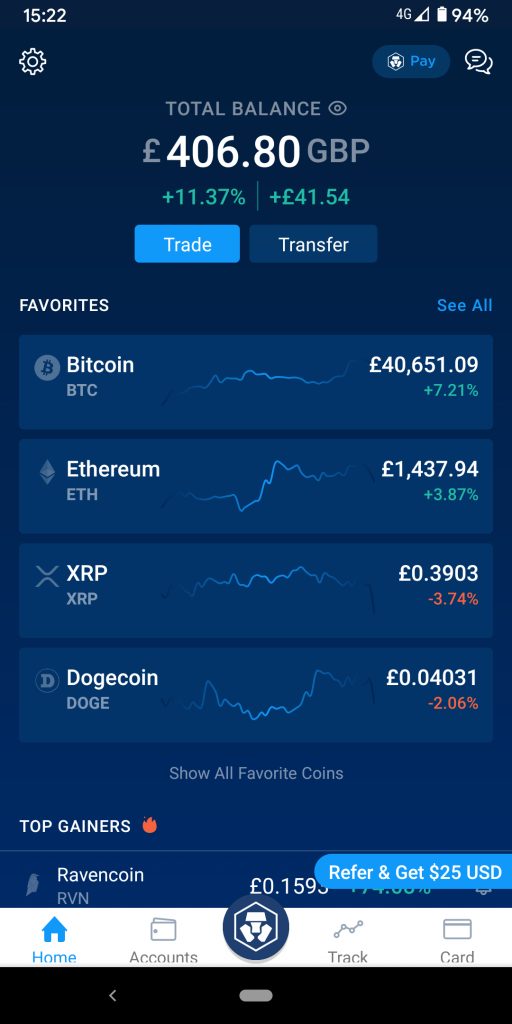 As you can see. Since the 16th February, my little bit of spare work cash has increased from £358.43 to £406.80.
That's an increase of £48.37 in 4 days.
Now, let's compare that to my ISA. Under exactly the same circumstances, my wealth invested would have increased from £358.43 to £358.47.
That's an increase of 4p.
Prices (values) can go down
Let's bear in mind that Bitcoin is having a good run at the moment.
In the fullness of time, these figures my even out a little.
Alternatively, it may spike more.
What I don't see, is a downward movement as we have seen in the past with Bitcoin, (read the articles below).
Inflation spike
Bear in mind that as inflation hits, the value of sterling is going to be reducing.
A double whammy of shit rates and an inflation spike.
Now can you see the case for Bitcoin?
Here's some more articles, just in-case you're having a problem.
https://www.bloomberg.com/news/articles/2021-02-17/with-bitcoin-breaking-50-000-even-wall-street-skeptics-must-pay-attention?sref=1LIacE2u
https://www.bloomberg.com/news/articles/2021-02-16/bitcoin-jumps-to-50-000-as-record-breaking-rally-accelerates?sref=1LIacE2u
Crypto.com
After having a look round at alternatives, Binance, Coinbase and Crypto.com
Binance: I actually opened an account at Binance, I wasn't satisfied with their authentication. Uploading pictures for ID verification timed out and many aspects of the ID security didn't work at all.
For this reason, I left Binance.
I'm not putting my money anywhere that doesn't comply with very basic ID requirements for verification purposes. Binance bybye.
31/06/21 Update**: After writing this article, Binance has been dis-allowed from doing business in the UK. As a result of non-compliance with laundering regulations, the FCA have removed Binance's license to operate in the UK.
Coinbase: Looking at the size of it, it's the biggest, but it's also the most expensive. Also, their range of 'coins' is limited.
I don't like the fees, and I didn't like the lack of choice. I left this one also.
Crypto.com: Has fairly good ratings, and the dev's reply to negative feedbacks on their app download page. It's got a much better range of coins, and the fee's are waived for the first 30days.
I opted for this, as I've seen their advert like a MILLION times already. They've been in the market for a few years, and like I say, the reviews and fees were reasonable.
Setting up my crypto account
The main thing you're going to have to do before you start trading is prove you are who you say you are.
This is to prevent money laundering mostly.
To do this, I had to scan in a copy of my driving license and a statement showing my address. Credit card.
Simple stuff….
Second thing to do, in order to prove I was who I say I was was to hold up my ID, with this notepad, like this.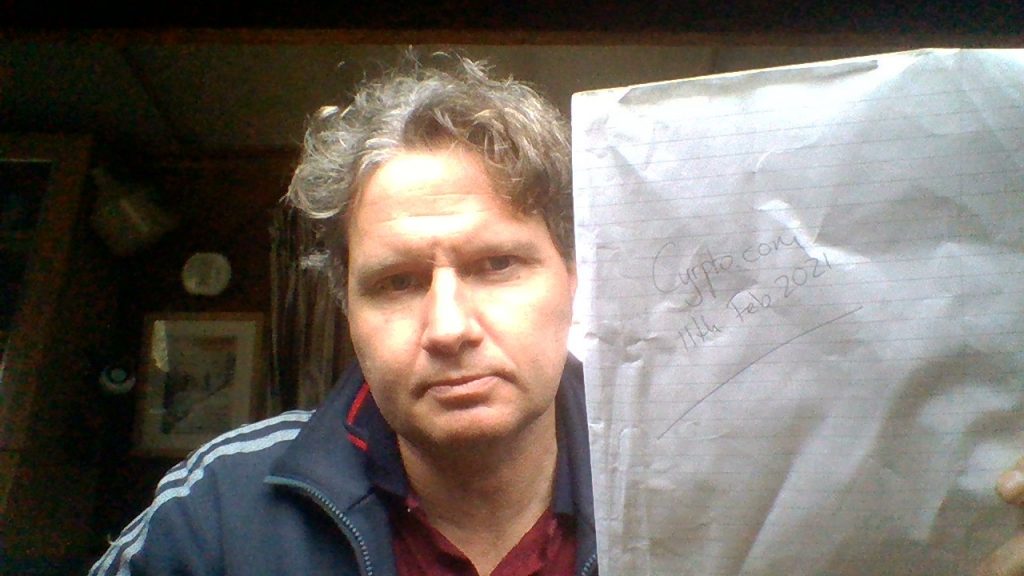 As you can see, it's got a picture of me with the words Crypto.com 11th Feb 2021.
I also had to hold my drivers license up. I'm not showing you this, for obvious reasons 😀
Within a day, my account was up and running and verified.
Most of the time, I use the Crypto.com app on my phone.
You can use the crypto.com 'exchange' online, but I find this a bit confusing.
App works better.
Buying a bitcoin
Buying a bitcoin was simple.
Looked at the prices on the app. Once I'd decided how much I was going to buy, 0.01 BTC. The sterling price was calculated, which stayed live for 40 seconds.
Credit card
During this time I had to get my credit card ready, enter the numbers and codes as you might for any online transaction.
40 seconds later, I was the proud owner of my first denomination of 0.01 Bitcoin!
Bank transfer
In terms of ease of process, buying with a credit card was far simpler.
To do a bank transfer. With first direct they are free, you need the IBAN account holder and all the usual details and secure codes that your bank requires.
You have the option to EMAIL these over DIRECTLY from your crypto.com account, so you can cut and paste all the relevant details in with no errors.
I transferred £1.
Within 3 working days I had received £0.95. They took 5p off me in fees, again something that didn't happen buying with credit card.
Once you've got the funds uploaded into your 'fiat wallet', you can move them over to whatever coin you prefer, there are over 200 out there!
Maximum and minimum limits
Crypto.com has a maximum purchase of £12,000 of any Crypto currency per month.
I has a minimum purchase of around £30-£45 on any one coin.
So there we are.
There's my narrowboaters guide to buying a bitcoin!
No doubt I will add to this topic in future.
If you have any questions, fire away in the comments section below.
Move away from Crypto. Crypto.com review.
After making £200 on transaction fees, I've decided to move away from Crypto.com.
To be fair, it wasn't them that made the majority of my money, it was my bank HSBC. They took a 0.1% cut on my foreign deposit.
That isn't the only reason I closed Crypto. I made some deposits with them that 'went missing' due to the fact I was unable to present the 'correct documentation'.
These were only small trasactions to see whether the bank accounts worked. But they kept the money, which is never a good thing. This was despite me providing them with substantial and irrefutable evidence that the deposits had been made from my account.
I'm now with COINBASE. A public limited company. It's more expensive. I can't complain because the expense comes at the cost of peace of mind and the fact I can deposit and my money doesn't 'go missing'.
Pictures from Bosworth
For all my avid fans, here's some pictures from around Bosworth to keep you happy.