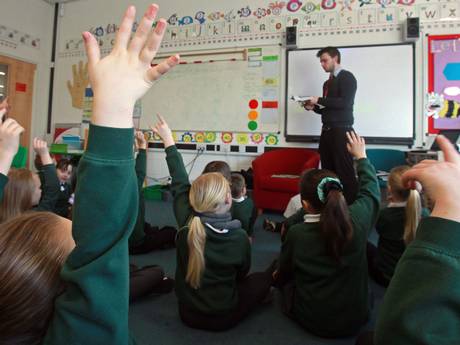 Four in ten newly qualified teachers quit within the 1st year.
Four in ten newly qualified teachers quit within the 1st year.
Being a teacher, I turned up this stat just the other day on a recruitment site for assaid 'support teachers' mentioned in the article below.
---
Figures disclosed showed that only 62 per cent were still in teaching a year after gaining their Qualified Teacher Status
Tuesday, 31 March 2015
Almost four out of ten teachers are no longer in the classroom a year after qualifying, a teachers' conference heard yesterday.
Figures disclosed at the Association of Teachers and Lecturers conference in Liverpool yesterday showed that only 62 per cent were still in teaching a year after gaining their Qualified Teacher Status.
The figures, based on an analysis of Department for Education data, also showed that the number who complete their training but never enter the classroom has tripled in six years – from 3,600 in 2006 to 10,800 in 2011.
The cost to the taxpayer of training them is estimated to be just under £1 billion.

Dr Mary Bousted, general secretary of ATL, told the conference newly qualified teachers "learn as they work with exhausted and stressed colleagues that teaching has become a profession which is incompatable with a normal life".
"Despite (former Education Secretary) Michael Gove's intentions, teaching has become a profession monitored to within an inch of its life." Mr Gove had argued at the conference before the 2010 election that he wanted to give teachers more freedom to teach.
She added:  "It is sad but true that students and newly qualified teachers are being tiold by teachers they meet during their training that with current workload, inspection and training this is no career to enter.
School lunches around the world
"Too many school leaders driven by fear of inspection drive their teaching staff to do things which add not one jot to the quality of teaching but to bureaucratic work, filling forms, inputting data and using three different coloured pens for 'deep marking' and so on.
"I want decent work lives for education professionals and an end to 60-hour working weeks which can only lead to exhaustion, stress and burnout."
She said that – in addition to the exodus of newly qualified staff – serving professionals were also leaving "before their health is broken".
She warned politicians:  "If you do not take better care of us, you will reap the bitter reward of parental fury when there is no teacher for their child.  This is no threat.  This is a crisis of your own making.  That time is coming. you have been warned."
Mark Baker, ATL's president, added that teachers faced "so much bureaucracy driven by mistrust, driven by an unquenchable thirst for data but so utterly pointless". This included asking teachers to take photographs of practical lessons to prove that they had taken place.
"We told you teachers would leave in droves and they are with your (politicians) approach of blame, criticism and undermining".
He warned all the parties' education spokespeople:  "You may profess to be proud of your achievements but you have failed."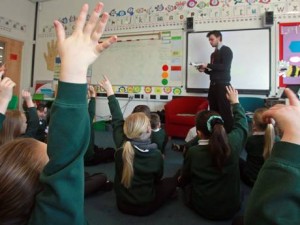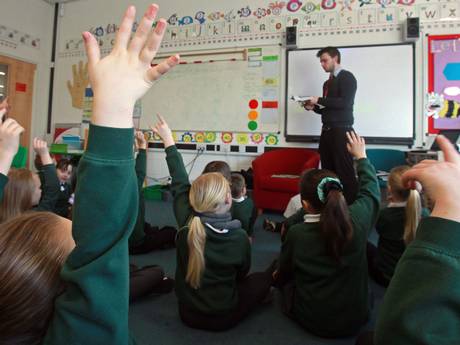 Newly qualified teachers can qualify for "golden hellos" of up to £5,000 and bursaries and scholarships of up to £25,000 are available for shortage subjects like maths, physics, chemistry and computing.  However, money is withheld if they do not take up a teaching post.The figures emerged as delegates warned one of the consequences was that more non-teaching staff were being left in charge of lessons.  They urged the union to conduct an investigation into the practice.
The motion they were debating deplored the use of support staff to cover for teachers "at short notice and for protracted periods", arguing it was 2depriving one group of the support they deserve and depriving another class of a qualified teacher".
Debbie Polwarth, from Newcastle-upon-Tyne, said she was dealing with calls "on a daily basis" from support staff complaining about the misuse.
"They're told to mark, they're responsible for a GCSE class in maths and English," she said.  "They're not teachers.
"Being told you have to deliver and be responsible for getting these children through their GCSE class, it is untenable without proper training. The amount of support staff used inappropriately across the country is growing."
Donna-Marie Grant, a support staff member from Hampshire, said she had to stand in and take English classes for six months.  "Whilst I was flattered and my school felt I was up to the task, one can't teach by intuition alone."
Julie Huckstep, from Kent, argued:  "If a GP is absent, a locum GP is employed instead allowing the nurse to continue with their work."
The figures are taken from the latest DfE statistical bulletin on the subject – combining the number who finished their training and did not go into teaching with those who qualified and quit within a year.
However, Professor Alan Smithers, director of the Centre for Education and Employment at Buckingham University, argued that the figure for those who had not entered the profession could include some who started "at a later date".
In her speech, Dr Bousted said it was the "wrong time"  for the profession to face an exodus of staff as schools were facing "a tsunami of curriculum and qualification reforms" promoted by exams regulator Ofqual which, she said, was "staffed by fudamentalists – true believers who worship the exam" and who are certain that timed written exams are the best way to test a pupil's knowledge in a subject.
It had ignored the advice of subject experts, subject associations, teachers and employers including the Confederation for British Industry which had argued against treating schools like "exam factories".
Case study: teacher Kirstie McAlpine
Kirstie McAlpine admits she has "jumped ship without a parachute".
The 45-year-old English teacher has quit her secondary school in Newcastle "to get her life back".
She has lasted five years in the profession – but she said she had spoken to newly qualified teachers who were ready to throw in the towel much sooner.
Ms MacAlpine estimated she was working a 60 to 70 hour week -8am until 4pm at school and then 10pm until well after 11pm in the evening – plus one day at the weekend.
"I'm an English teacher so there is a lot of marking," she said.  "Saturday lunchtime is when that gloom starts to come over my weekend."
Her job, she said, was incompatable with "striking the right work-life balance" and helping her children, aged 18 and 16, who were taking their A-levels and GCSEs respectively.  "I've realised that I don't have the time to be a good family member.  My teaching doesn't fit with a good family balance."
"When I rang my mother to tell her of my decision to leave she said 'thank goodness, I'll get my daughter back'."
She said of the young newly qualified teachers who were deciding teaching was not a career for them:  "These are all passionate and incredibly talented people.  It's such a shame."
Ms McAlpine was originally and academic and started working as a teaching assistant in a school just over a decade ago. After six years as a support to teachers, she qualified to become one herself.
---
I find it very interesting that successive UK governments wish to punish the caring professions. It's a very bold stance, and one that gains my utmost respect.
Related articles