Living off-grid narrowboat
Living off-grid narrowboat
Here's a cost breakdown of living as a single person on a narrowboat from what I gathered over the last 12 months.
Derv: £324.69 (included a trip down to London and back 300m)
Coal/Wood: £348/£72
Gas: £127
Electric: Free
Boat licence: £960
Maintenance and fees: 2 pumps – £247
Insurance: £150
Total cost for one year All in – (Fuel/Heating/Light/Gas and Electricity/Licence/Insurance) £1,982.19
Cost of living Crisis
I'm hearing this increasingly when I turn the radio. Stories of people heating cans of beans on their gas room heaters, food banks not being able to cope and people having to choose between electricity and food.
Can't be sure whether it's truly indicative of the state of play out there because this is the BBC (radio 4) we're talking about, and they like to lay it on thick with the old bullsh1t.
What I do know, fact-wise, is that the cost of fuels have gone up by roughly 50% in the last 12 months.
This is not an insignificant amount. It's affected all fuels across the sector and electricity prices have gone up also.
My battery overfloweth
Since fitting the solar panels last winter, I've had basically too much electricity.
This has meant as summer approaches the level at which I use the electricity is FAR less than the amount the panels pump out.
In contrast, when I go to get gas from my local supplier in Banbury, they tell me the Calor wholesaller hasn't been returning their calls for 9 weeks.
No-one on the industrial side of things has ANY Calor in Bunbury (13kg).
This does not bode well, and I fully expect in the full-ness of time, the supply shortage could leave me unable to do my cooking, currently on Gas, which would be a bit of a problem…..
Simple math
If you're given lemons. Make lemonade.
Fitting an 2000w inverter to my narrowboat
I've had the inverter for years….. Bought it before I left the marina. In the first 6 months in fact. It looks a bit like this –
I've used it to: Power the TV. Power the circular saw. Charge up computers and devices.
Basically, the heavier duty stuff that you can't do on 12v.
Under most normal circumstances, it's been sitting unused.
Rather than not use what I've got, I've decided to mount this in the engine bay. That way, I can connect it to Bonnies 240v wiring loop, and run kitchen appliances off it.
It will run anything up to 2000 continuos Watts, and a peak of 4600W for a short period. I've no idea how long a 'short period' is. But I'm assuming if we try and keep things below the 2,000 mark, everything will function as they're intended.
Shopping for a hob for a narrowboat
Running on solar, you've got to be aware, during the day, there's an oversupply of energy. And if you do your useage of the power supply during daylight hours, it makes very little difference to the overall charge of the batteries by the time you go to bed.
Obviously, if you start cooking at 9pm when the sun is weak or going down, running a 2000W hob is going to impact your batteries.
There were basically two hob types I was looking at.
An induction hob…
Induction hobs have specific requirements with regard to cooking utensils which have to be magnetic.
A combination oven…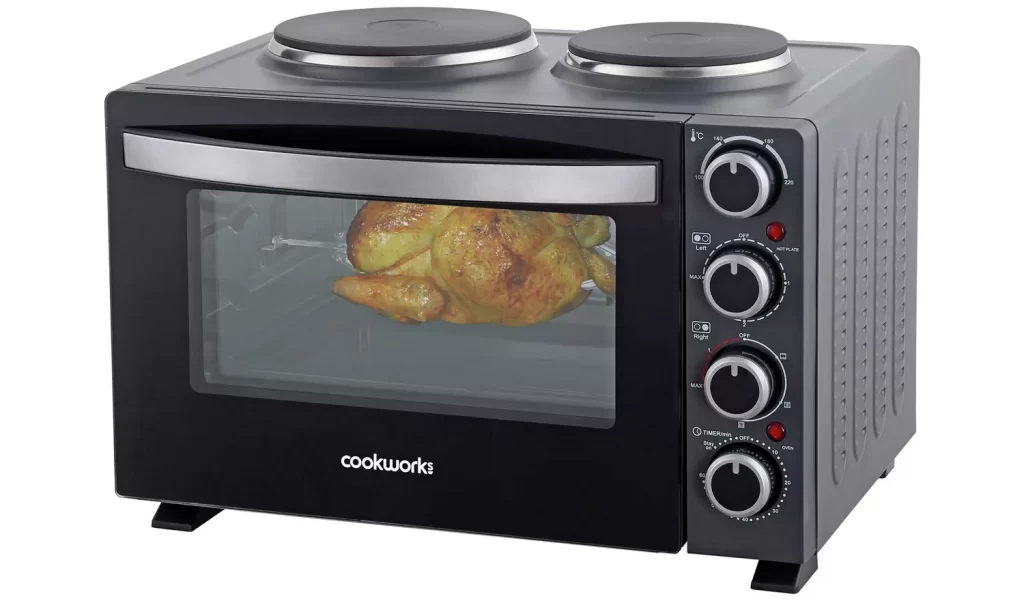 The oven had a total output at 2,500W. This was with one hob operational and the oven on full.
By contrast, the induction had a max output of 2000W for one hob.
Most of my cooking happens on two or more hobs.
The oven also includes a grill.
No-brainer really. Bearing in mind the space constraints…
Battery Bank
My battery bank consists of 4x120amp/h AGM batteries. = 480a/h
I have 480 amp hours of available energy.
If we take it as that we never want to run the batteries below 1/2 charge, that means an available energy of 240 amp hours.
2000W/12 = 167 amps
167 amps is what a cooker will be taking from the batteries when running at full.
That's roughly an hour and a half on full strength before it's drained your batteries to their lowest operable level, (without damaging them).
On a sunny day, as you use the batteries to cook, the solar is going to be topping them off again, and it's likely that by the time you finish up for the night, the charge you've used will have been replaced.
Obviously, this would be the ideal position, where you turn on the cooker and it runs directly off the solar with the batteries acting as a time based conduit between the two offering a buffer to boost the amperage up to level.
Making the boat 240v
Some money was spent on Bonnie in the early days when there was visions of me living on a marina.
As things turned out, I was much happier as a continuos cruiser, and these expenses seem to been wasted until now.
The boat is fitted out with a number of 240v sockets along it's length connected to a fuse system, isolator switch and hook-up point, for the mains.
In order to make this 240v system active, I've taken my inverter and mounted it in the engine bay.
It's always on, which during the summer is an insignificant amount of draw.
Mount inverter
Connect to busbars
Drill for cable access
Connect hook-up to inverter
Job done! The boat now run in 240v, only up to around 4600W in short bursts.
Cooking on solar!
As opposed to 'cooking on Gas'! Which I'm hoping to phase out.
Last night I cooked my first bit of meal purely on electric. I fried up some rice. Took about 15 mins. Worked like a dream!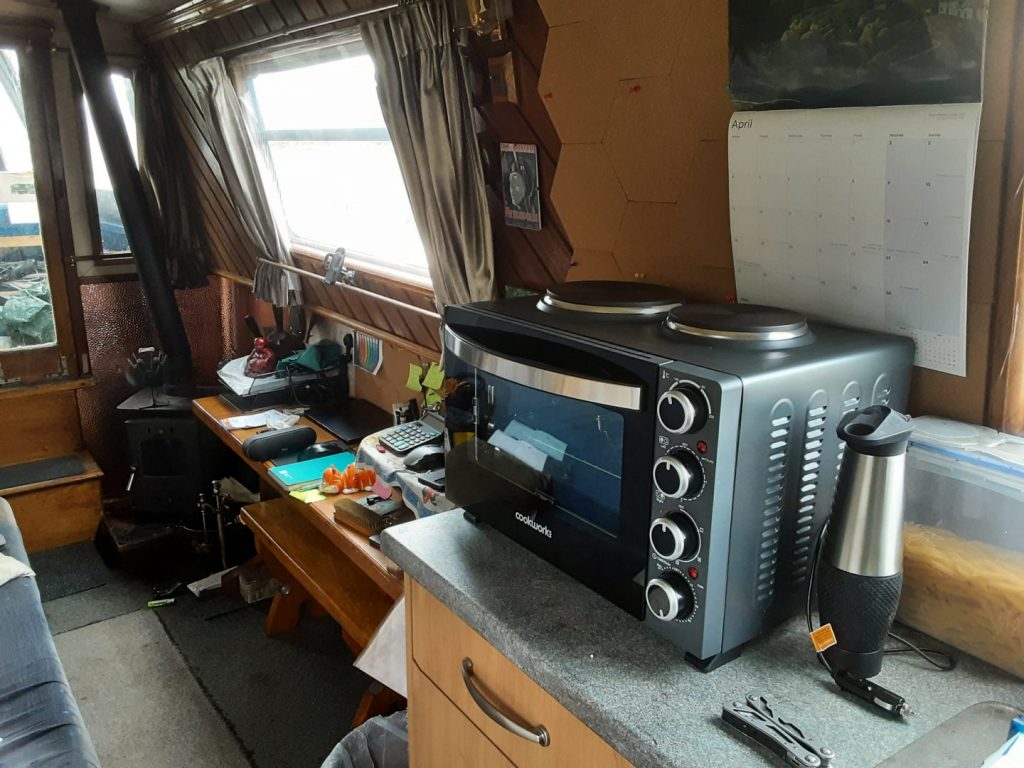 So there we are. All up and running!
I look forward to cooking some pizzas and potato wedges in the oven and using up some of that summer solar energy.
I'll include some snippets of my solar cookers performance in future blogs.
Until my next instalment….