Mid autumn festival
Mid autumn festival
So.
We have a little two or three day holiday at the end of this week.
I may take this time to have a look around Nanjing which is a short distance away.
Mo0oncake Investigation
I've been planning to sample this Chinese dish.
During the mid autumn festivals, Chinese are overcome by thoughts of mooncake!
Both giving and receiving, it is very important part of the Chinese culture and celebration.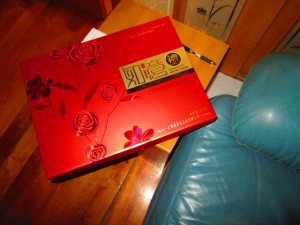 The mooncake comes in all different boxes. There are many fillings, which traditionally, are wrapped in a pastry baked in an oven. With elaborate designs on the top, the cake is of a heavy, doughy consistency.
Pretty filing, the cake should be enjoyed all over the mid-autumn festival.
The box shown, was dedicated by one of the children's parents at kindergarten.
Gasping at the Mooncake!
Such an exiting thing! Have been looking at these stands in the supermarket!
They've been here for the past 3 months or so…
The favor of the mooncake knows no bounds here! Fer sure….
Many happy returns!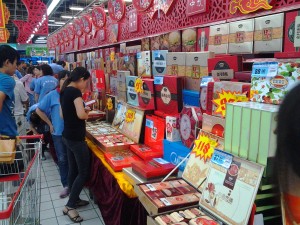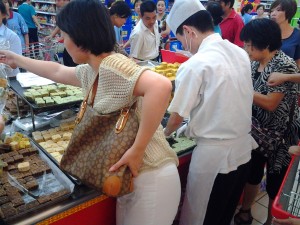 Fill yer boots