Novi Sad – Slobode Square
Novi Sad – Slobode Square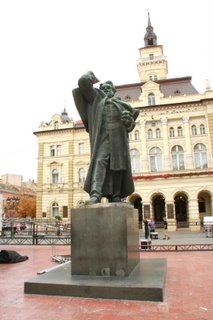 Slobode

Square – Town Hall
This is the main square in Novi Sad.
Pedestrianised zone
There are life size, fabricated cows located in spots throughout the square.
Each one has been painted up and has the name of the local artists responsible on a placard at the base.
There is a Catholic Cathedral in the square which faces off the town hall. Impressive from the outside, it's in a Gothic brick style with the classic Gothic circular windows.
Slobode

Square
KML

:
lat- 45.25106
lon
– 19.85595