Ostrog Monastery – Top Trumps – Montenegro
Ostrog Monastery – Top Trumps – Montenegro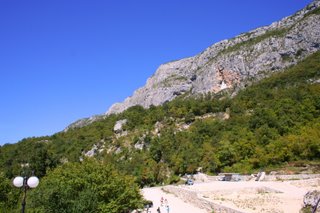 Ostrog Monastery
Ostrog Monastery
KML: lat – 42.66820 lon – 19.03135
The Monastery at Ostrog is set in the mountainside. Built around original sacred caves where miraculous happenings took place in the 17th century.
The Ostrog monastery is a shrine and pilgrimage for many in the orthodox faith.
St. Andrews Church
St. Andrews Church
Located in a church down the hill is a shrivelled, severed hand in a glass case.
The orthodox priest invites me to kiss the case and offer some money.
No
The priest tells me a story of how the hand was chopped off a peasant boy for stealing, gesticulating toward the fresco on't wall above.
I note to him that the swordsmen in the fresco look like they're Turks "how the boy was special if the Turks came to Montenegro and killed hundreds of other civilians?"
This kind of draws a blank. I end up skipping the hand kissing and he gives me and orthodox playing card for free.
Swapsees
There are many of these playing cards to collect. Like trumps or football cards, you can compare with your friends, swap or see which ones are best over a beer or coffee.
Here's a my favourite Orthodox trump card. If anyone wants to exchange you know how to contact me.
Top Trump