World Press Freedom Index
World Press Freedom Index
May 3rd marks the global survey on press freedom, something that I picked up on a couple of years ago.
They've produced this rather nice map.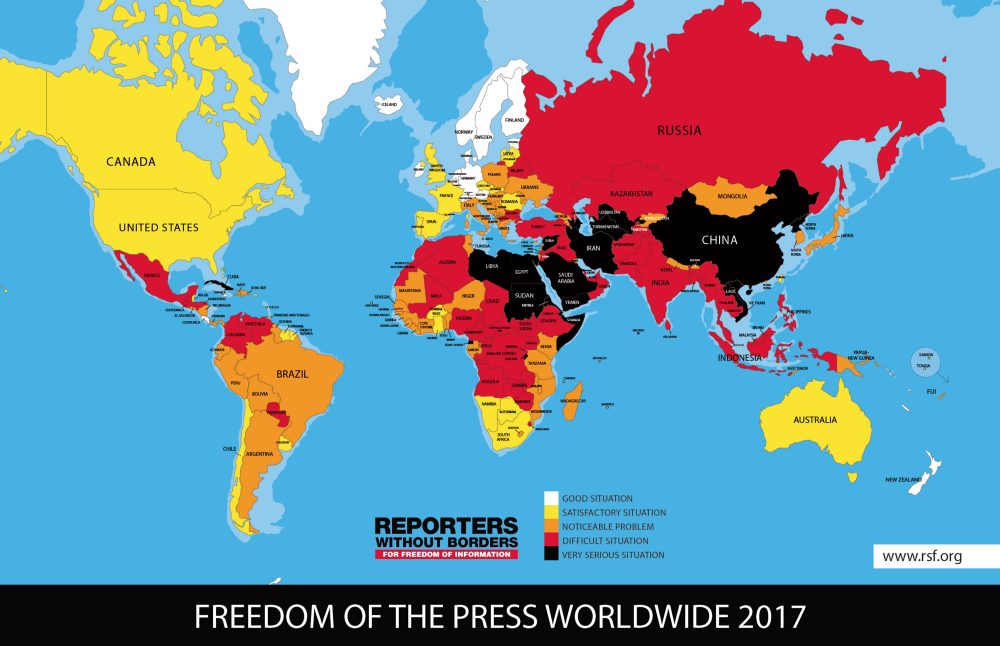 Here's the map as it stands last year.
You can read more about press freedom on their website.
[su_pullquote align="right"]Global press freedom declined to its lowest point in 13 years in 2016 amid unprecedented threats to journalists and media outlets in major democracies and new moves by authoritarian states to control the media, including beyond their borders.[/su_pullquote]
Censorship is another indicator of declining press freedom, and governments and other actors are finding new ways to promote repression, many of which compromise the necessity of an open internet. The CPJ analyzes countries to determine their status using a series of benchmarks, including:
the absence of privately owned or independent media,
blocking of websites,
restrictions on electronic recording and dissemination,
license requirements to conduct journalism,
restrictions on journalists' movements,
monitoring of journalists by authorities,
jamming of foreign broadcasts, and
blocking of foreign correspondents.
The resulting list of the 10 Most Censored Countries includes Eritrea, North Korea, Saudi Arabia, Ethiopia, Azerbaijan, Vietnam, Iran, China, Myanmar, and Cuba.