Days 3 – 4: Touring the Temples, Kathmandu
Days 3 – 4: Touring the Temples, Kathmandu
Yesterday and today toured the two major temples within the city area of Kathmandu.
One is called Pashupati, near the airport. Here, they have a ceremonial burial, similar to the Hindu pyre and river rituals. Whilst I was there. I was lucky enough to experience a ceremony.
The other is Swotambhu, the opposite side of town. It's called the Monkey Temple.
Hiring a motorbike in Kathmandu
In order to visit these temples at my own slow pace required the hiring of a motorcycle.
Lonely Planet guide advises about the safety of the Nepalese roads. There are many accidents etc.
I found them much like India; as long as you tootle along slowly, drive paranoid, watch the bumps, know where your going, you won't go far wrong.
Unfortunately, I did see and accident on my first day on the bike.
This guy actually passed me, with what seemed to be his sister on the back.
He was going pretty fast compared to me at the time.
He impacted the SUV, and both ended up on the road.
Not a lot of blood. He was rolling around. The blood mostly seemed to be on his sisters leg where she skidded along the road.
These are kind of mild compared to the Brazilian 'Road Pizza' accidents you see on liveleak.
I have no doubt he'll be up and riding his bike again in no time.
Still, it's drama you can do without.
3rd Day – Monkey Temple
Took about, not long on the old scooter.
Google maps is your friend here. Got some petrol for the scooter £1 worth.
Happy days.
Here are some shots from the temple.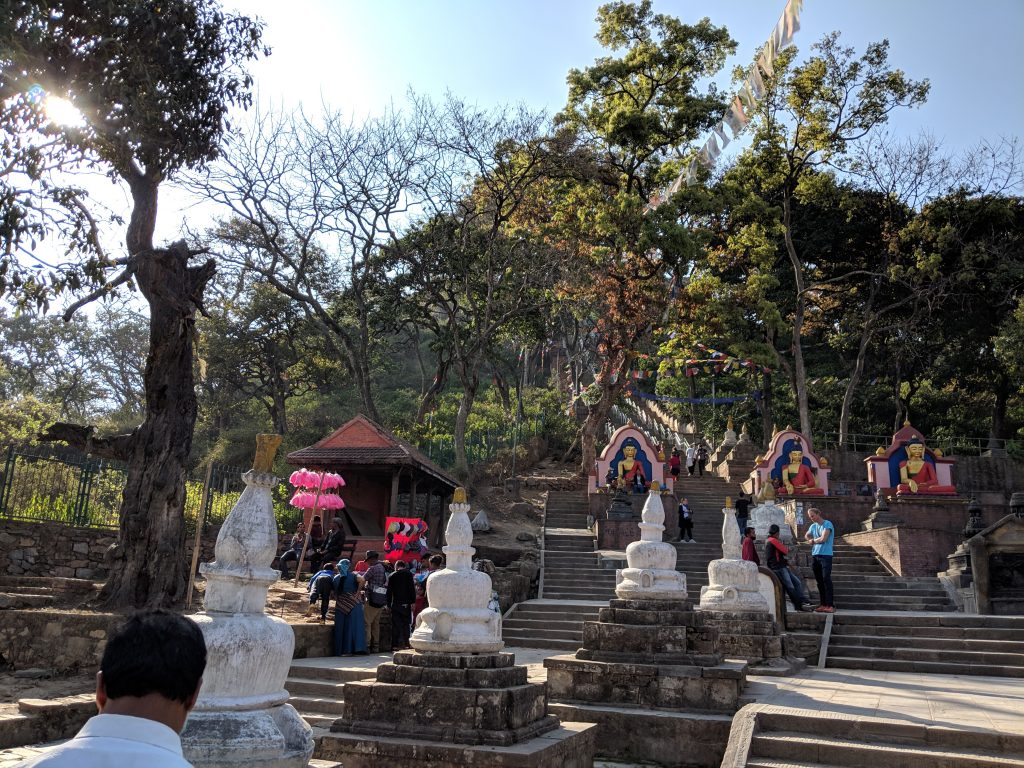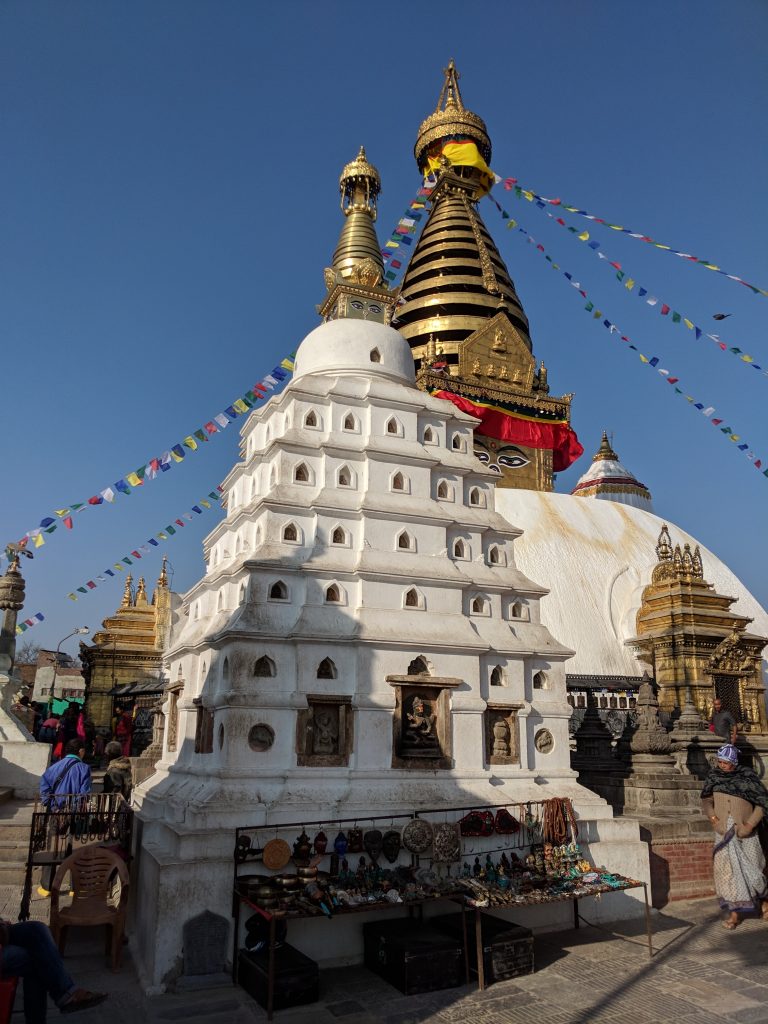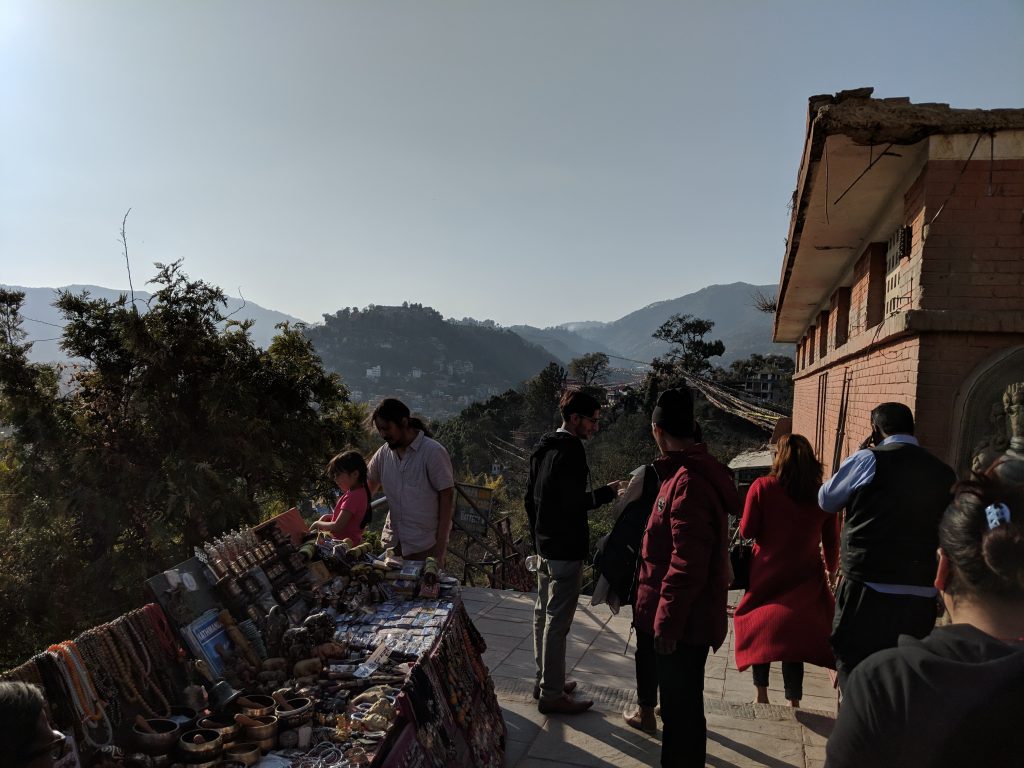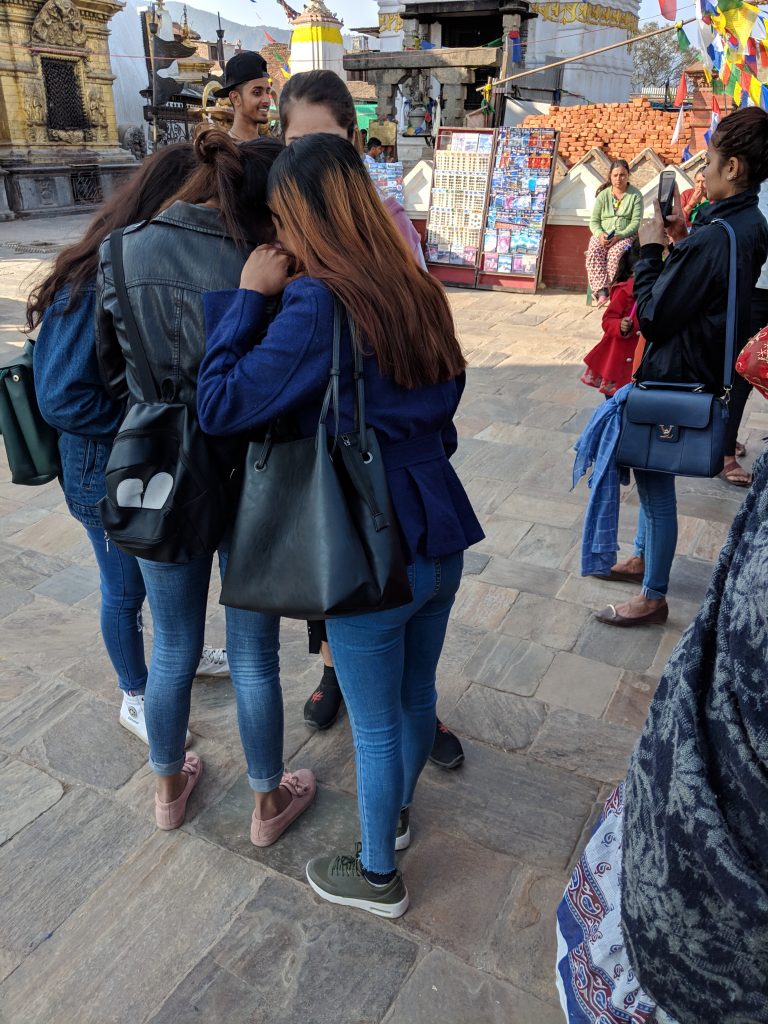 Apart from the temples themselves. This site seems to consist mostly of nik-nak sellers of one variety or another.
Here is an interesting video of a guy called Robin who sells ceremonial masks. All are handmade, with symbolic and rare designs, unlikely to be found anywhere else.
Another guy I spoke to gave me a demonstration of 'singing bowls', or in his case 'healing bowls' which can be used to 'heal' different parts of the body with their resonance.
It's probably somewhere I might visit and not be afraid think about buying products from these people.
They seemed to know what they were talking about.
To eat
Decided to have a traditional Nepalese 'momo'; small dumplings fried with dipping sauce and a dahl baht, another Nepalese dish which is small dipping bowls filled with meats or vegetable sauces then some rich and a chipati to dip. It's part of the Holy Hotel Lodge.
Cost £6 with a beer.
4th day – Pashupati Temple
Another ride on the moped. This time to the other side of town. Pashupati temple is set on the banks of the river Bagmati, and is a World Heritage Site.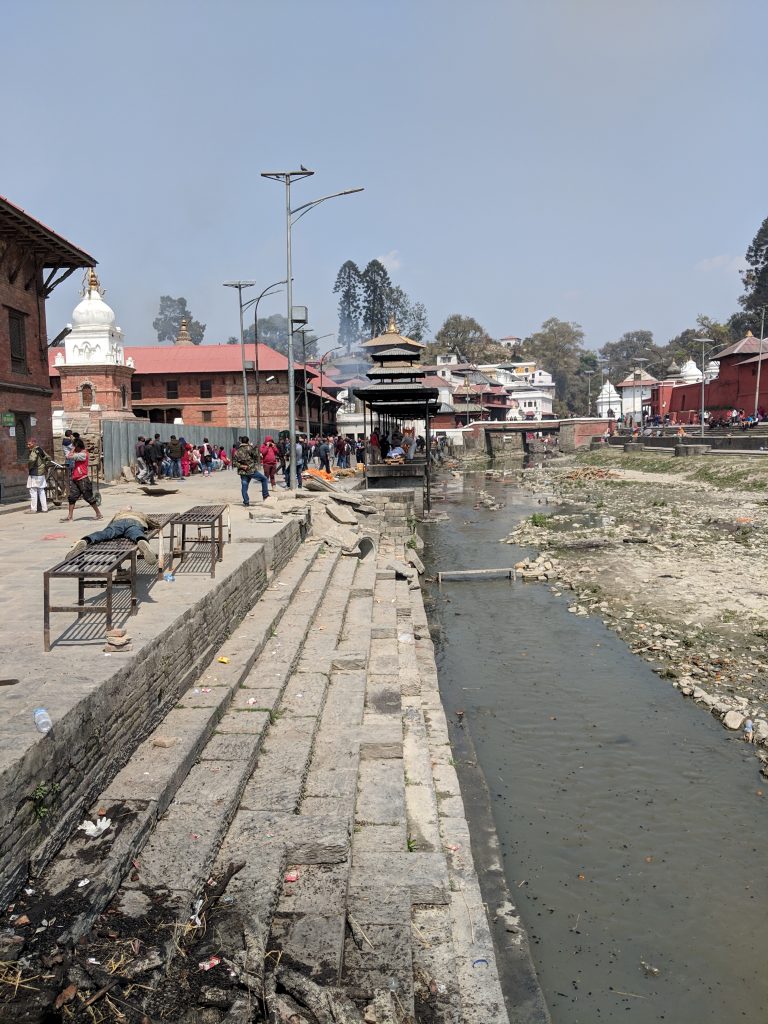 This is where you enter the complex. The black dots in the river are the remnants of burnt corpse piles, floating off down the river…
Funeral ceremony
I sat for a while and watched a ceremony on the first alter nearest us on the picture where members of the family were gathered around.
The bodies are basically mounted on a pyre of logs. Underneath is some flammable solid fuel. To get the fire going, members of the family use straw.
After a while, clouds of white smoke below out, consuming the body.
After about 1 hour, there is nothing left but ash.
After having watched the ceremony, I jumped across the river and went for a wander in the temple grounds.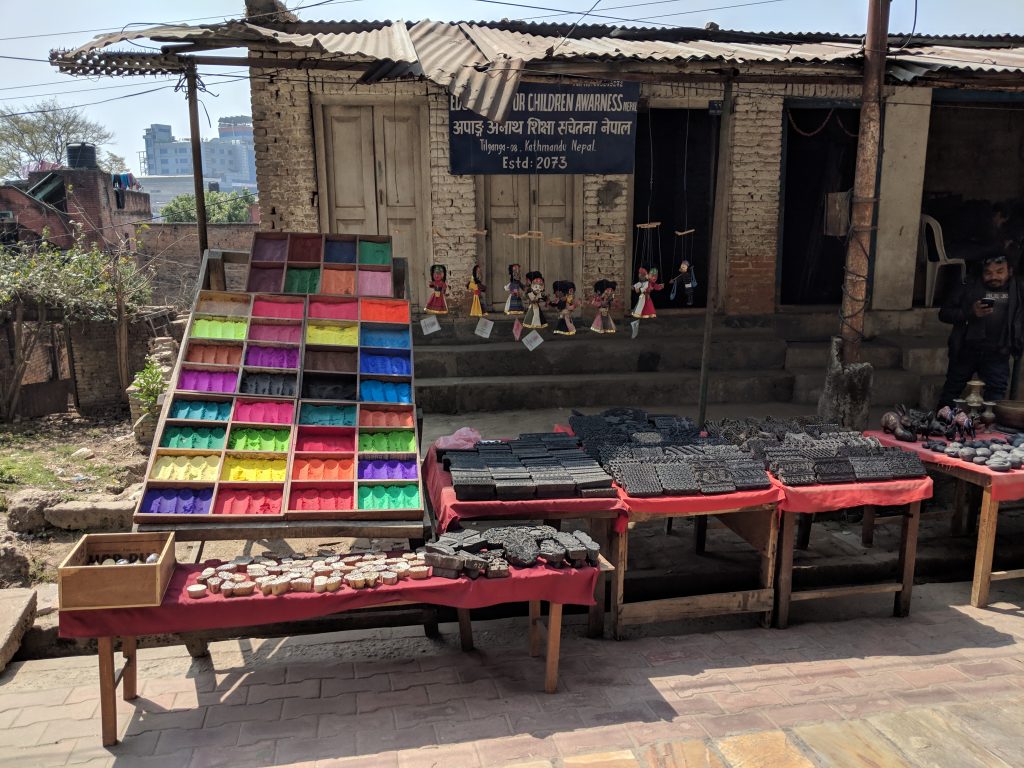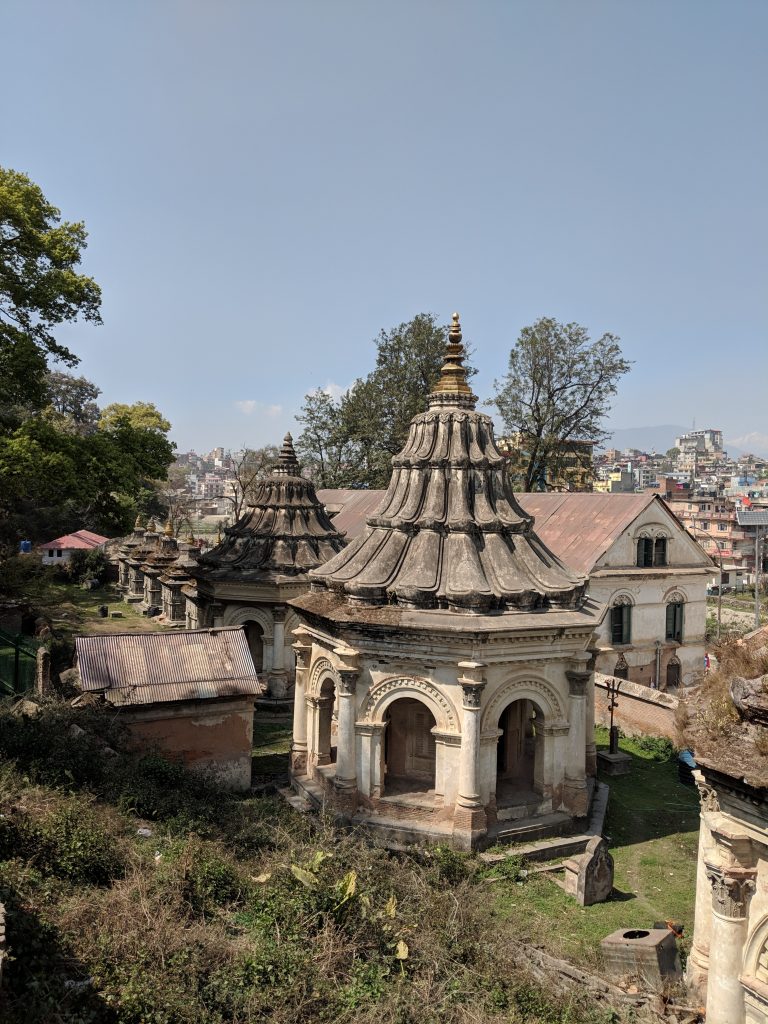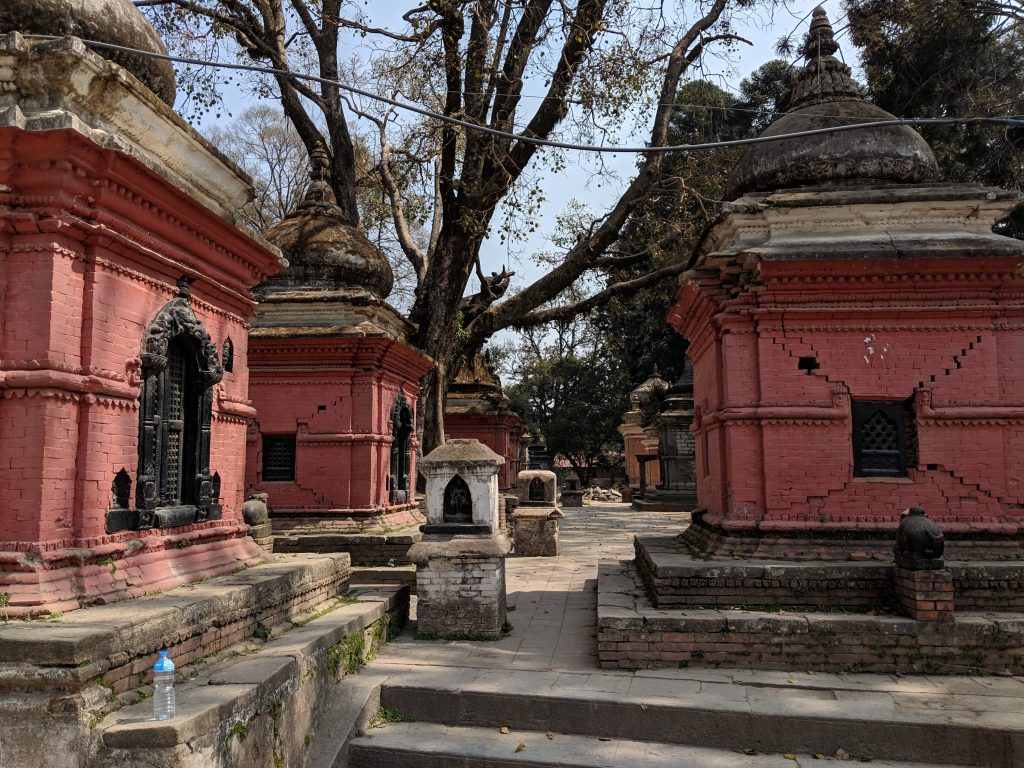 There was a lot to see and a few people to talk to along the way.
By the time I'd finished, it was nearly time to take the bike back.
I got this free blessing from one of the Hindu women on the way out of the temple. I told her I had no money, but she insisted on doing one for me.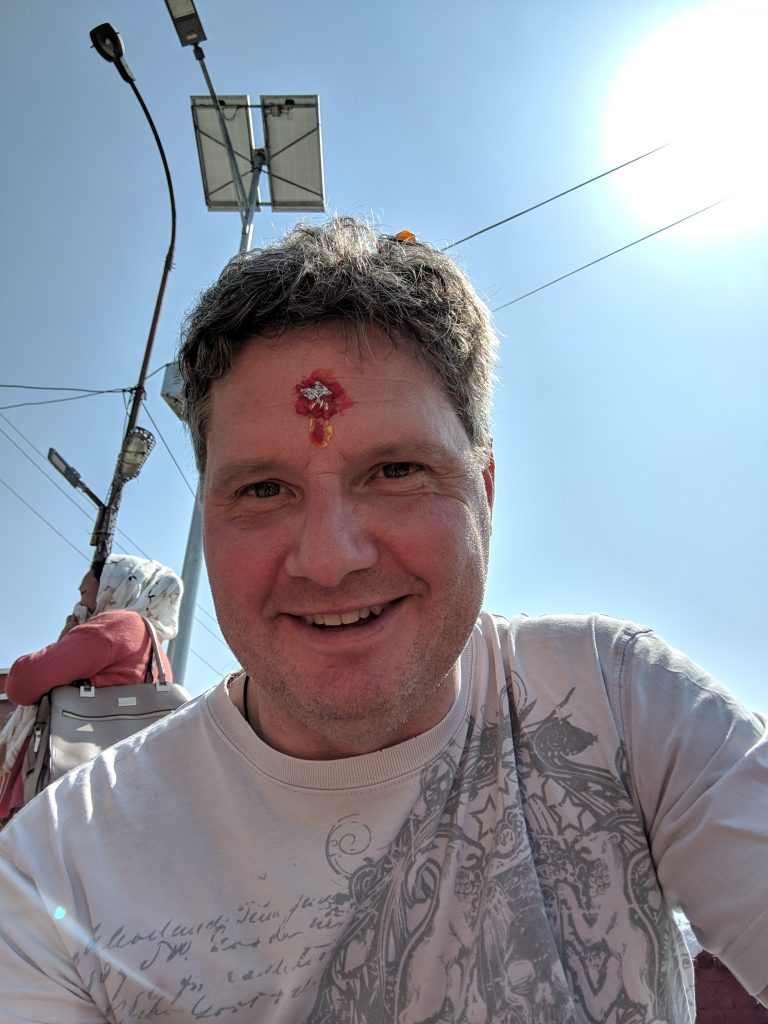 They rub some dye on your forehead and sprinkle flower petals in your hair.
She also gave me a cotton band to wear around my right wrist.
This is called a Kautaka in Hindu, and is said to drive away fiends and ill will.
Visiting the mall
Took a quick visit to the mall on my way back to return the bike, looking for some bluetooth headphones.
Nepal ain't strong on electronics and after some looking around, opted to go for the cheapest analogue ones I could find £2.10 from Thamel.
Quick sauna
After many a day wandering around in the sun you'll find one of the best ways to relax is a couple of hours in the sauna.
There is one maybe 200 metres from the hotel and because the guy had broached me on the street, I'd managed to get him a discount. Not much, only about 100rps.
Spent an hour or so in and out of the sauna.
Felt fine a afterwards.
Food
Again, couldn't be bothered paying tourist prices, so took some more local options.
First went to the noodle bar Jianghu Noodle bar, where they had some Ramen type dishes. Chinese noodle/ramen. Cheap and nice.
For second course, got some authentic Momo, which is the Nepal dumping, steamed or fried with a dipping sauce. 100prs for this helping.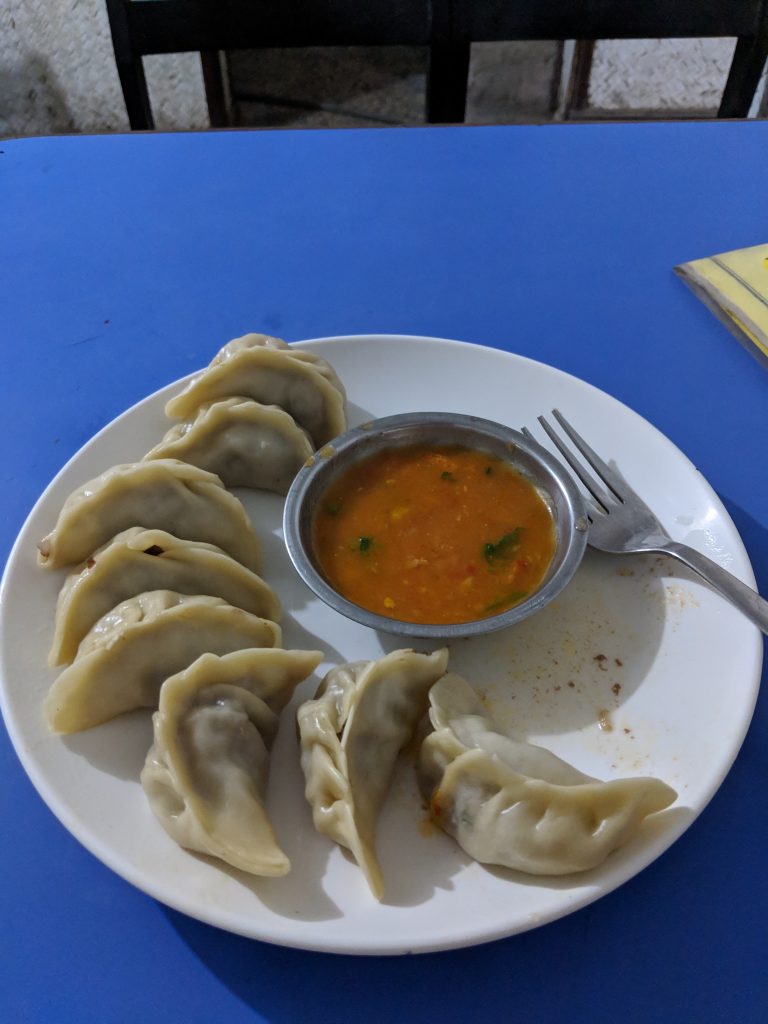 After this went to the Budha bar, and a place called Ibyza, just down the road from the hotel.
Felt pretty tired. Didn't get up to much. Went home to bed.