Near Drina Valley – Serbia
Near Drina Valley – Serbia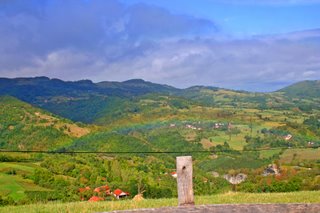 Tara National Park – Make me a rainbow
Tara National Park – Earth Meets Sky
KML: lat – 44.06278 lon – 19.63300
My Car
KML:
lat – 44.06278 lon – 19.63300
Just in case you're thinking of doing a blog. I recommend for foriegn hire car; bigger is better.
I had a Mustang in the US. An S-series in Poland and this slightly shady Toyota here.
Towns are easier to find your way round if your car does the talking for you.