Root Toshiba Excite AT200
Root Toshiba Excite AT200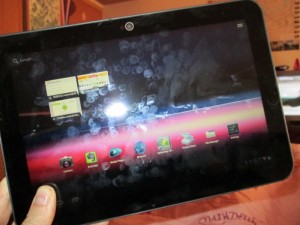 Just got this little tablet off Taobao.
Priced at just 1,200 Yuan, or around £140 it seemed pretty cheap for a Toshiba tablet.
1st day of use, I discover there is no apps store and Google Play Store isn't installed. Nor is any other app store.
Next step! Root the AT200! Get the Google Apps installed and have the thing do what I want.
Shock Horror!
Toshiba have something written into their EULA! Yes Toshiba and Android have conspired against the customer!
Contrary to previous court rulings on allowing users UNRESTRICTED access to their devices, in this case you aren't granted those rights. Toshiba will not let you access and change core aspects of this tablet.
You don't have the rights and abilities you might have when you buy a new PC.
Can't add or alter things in the operating system, making it useless for many developers and professional level users.
Let this be a warning to any buyers of the Toshiba Excite AT.
Nice looking tablet. Without full user rights.
Suitable for me so
/grumble over