TPP – the secret bill to affect 40% of world trade
TPP – the secret bill to affect 40% of world trade
If you ever thought moving to another planet was a good idea, here's a reason why.
TPP is being negotiated in secret by governments of the above countries. None of the residents of these countries can read the bill, yet they are all effected.
The main bones of contention
ISDS, investor-state dispute settlement; Provides exceptional legal privileges to foreign investors not enjoyed by domestic companies or the public by providing private arbitration funded by the tax-payer.
Not a new thing, ISDS has been re-vamped to ensure that multi-national corporations do not suffer from changes in the law in host countries,even when those laws are in the public interest.
ISDS link #1 | ISDS link #2
IP/DRM: Making sharing of a multi-national companies sensitive information a criminal offense. The sharing of copyright material a criminal offense, even for non-commercial purposes.
Under proposals, ISP's will be responsible to report you, the consumer, to the authorities if you've breached copyright law.
Under TPP, I could be prosecuted for quoting these articles, even though they're for the public information. I'm not seeking to claim they belong to me in any way…. Still a criminal offense….
TPP DRM Copyright
"Overall, the TPP represents a radical shift in the role of intellectual property across the Pacific Rim. Under the agreement, intellectual property will be transformed into a means of protecting the investments of multinational companies in culture, advertising, and medicine.
The public interest in access to knowledge, public health and technology transfer has been given short shrift under the plan." – Dr Matthew Rimmer
Read more below.
TPP the Good (Bloomberg)
---
The Trans-Pacific Partnership is the biggest trade agreement in history, reducing tariffs and other forms of protectionism in a dozen countries making up about 40 percent of the global economy with economic output of almost $30 trillion.
The White House estimates it will eliminate 18,000 tariffs on U.S.-manufactured goods, while giving everyone from Vietnamese shrimpers to New Zealand dairy farmers cheaper access to markets across the Pacific. Critics, particularly in the U.S., say it will kill American manufacturing jobs, reduce environmental standards and raise drug prices.
The deal sealed Monday in Atlanta came after more than five years of negotiations between the TPP nations — the U.S., Canada, Japan, Australia, Brunei, Chile, Malaysia, Mexico, New Zealand, Peru, Singapore and Vietnam.
The agreement must still be ratified by lawmakers in the TPP nations before it can take effect and President Barack Obama is likely to face a fight to secure passage by the U.S. Congress.
Japan:
*Japanese car and auto-parts makers may be the biggest winners, as they get cheaper access to the U.S., the industry's biggest export market
* Japan was forced to reduce some of the protections granted to its rice farmers, creating a non-tariff import quota of one percent of its total consumption
* Livestock farmers may be harder hit as tariffs on beef will be cut to 9 percent over 16 years from 38.5 percent, while pork tariffs will also be slashed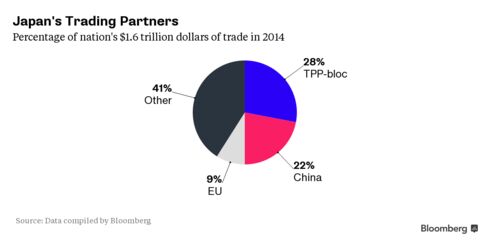 Australia:
* The deal will remove about A$9 billion of import taxes from Australian trade, Prime Minister Malcolm Turnbull said
* Australia will gain access to the U.S. sugar market while Japan will
also reduce levies on the product and the cut in the beef tariff will help Australian ranchers
* Seafood and most horticulture products will see tariffs dropped, while preferential quota access will be created for grains, cereals and rice
* Australia and New Zealand successfully pressured the U.S. to compromise on the amount of time pharmaceutical companies would get protection for new biotech drugs, granting companies a minimum of five years rather than the 12 years of protection pushed by the U.S. That could lead to cheaper drug prices and more competition
* Reduced tariffs on everything from iron and steel products, to pharmaceuticals, machinery, paper and auto parts will help Australian manufacturers
New Zealand:
* Tariffs due to be eliminated on 93 percent of New Zealand's trade with its TPP partners representing annual savings of about NZ$259 million ($168 million), Trade Minister Tim Groser said.
* The dairy industry, which accounts for about a quarter of exports, will see savings of about NZ$102 million a year. Some tariffs to remain in key markets such as the U.S., Japan, Canada and Mexico. Though New Zealand will get preferential access to new quotas, Canada only agreed to set foreign quotas for 3.3 percent of it dairy market over five years
* Tariffs on beef exports will be eliminated with the exception of Japan where they will drop to 9 percent from 38.5 percent, he said. Tariffs on all other exports including fruit, seafood, wine and sheep meat will be eliminated
* "While I am very disappointed that the deal falls far short of TPP's original ambition to eliminate all tariffs, there will be some useful gains for New Zealand dairy exporters in key TPP markets such as the U.S., Canada and Japan,"  John Wilson, chairman of Fonterra Cooperative Group Ltd., the world's biggest dairy exporter, said in a statement.
Vietnam:
* Vietnam to be among the biggest winners, according to the Eurasia Group, with the agreement potentially boosting GDP by 11 percent by 2025, with exports growing 28 percent in the period as companies move factories to the low-wage country, the report said.
* Reduced import duties in the U.S. and Japan will benefit country's apparel manufacturers, whose low labor costs have enabled them to grab business from China. Still, impact may be limited as Vietnam will still face strict rules-of-origin on materials.
* Fishing industry to benefit from elimination of import tax on shrimp, squid and tuna, now averaging 6.4%-7.2%
* Eliminating import taxes on pharmaceutical products from the current average of about 2.5% will lead to tougher competition between Vietnamese domestic companies and foreign companies. TPP will also increase patent protection, restricting Vietnam companies access to new products as well their ability to produce new drugs.
Malaysia:
* Malaysia's state-owned enterprises may suffer from the deal which calls for equal access to government procurement
* Electronics, chemical products, palm oil and rubber exporters are among beneficiaries. Malaysia is the world's second-biggest palm oil producer and one of the biggest growers of rubber
China:
* The world's second-biggest economy may be among the biggest losers as it failed to join the TPP, allowing the U.S. to tighten trade ties across the region and advance the Obama administration's so-called pivot to Asia. After initially dismissing TPP, Chinese officials have now indicated some interest in possibly joining in the future
* "China has an open attitude towards system building that complies with WTO rules and is conducive to economic integration in the Asia-Pacific region, and hopes the agreement and other free trade arrangements in the region can be mutually beneficial, so that they can make contributions to trade, investment and economic growth in the Asia-Pacific region," China's Foreign Ministry said in a statement.
* Chinese exporters may lose some market share in the U.S. and Japan to developing countries such as Vietnam, according to Bloomberg economist Fielding Chen
* China will push its "one belt, one road" strategy of resurrecting trade routes from Asia to Europe and its new development bank and try to reach more free-trade deals with other countries, especially in Asia, Chen said. "While opening up its own door, China doesn't want to see other countries are closing their doors," Chen said.
(A previous version of this story was corrected to show economic output of almost $30 trillion, not $30 billion.)
TPP the Bad (Electronic Frontier Federation)
---
Trade negotiators from the U.S. and its 11 Pacific Rim partners announced their agreement on the Trans-Pacific Partnership Agreement (TPP) today, concluding the final round of closed negotiations in Atlanta and marking the culmination of seven years of secrecy. Throughout all that time, the U.S. Trade Representative (USTR) has acted as a de facto representative of the Hollywood big media lobbies in pushing other countries to adopt the most punitive aspects of U.S. copyright policies—such as our over-the-top civil and criminal penalties—while at best giving lip service to pro-user aspects such as fair use.
Throughout this time EFF and our partner organizations, including the Our Fair Deal coalition, tried to play by the USTR's rules. We wrote whitepapers and open letters, we held side-events for negotiators, we gave presentations (during the limited window when we were allowed to do so), and we spoke with USTR officials bilaterally. But successive leaks of the TPP have demonstrated that unless you are a big business sector, the USTR simply doesn't care what you have to say. The latest evidence of this is that it was only when Google finally weighed in on the need for more robust support for fair use in the TPP, that the USTR budged on that issue—having ignored our similar calls for years.
Now, the deal is finally done and the text still won't be available for another 30 days.
Well enough's enough. The time for whitepapers and presentations is past. The USTR has failed us, so now it's time for the public to rise up and take their message about the TPP's threats to user rights to Congress, which has the ultimate authority to approve or reject the deal for the United States. To be effective we'll need to deliver that message in terms that are clear, and in-your-face—literally. So, that's what we're planning: to display signs and banners about how the TPP threatens digital rights and freedoms around the world, during demonstrations that are to be held in Washington, DC from November 14 to 18, 2015, while trade ministers are attending an APEC meeting in the Philippines.
That's where we need your help.
We don't want to just tell Congress what EFF thinks about the TPP. We specifically want them to know what you think. So, we're crowdsourcing the production of messages that you'd like us to use on the placards that we take to Washington, DC. You can contribute your messages via Twitter by quoting this tweet. (Not sure how to quote a tweet? Click the Retweet icon under the post, then type your message in the "Add a comment" field, then click the Retweet button.)
To get some ideas, you can read through all the materials that we've produced on this issue, including:
And there's so much more to be worried about, that we're sure your biggest problem won't be finding something to say on a protest banner, but trying to limit it to a few choice words! Feel free to submit as many suggestions as you like.
We'll sift through your suggestions over the next week and choose the best messages on October 14. We'll then have our in-staff designer transform them into powerful protest banners and make 50 of them for EFF staff, members, and partners to use on the ground at the protest in DC. We'll also take photos of the protest and post them to the EFF website where you'll be able to see your messages in action.
---
"People of the same trade seldom meet together, even for merriment and diversion, but the conversation ends in a conspiracy against the public…"
― Adam Smith, The Wealth of Nations
The good http://www.bloomberg.com/news/articles/2015-10-06/tpp-trade-deal-who-stands-to-benefit-suffer-in-asia-pacific
The bad https://www.eff.org/deeplinks/2014/10/cyber-espionage-and-trade-agreements-ill-fitting-and-dangerous-combination