St. Tropez renowned playground of the rich, famous, Bridget Bardot and Harry Seycombe, liggers and hangers alike gather to bask in St. Tropezs' opulent reputation.
The port areas yachts intimidate the promenade as you walk along the sea front.
My hotel cost 121e per night so I decided only to stay for one night.
Spent a little time walking around designer boutiques and amongst exclusive galleries, between the beautiful people and their well dressed children.
For those with enough money to enjoy, St. Tropez represents a French crash pad, nice spot for a few drinks and a meal amongst like minded people.
Average Joe needn't bother.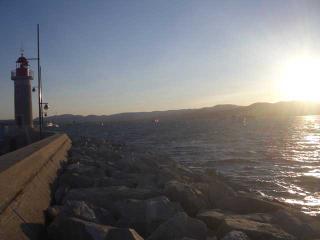 I found it obligatory passing through, but with drinks @ 20e a throw, wearing a T-Shirt and Trainers, my credibility threshold would not have sustained a full on St. Tropez dipping.
Tommorrow I'm moving on to Nice. This should be more up my street.