Abusive pupil
Abusive pupil
Often well behaved. Sometimes not. Today I was given this gift by one of my pupils called E***y.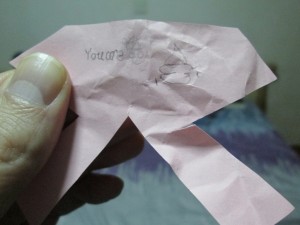 She tried to call me a monkey in my last lesson, and said I had 'monkey' eyes. I responded by saying monkeys don't have blue eyes.
I'm not used to being called a monkey by my pupils. And I won't stand for any disrespect directed towards anyone, pupils or teachers alike.
Even-so, I ignored it as a one off.
Next lesson
At the end of the lesson. E***y came to my desk at the front and presented me with this gift.
I read it with disbelief.
After consideration, I said "this is not funny" and put it in my bag.
Pupils have called me things in the past, but never directly. Usually they shout in class when they can get away with it.
Although she may have thought this was a clever thing to do, writing abusive notes to your teacher is never a wise thing to do.
I can't imagine she's going to get away with it…..