Accommodation – Budva
Accommodation – Budva
Since arriving in Montenegro, most of my time has been spent looking for accommodation.
Early riser
Spoke to girl last night at Fisherman's Cafe, who told me the season ends when October begins.
Spent last night in the Blue Star hotel. You might check them. They have 3 hotels in the Budva region. The Montenegro, The Blue Star and the Splendid.
Am in the Splendid at the moment. It is the only hotel I've stayed in to have piped TV in the bathroom, apart from Caesar's Palace. Aside from that, it's part of the group and I managed to check all three from the Blue Star.
I've marked the blue star on the map for your interest.
http://www.montenegrostars.com/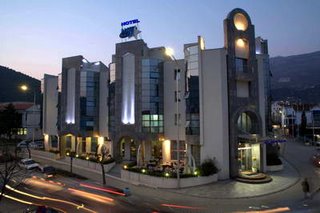 Blue Star – Budva