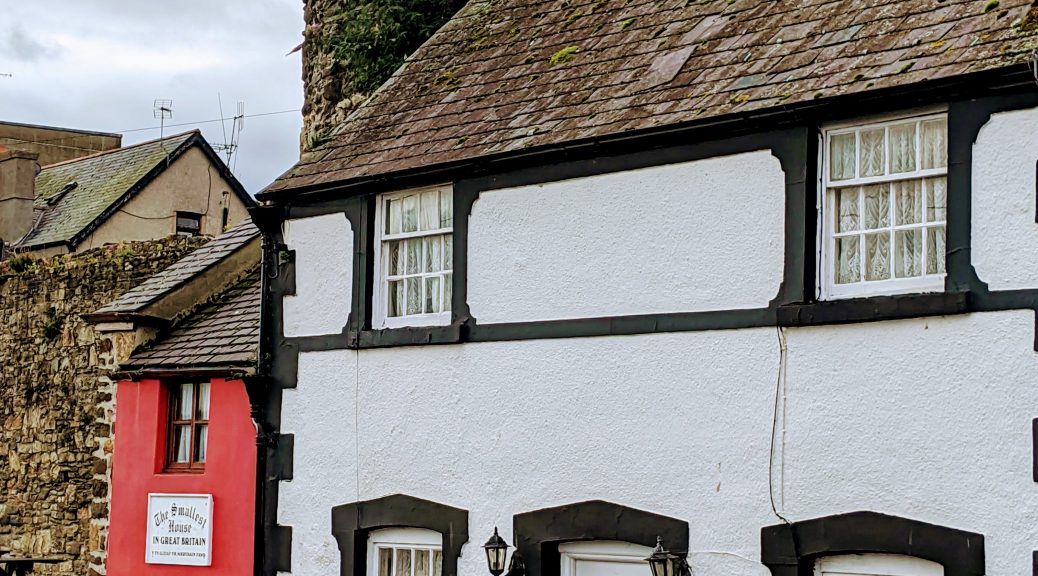 Day #2: Llandudno to Holyhead
Day #2: Llandudno to Holyhead
A spot of bad luck
You could call this one.
My phone dropped on the road TWICE and smashed the screen. Luckily, a) I didn't run it over b) it has a screen cover and couldn't shatter properly.
My watch didn't record today's journey and it's only half a trip on Strava. Travelled 5 hours and recorded 3. Whether I touched something on my watch, I don't know.
I got a puncture following NCR (national cycle route) 5 through woods coming down into Holyhead. Only about 2.5 miles from base but had to pump the tyre up 3 times before I could make it into town.
When I got to the hotel, my bicycle lock ceased and I had to saw it off the pannier with my muti-tool.
I'm not a massively superstitious person, but this was a little too much. For one day.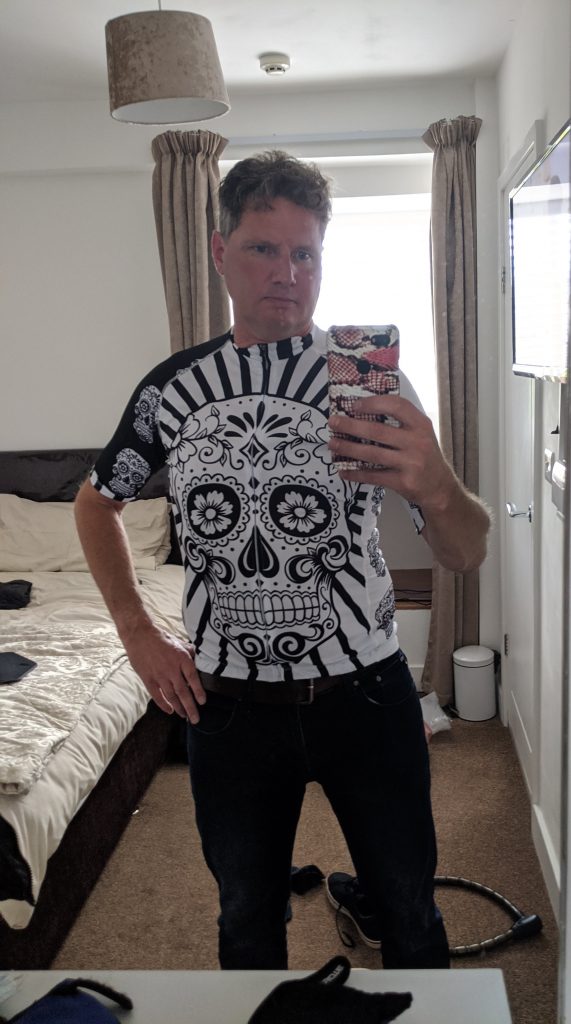 I put it down to my unlucky T-shirt.
It's new. I think it may be a have a bit of vodoo jihn about it. I'm throwing it away.
Llandudno to Holyhead
I'm kind of wondering why I came to Holyhead, now I'm here. It's been a while since I've been to Angelsey.
First impressions were…. guy necking from a can of Heineken… not unusual you might say, except he was driving down the main drag of Holyhead at the time….. That kind of set the tone the rest of my experience…
Holyhead
Stayed at somewhere called 'The Haven', situated on the waterfront overlooking the fishing boat part of Holyhead harbor. Had my meal at a place called 'The Boathouse', recommended by Phil, the proprietor.
Pleasantly enough situated. The pub was popular, but overpriced (surprise surprise). Had scampi and chips, which was fair enough but set me back £14.50. Barstaff wouldn't give the the wifi password. Said it was for 'guests only'.
Town seems to be a large housing association, pot smoking, boy racing chav's (and chavettes) zone swigging beer and bad-eyeing strangers. Young, and old people, driving around, beeping their horns. Wouldn't like to see it at the weekend.
Walked back down the waterfront, and back to my hotel.
People come here to get on and off the ferry. That's it.
Llandudno, it ain't.
Menai
I did stop of in Menai for my lunch. I usually have a 'meal deal' from one of the supermarkets, or Greggs or something, and find somewhere to eat it out in the sun.
Today there is no sun, only wind and rain, so I took a raincheck on this idea as the only supermarket in Menai is a Waitrose, and I'm not sure if they offer something as lowly as a 'meal deal'.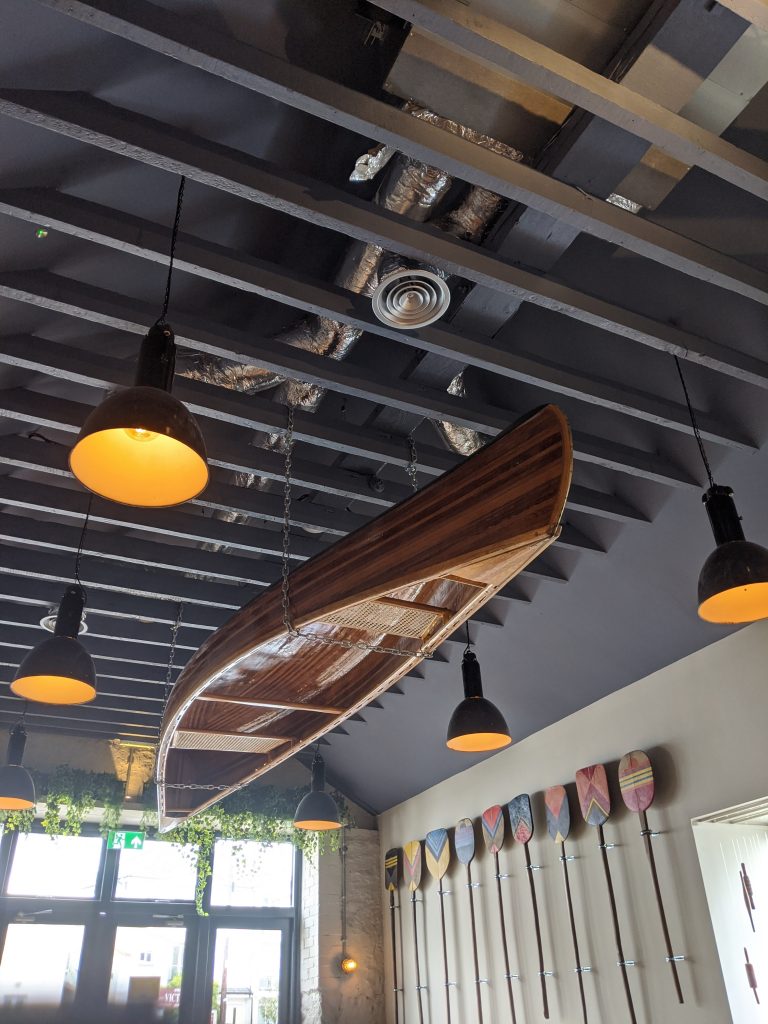 Stopped at this place 'Dylan's' on the waterfront and had a chowder and a pinot gritio. Calmed my nerves for 20 minutes or so. Gave me time to make a choice about my planned route to Holyhead. I took the harder route, trodden by fewer no doubt. Hill-wise it was tougher. But it meant I didn't have to re-trace my steps, which is like traveller hubris. I continued the direction I was heading, and I reached my goal in true traveller fashion.
There is no 'right path'.
From Menai to Holyhead
Saw some of these slate fences…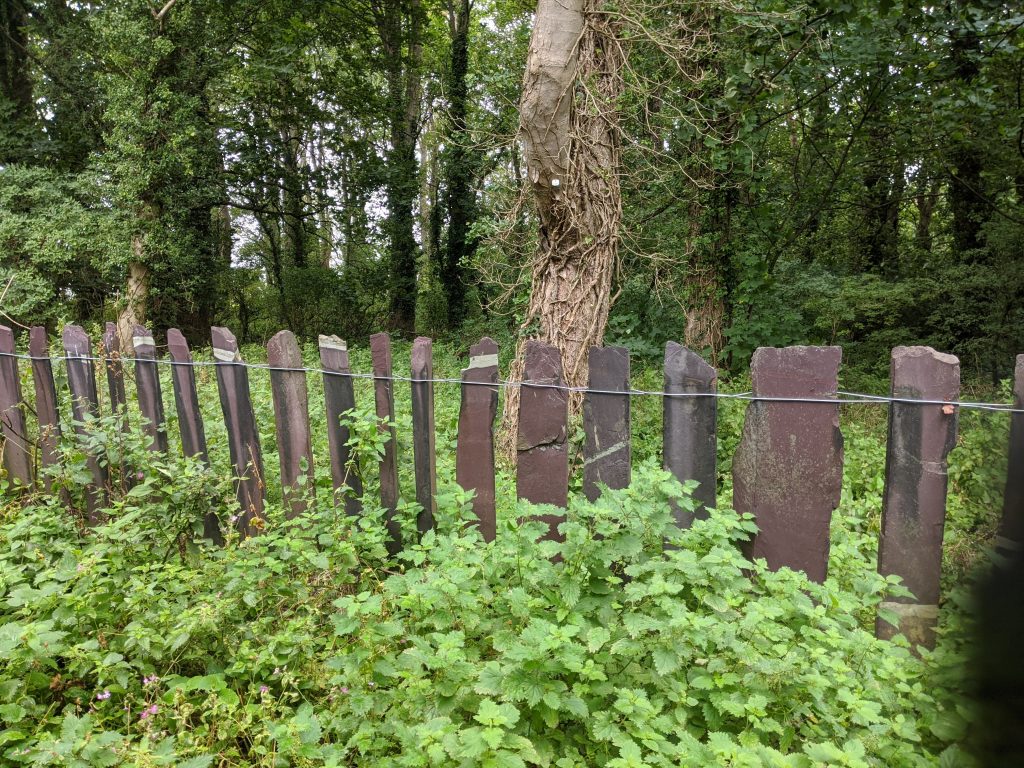 Doesn't seem to be a shortage of trees around here. I guess they have a lot more slate…
Here's some more pic's from the day.