Day #3: Holyhead to Caernarfon
Day #3: Holyhead to Caernarfon
Believe it or not; 1st proper day of cycling.
Although it was a short one. I was finished by about 3pm. It was the first day I've been able to get some speed up without having wind, or rain, or both blasted in my face for 5 hours.
The absence of these two blessed features made me feel a lot better, and it's the first day it's actually felt nice.
Windy hiller
Wind is like carrying rocks around. Any momentum is destroyed. All your efforts to move at a reasonable pace are…… destroyed…. It's like the worst for a cyclist aside from hail and snow and winter stuff.
Today it was relatively lacking.
Accommodation problems
When I reached the destination property which was on a holiday home park called Glan Gwna Holiday Park, I suspected there might be problems as I reached the chalet and it had washing hanging outside. Pairs of jeans, frocks, towels, etc. Normal everyday wash as it looked like.
Not a good sign when it was supposed to be my accommodation for the night.
So I asked a dog walking lady if it was the right address, which she confirmed.
I knocked on the door and this Lancashire guy answered and I asked again if it was said address. It was.
Turns out they had tried to cancel their listing on Booking.com, (3 times), according to their side of the story, and they'd not received any notification for any booking.
The property wouldn't be vacant until October.
So obviously, this was not the best news, but the day was young. I asked if I could use one of their outdoor chairs to sit and make some calls. They kindly brought me out a cup of tea and some paper, and I went about making some calls.
I've dealt with Booking.com a number of times. They've always handled problems professionally. I put a call in and explained my situation, that the residents were still in the property and it wasn't available.
She said they would send out an email asking the proprietor to find me alternative accommodation within 1/2 hour, after which I could pick an alternative property and they would make up the difference.
Hour or so passed and I rang Booking.com again, they said that that was fine. go ahead and book the property which happened to be right in the center of Caernafon. £60 more than my initial property. This £60 to be split by booking.com and the proprietor of the first property.
Not a problem.
Free upgrade you could call that…. Celtic has an indoor pool and spa area. £145 per night or so on full price.
Not bad.
Glad I got rid of that T-shirt….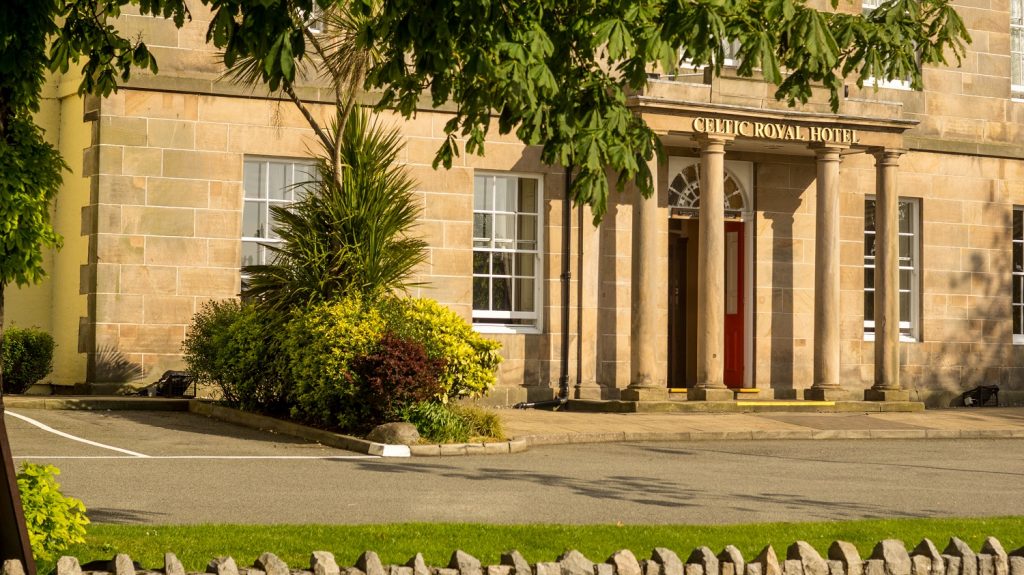 National Cycle Route 8
Took the alternative route down and out of Anglesey as recommended by Phil from the previous place.
It wasn't a bad ride, and as I'd said, the wind had mostly abated to the point it was enjoyable 🙂
Once you get down on the Bangor -> Caernafon stretch, it's parallel to the sea and takes in some sights of the Menai straights, down what appears to be an old railway line through a mostly wooded and sheltered area away from all the cars and traffic.
Very nice. Could do with some more of this.
Covid Capitalism
Since Covid came in, all hotel owners have to 'deep clean' rooms that guests have visited.
I see my room has this 'medi sheild' logo, to offer some sort of 'authority' to their cleaning processes.
No doubt in the fullness of time, we'll see no end of Covid offshoot industries springing up like old cheese spawns mold. I'm sure many of them will have little or no true value apart to offer a willing and scared public the helping hand of faux authority.
Tomorrow, onward toward my next mystery destination!