Day 31 – Wheelock to Kidsgrove
Day 31 – Wheelock to Kidsgrove
Wakey wakey, a day of locks ahead.
And what fun it turned out to be….
Not as punishing as Wigan and the Rufford branch in many ways. But when I stopped for lunch, I felt tired out.
Even considered a nap.
Never happened.
Moored up, had lunch and carried on through the locks.
Heatbreak hill
For those who would like a more adventurous break, a trip up "Heartbreak Hill" or the Cheshire locks as the old boatmen called them is worth considering.
This route takes you from the Cheshire plain up to near Stoke on Trent a climb of nearly 300 feet in about 30 miles. As you climb the hills, the panoramic views get better and better.
Departing south from our base, you go through the Preston Brook Tunnel [1239 yds] and Dutton stop lock where you join the Trent & Mersey canal. This passes through Dutton woods to emerge on a hillside above the Weaver valley. A further 2 miles and you arrive at the Saltisford and Barnton tunnels with a beautiful pool between them overlooking Satisford locks on the river Weaver.
Beyond the tunnels you reach the Anderton boat lift connecting the Weaver and canal that is 50ft above. There are visitor moorings and a little further on a water & rubbish disposal point.
The canal now swings away from the river passing to the east of Northwich before reaching open country again. There are several "Flashes" lakes formed when the land subsided due to salt extraction.
On reaching Middlewich after the first lock (a wide one) there are good overnight moorings and from here eight narrow locks take us up past a junction and the salt industry before reaching open country again.
A three mile pound leads us through countryside to the village of Wheelock (pub, shop, moorings, water & rubbish disposal). Here the locks start again 25 of them and fairly well spread out.
There are handy stopping points at Hassall Green by the M6 and at Rode Heath where there are two pubs, both of which serve meals, a convenience store with a post office and a Chinese take away.
Our climb ends at Hardings Wood junction where the Macclesfield canal turns off to the right looping back over our route at Poolstock aqueduct that we passed under during our climb. This is the place to turn round, descend 3 locks and stop at the Red Bull visitor moorings. There is a handy pub nearby, water & rubbish disposal by the BW yard and if you wish you can walk to the Harecastle tunnels where the entrance to Brindley's original bore can still be seen.
On the return journey you will find that the views are completely different and as many of the locks are paired, finding one that is set for you is always possible.
It takes about 34 hours to complete the trip
Taken from http://www.claymoore.co.uk/cheshire-locks/
My version would be something like this.
A series of locks starting at Wheelock and ending at the Harecastle tunnel over a space of 7 miles.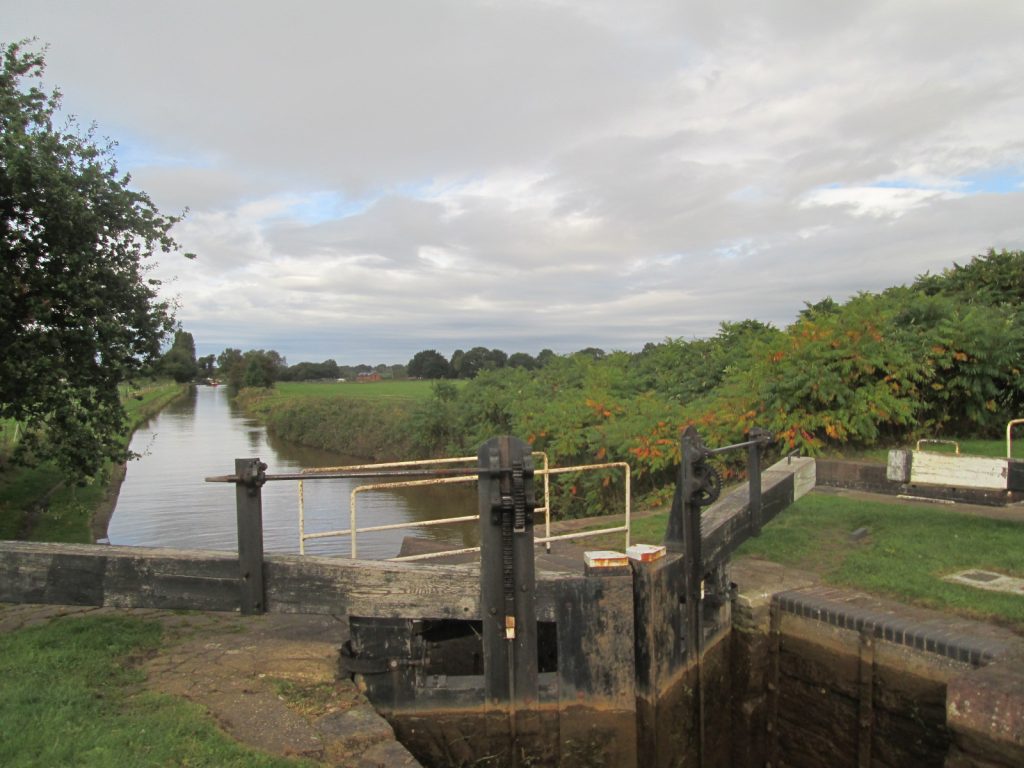 Took me a long time to get 7 miles.
Tried to fix the fender at the front, with some success. You can see this on one of the videos.
Here's the maps involved.
Day 31 – Map
Day 31 – Video
Bit of timelapse of the locks of Heartbreak Hill.
23 Locks covered on the day.