Day #8: Camarthen to Builth Wells
Day #8: Camarthen to Builth Wells
High in the Brecon Hills…
What a day…
The pictures speak for themselves. But the roads I chose, not those that Google suggested had virtually NO traffic on them. Just hills, nature and wildlife.
Camarthen proved to be a fun place. No doubt I'll go there again.
Staying in Camarthen
Breakfast was at a local pub, as the establishment I was staying in didn't have the facilities. It was kind of above a venue set of 10-12 private rooms.
We got access to the rooms using an app. When I wanted to get in the door, either the front door or my room door, I'd fire the app up, and press my phone against the pad.
Worked kind of well.
The accommodation was alright. Could have had better toiletries, I don't carry any of that around with me, but otherwise alright.
Had a croissant and honey and jam and a bacon and egg sandwich and coffee.
Fairly light, but lots of energy. Set me up until lunch.
"May the wind always be at your back…"
…"and the sun upon your face. And may the wings of destiny carry you aloft to dance with the stars." – George Jung
Open roads, undulating hills. Brecon Beacons. 0 Traffic for hours on end. Bright with sights, smells and wildlife.

Towy valley
Obviously one of the local artisans was keen on carving figures from wood.
Saw a couple of them along the way, this one I passed at lower speed.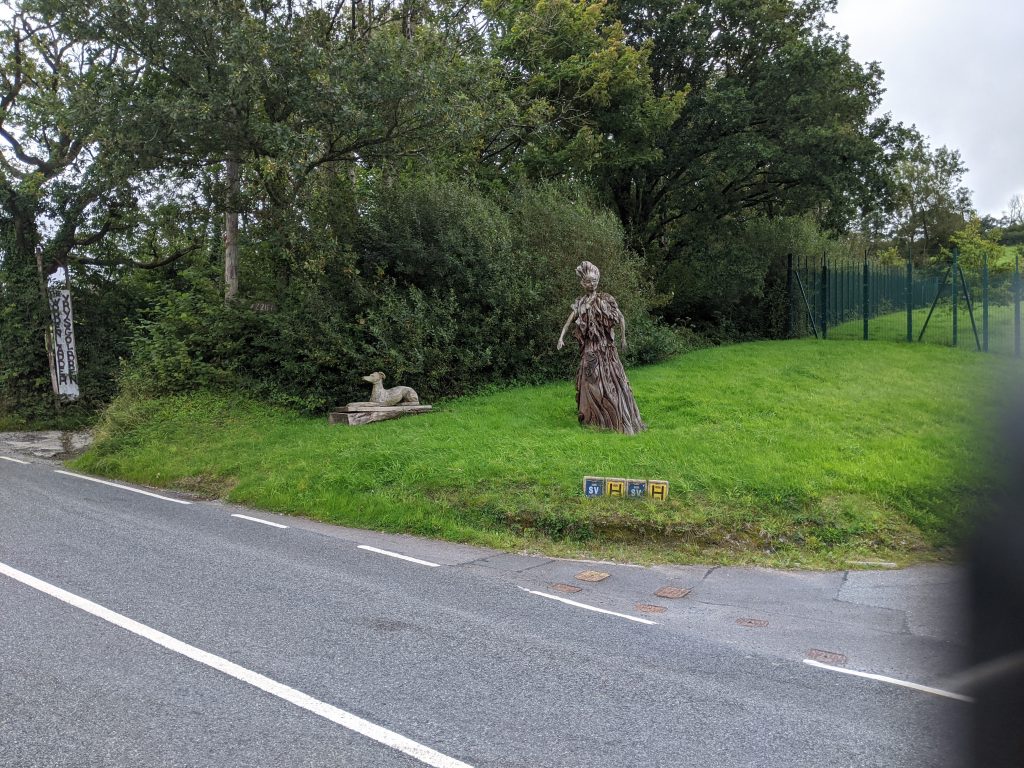 It's outside the Welsh Water pumping station. I think the sign on the right is the name of the artisan who does the carvings.
A folly called 'Paxton's Tower' in honor of Napoleon.
You can't beat the odd ancient tree. This one looks like it's from a rainforest….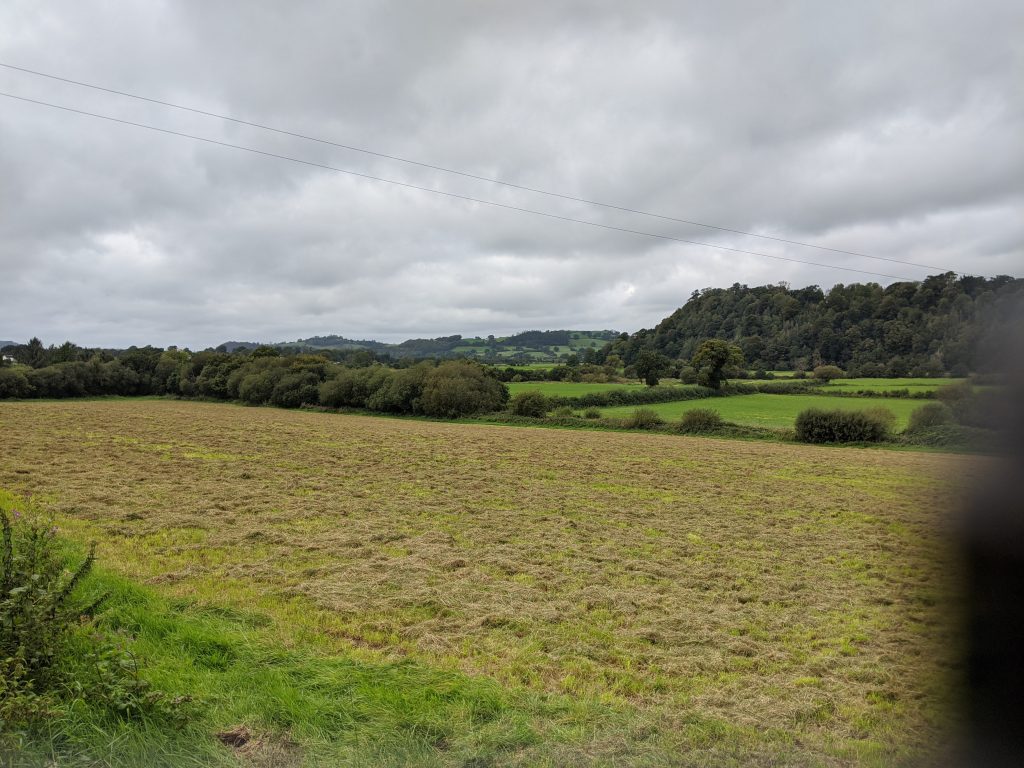 Being as it was Sunday, thought I'd drop into Bethlehem, see the church of the Holy Sepulchre and whatnot.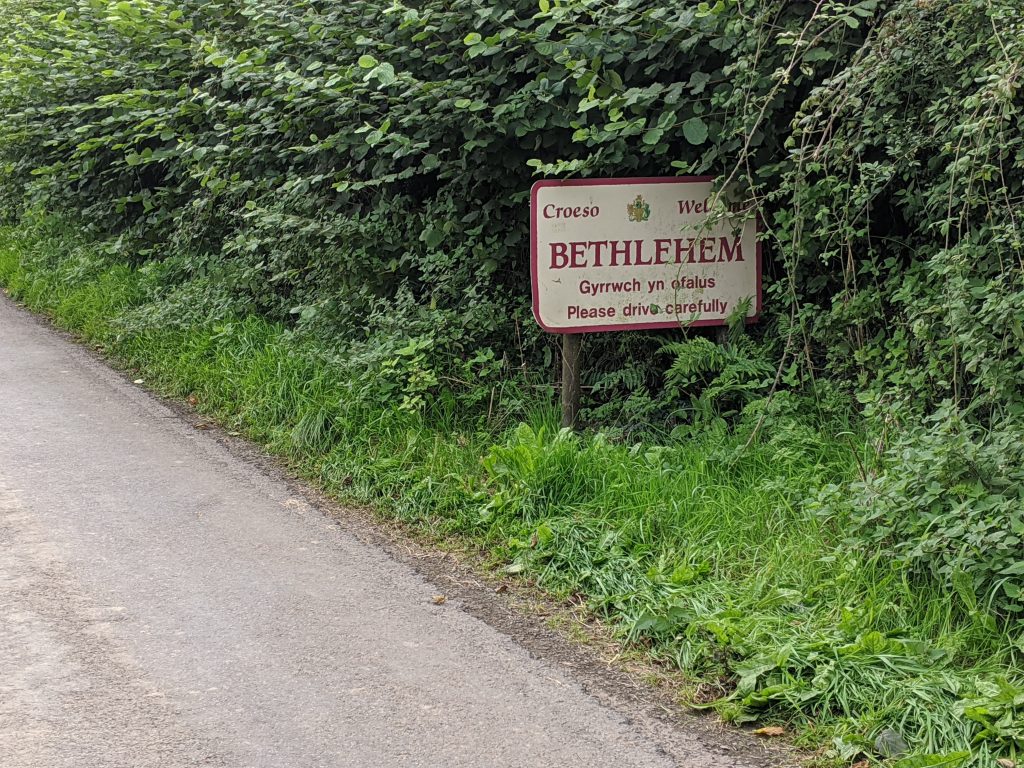 Must have got it wrong….. All there was was an honesty shack selling eggs and honey… No point in hanging around I don't suppose.
Off the beaten track…
I don't think a car passed me whilst I was in these hills.
It's part of the MOD's ordnance training range.
Not a soul around.
Just sheep, mountains, hills and streams.
Came across this abandoned tank.
After some climbing around on it, trying to get inside, (everything was welded up), I could see that the main barrel had breached…
Fairly serious.
Obviously, they thought it wasn't worth carrying on with it, stripped all the best bits off it and abandoned it up here in the hills.
Coming to the bottom of some long, steep hills, I could feel something looking at me… I turned around and what did I see.??
Just the two of them. As the sign says, don't feed them… Like ducks, if you feed them they get ill and die. Turn to balsa-wood probably….
Arriving Builth Wells
Staying at the Caer Beris Manor Hotel. Seems to have some very good reviews and be generally well located in regards to my needs.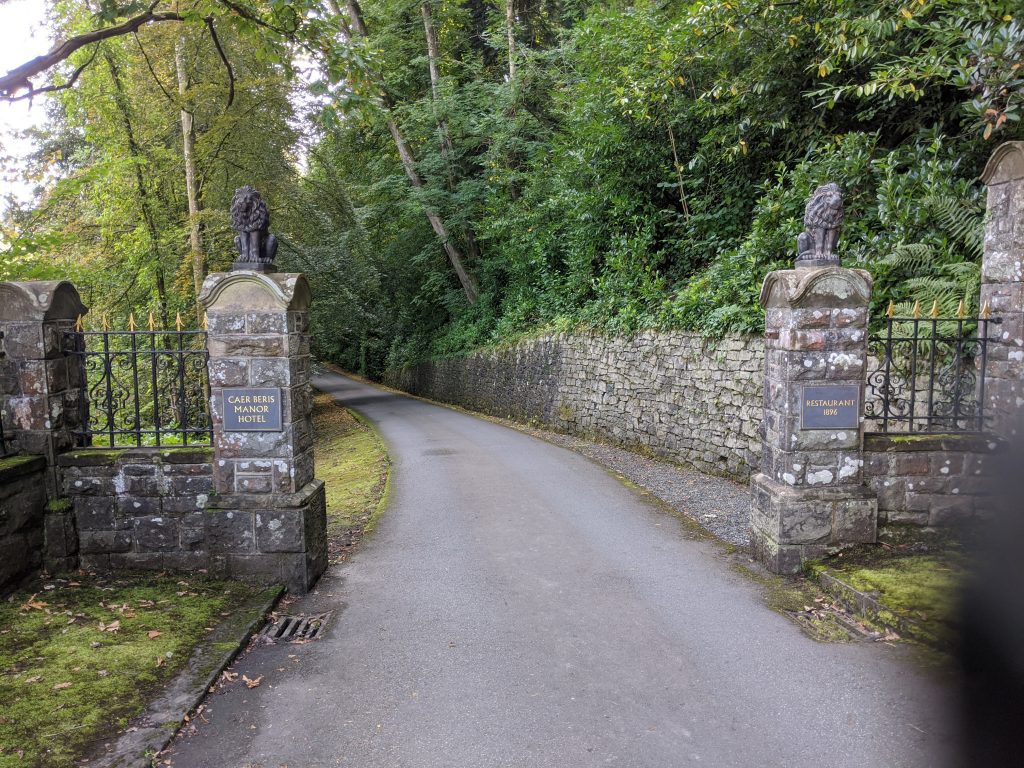 After dumping my gear and having a cup of tea, had a quick tour around the property.
It's not a bad old place….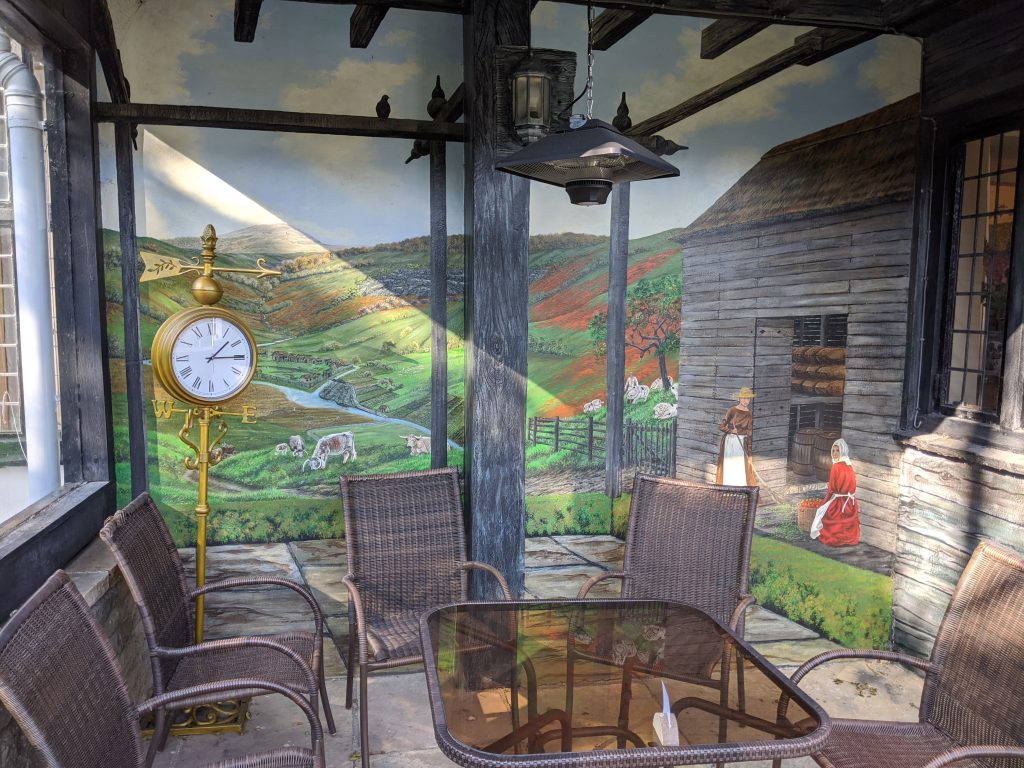 This rather nice looking mural is on the verandah.
Looking around Builth Wells
After strolling, taking the air around the manor hotel, hopped on one of their free bikes, and took a trip into Builth Wells itself.
A mural depicting the last days of an ancient Prince of Wales before his death at the hands of the English has been unveiled in Builth Wells.

BBC News
Cycling around a little further…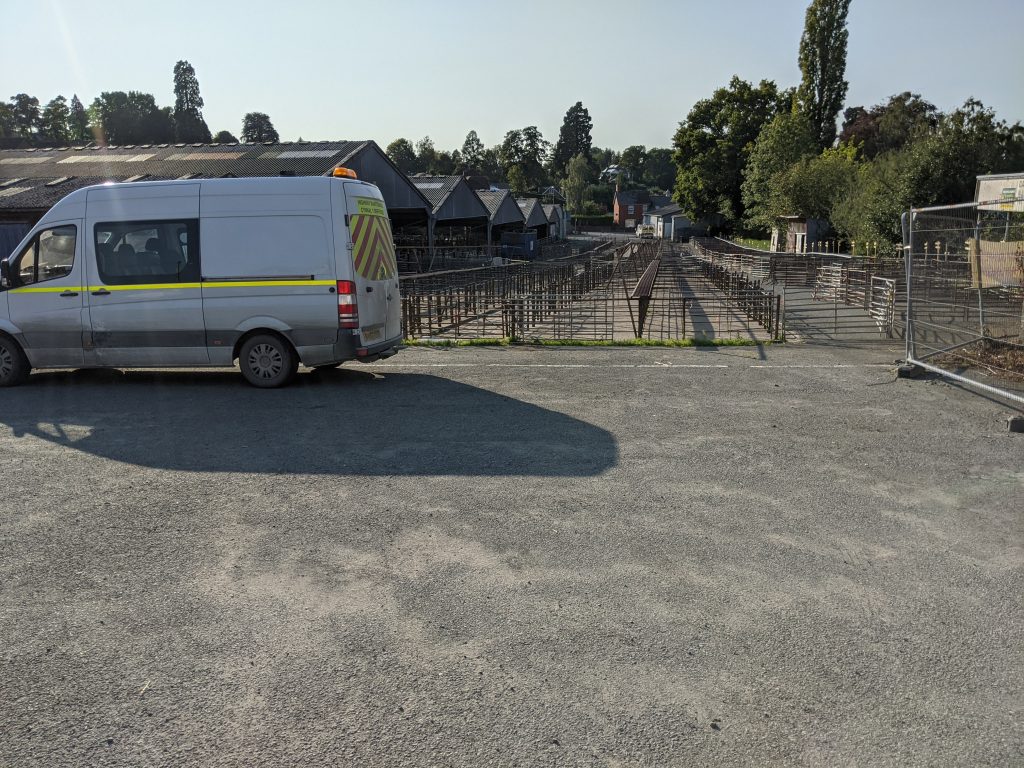 Found this rather large livestock market.
Reading up on the internet, it's been closed since lockdown, and they're now unsure whether it's going to open again….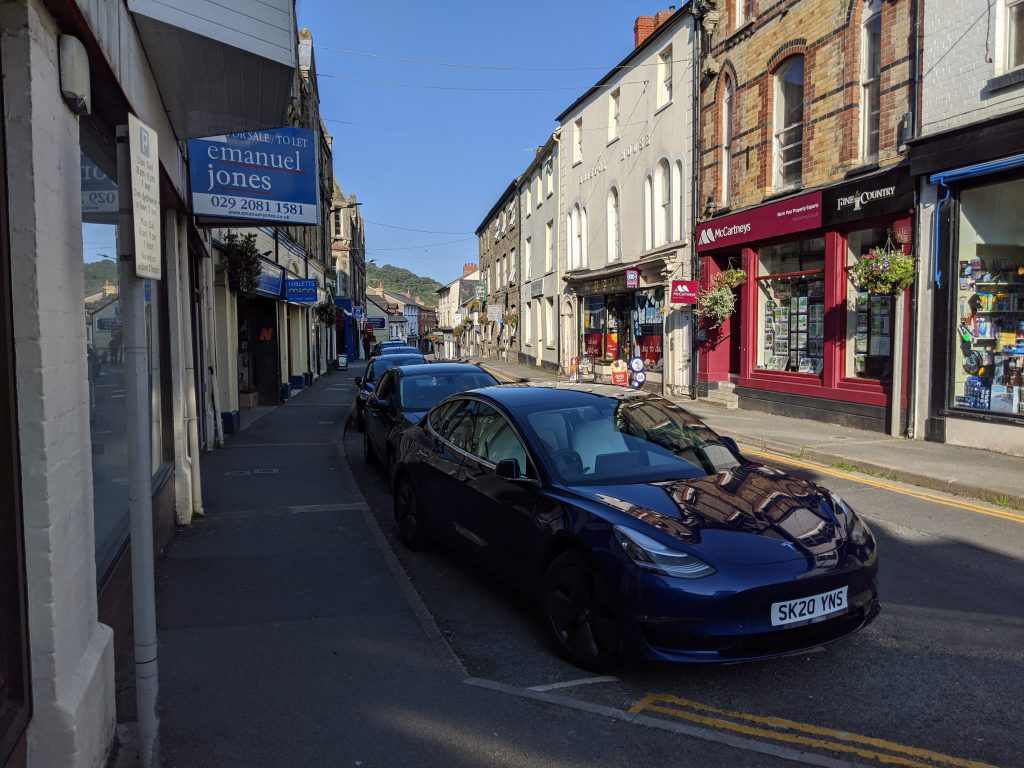 Tomorrow
I move on. Tonight I've had a very nice 3 course meal for £28.