Guillin – Guanxi Province
Guillin – Guanxi Province
Spent the day travelling.
Am now In Guillin.
Which looks like this.

View from Hotel roof.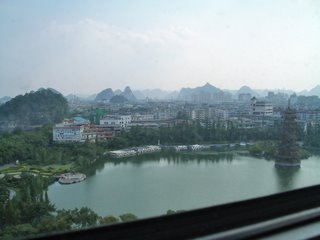 View from Window.
Sort of like a dirty version of Vancouver.
If you've been there.
Lijiang Waterfall
The Hotel is called the Lijiang Waterfall Hotel, 5 star.
It's in the Guinness book of records for having the largest artificial waterfall at 75 meters.