Kiwi Birdlife Park
Kiwi Birdlife Park
Another place which is worth a visit, is the Kiwi Bird Sactuary.
This has live Kiwi's to watch in their natural habitat.
It has some interesting bits of natural wild-birdlife up-close, including walk-in aviaries, allowing the birds to grab hold of any attractive sundries you may have about your person.
Doesn't happen often, but there is an amusing story about a missing lens cover on the audio-guide supplied when you walk in.
Visit @ 11am or 3pm to take advantage of the live Maouri show.
Here's a few pictures.
Walk in Aviary, Kiwi Birdlife Park, Queenstown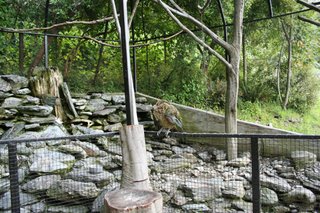 Some ducks hanging out.
Kiwi Birdlife Park, Queenstown, New Zealand
Maouri Hut, Kiwi Birdlife Park, New Zealand
A Maouri house before settlers arrived.
A whole Maouri family whould fit in one of these.
They used to sleep close to the floor so as to overwhelm attackers when they stooped down spearing them in the face.